Things that might go bump in the night

AJAYA'S CRUISE
Phil & Nikki Hoskins
Sun 18 Dec 2016 17:22
In Spanish Wells
We're still here secured to one of 'Bandit's' moorings in the small harbour of Spanish Wells. 'Bandit' is the working name of one of Spanish Well's pilots (that's a sea pilot not an air pilot). Real name Jock Morgan MBE. The other local pilot's working name is 'Woody'. Although these are somewhat light-hearted names the work they carry out is anything but. Daily they guide the ferries and commercial boats to and from Spanish Wells over the Devil's Backbone, a treacherous reef-strewn patch of water between here and Dunmore on Harbour Island, a resort town on Eleuthera's eastern coast. To undertake this stretch of water without their help is inviting disaster. It's not just the reefs but the strong currents that can sweep you into danger in a matter of seconds. 'Bandit's other activities are the moorings we are currently using at $25 per night and as his business card reads "Fresh Banana Bread and Stone Crabs available". Yum Yum.
Anyway, back to the mooring we're on. It's not the one we initially picked up as we mistook number 3 mooring for number 5 so dropped the mooring after a conversation with 'Bandit's wife (we'll call her Mrs Bandit). This is where fate lends a hand in the story. A few yards to the north of us on another mooring was a disused water taxi called 'Royal Barge' used we presume to ferry clients to and from nearby Royal Island. There's certainly no hint of real Royalty about the thing! After a night of 30+ knot winds we woke to find that 'Royal Barge' had broken her mooring and was now aground in the mangroves just down from us. It's trajectory from it's mooring to that spot in the mangroves was – well guess – yes, straight through the vacant mooring we had dropped the previous day. Now that would have been something that went bump in the night! Let's hope our luck holds into the New Year.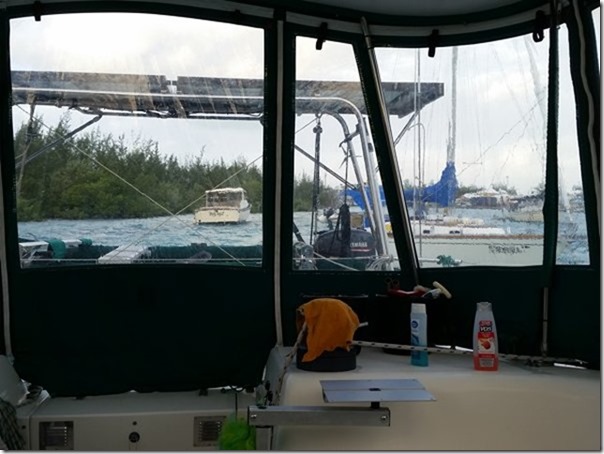 The 'Royal Barge' – not where it should be but fortunately down wind from us.
We are into our third day of strong winds. Tomorrow the forecast is for lighter winds 10-15 from an easterly direction which should make it a possibility to leave and sail southwards through Current Cut and down to the northern Exumas. The cold front that was due to arrive in the Bahamas next Friday 23rd looks to be stalling north of the area so we should have lighter airs over the Christmas weekend but more importantly for the Exumas there is no sign of winds from the south-west-north sector. Hurray! But believe the weather here and you'll believe anything!
End
---