Royal Island to Hatchet Bay - Eleuthera

AJAYA'S CRUISE
Phil & Nikki Hoskins
Thu 30 Jan 2014 17:53
Hatchet Bay 25:20.795N, 076:29.304W
The title should have read 'to Governor's Harbour' instead of Hatchet Bay but the breeze had other ideas. Having arrived in Royal with lots of lovely fish we gave some away to friends Val & Graham on 'Bonnie Lass' - cuz they's nice folk! Next morning we followed them out of the anchorage towards Current Cut (named for very good reasons) before heading onto the banks to sail south-eastwards along the Eleuthera coastline. If you arrive at the wrong state of tide at Current Cut then things become interesting. You either struggle to get through the entrance against the water flowing off the banks or you are swept through at an alarming rate like a runaway shopping trolley just as you need to complete a handbrake turn a short distance through on the other side. So getting the tide just right is highly desirable.
Even in a slight breeze almost 'on the nose' life is not much fun. With thirty miles to go to Governor's Harbour we eased sheets and headed for Hatchet Bay instead which was half that distance. This is an almost landlocked anchorage. It was once a totally enclosed salt pond of which there are many throughout the islands. The bank side rock had been blasted through to make a very safe harbour with a narrow entrance that was slightly intimidating in a wide beamed boat. They always look narrower than they are. The local community lives at the southern end of Hatchet Bay in Alice Town but is no longer prosperous as much of its farming industry has closed down over recent years. This was mainly but not exclusively devoted to rearing cows, a failed project. Pineapples were also grown until recent times but no longer.
Having negotiated the seemingly narrow entrance ....
......it's there somewhere.....
....we picked up a mooring just off the nice wooden dock that has been built for visitors and locals to use. The moorings are provided by the Bahamian Government and are free of charge which is a nice touch and much appreciated. That said, whether they are maintained is another matter, so once secured we backed down heavily with both engines just to make sure we could sleep soundly that night.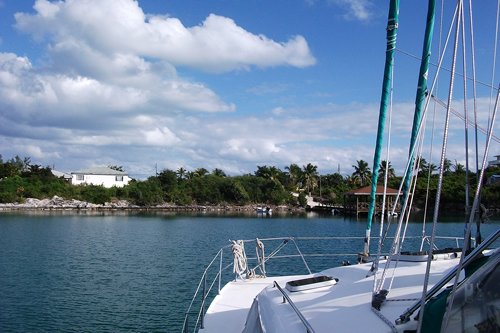 Peaceful Hatchet Bay and the convenient public dinghy dock
Needing a few provisions we dinghied ashore but didn't expect to find anywhere open as it was Sunday. For a small community there were an amazing number of churches of various denominations scattered around the settlement, Catholic, Protestant, Wesleyan to name the main ones. We did find the local grocery store open but it was shortly closing presumably for its proprietors to head off to church themselves. As we have come to expect from these friendly and deeply religious people their Sundays are reserved for family and church, although some of the youngsters seem to be doing their own 'ting. Much like home really.
Walking through the narrow roads one other notable fact was that vehicles that were no longer roadworthy, and that's a loose terminology in the Bahamas, are quietly laid to rest - in the garden! Well, what else can you do? There are no scrap yards and no way of clearing away these eyesores, especially as many were probably robbed for spares for other cars.
Almost gone! Another few years and you won't see it, whereas, another few years and this wonderful relic will still be putting out fires
Walking around it was difficult to escape the sound of voices emanating from the various churches. And yet, glancing through the open doorways few had many people in. The loudest place of worship was the Wesleyan church but when we passed by there was just a group on a stage at the front of the hall singing their hearts out aided by some impressive amplification but nobody apparently sitting in the pews.
Various churches, beautifully simple in their design and the ubiquitous 'business centre' - internet cafe, come printing shop
So maybe times are changing as the old order pass on and the young feel unattracted to any of the various denominations on offer, content to play with their computers and ipods instead.
Down on the town dock whatever people were doing with their old cars in the back roads was trumped by the debris of an old crane barge rusting gently away, together with a sunken fishing boat now just home to fish and no doubt nasty ones at that.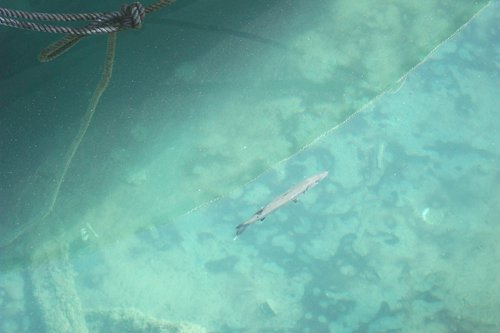 The crumpled crane, the steel deck rusting and the trees growing as this fishing boat also finds a watery grave by the dockside, perhaps home to this Barracuda
We walked back to the boat feeling that Alice Town had known better times and that life was perhaps more of a struggle for many of it's occupants than in the past. So many failed ventures litter the Bahamas, marinas, tourist complexes and many other expensive potential money-making schemes leaving their scars on the landscape.
On the way back we passed the large Homecoming Park that Alice Town is proud of. This venue and similar ones like it are used to host various events especially when local students return from their campuses in the USA or wherever their college education is taking place. 'Homecomings' are popular throughout the States but not sure they've caught on in the UK yet. Give it time.
Homecoming Park fit for a Bahamian Homecoming Queen The gentle shoreline on the bank side of Hatchet Bay
Later that evening just as dusk was falling the town dock (next to the rusting barge and sunken fishing boat) suddenly burst into life. The reason for all the excitement soon became clear as a large catamaran ferry transited the narrow entrance (and we were worried!). It headed straight to the dock rocking all the moored boats with it's bow wave. An hour later it was on its way out in the dark and the dock was deserted.................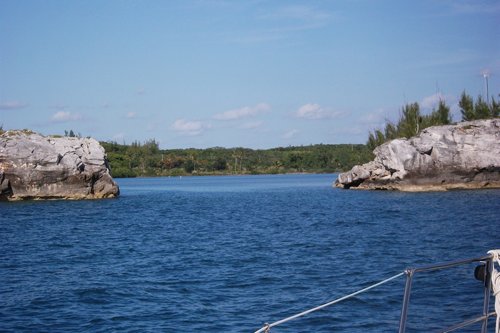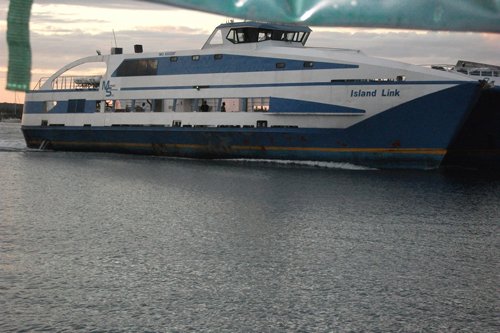 This monster through that gap - impossible surely - well there were numerous scrapes and dings along the side so maybe he doesn't always get it right at night.
---