Still in Annapolis- Just.

AJAYA'S CRUISE
Phil & Nikki Hoskins
Mon 3 Aug 2009 14:18
We were only going to spend 3-4 days here in Back Creek Annapolis, but 9 days later the anchor is still firmly buried in the soft silt. Why are we still here? Well, how many places can you anchor safely in one of the most famous nautical towns on the planet, have continuous wifi on board, a 10 min walk into town, spend time with some good friends - and all for free! Besides, it's nice here - we like it. And nice places are sometimes difficult to escape from.
To be honest we have had some boat problems to address as well. The outboard started to play up again which meant a long row back to the boat on a very hot day after which the carb was stripped down, re--assembled seemed to be working ok on a test run only to conk out 50 yards from the boat. Not such a long row this time. It was another strip down before it continued working properly and is still running fine Then an overheat problem on the port engine left an awful mess in the engine compartment to clean up. No long term damage though, just a boil up. Then Phil had to be winched up the mast to re-fix the lazyjack mount which had parted on the way up from Herrington.
No caption required!
We almost left last Saturday morning, but it looked so crowded out in the Severn River being a hot sunny day that our spot in Back Creek seemed more attractive to be in, so we took a stroll to the chandlery in Annapolis and then a good walk back around Eastport which is a really attractive (and historic) part of Annapolis.
Today dawned grey, overcast and rainy so we cancelled our departure yet again and visited a farmers market in town where amongst other delights on offer you could buy Bison steaks (seems they aren't called buffalo any more or is there a difference I wonder?). Then, between showers we visited, the Naval Academy, only just getting past security as Phil had no photo ID with him, which is apparently an indiscretion in Maryland. It seems that if I was run over in the State my name would change to John Dow, despite having a credit card giving my actual name in my wallet. Still, the security guard kindly let us in. The Academy, which was founded in 1845. is where the USA trains it's young naval officers. In the visitor centre they have on display the original space capsule that Alan Shepherd was launched into space to become America's first astronaut.(Sadly no longer with us). He was only up for 16 mins before parachuting into the Pacific .For claustrophobia sufferers just the sight of the cramped capsule which is just 6' in diameter would give you the jitters.He was a brave man indeed as the modern space shuttle must be like a 2 storey condo compared to that cramped little capsule.
Then it was back into the town, still dodging showers, into a bargain book shop which was also a coffee shop. It was the smell of the coffee that lured us in. Nikki had some of Columbia's finest, I just had a coffee.
Some interesting Annapolis facts they love to tell you about in the guide books that we picked up on:-
Average Summer temperature is 85 deg F. Winter average is 35 deg F(Brrrrrrr)
39 million crabs are consumed in town each year.
10,950 Oyster shooters downed (give those a miss I think)
4,200 Navy Midshipmen in training at the Academy
500 miles of coastline round the town.
14 Ghosts in residence in historic downtown Annapolis (We didn't see even one Ghost!)
JFK's presidential yacht 'Manitou', a Sparkman & Stephens racing yacht that he used until his death in 1963 (see below) is berthed in the port.
Manitou as it is today - in beautiful condition - like my darling wife standing by the bow!
For 9 months back in the 1700s Annapolis was the seat of government for America. Hard to believe as its such a small town. In fact the Naval Academy occupies much of the peninsular on which Annapolis stands. The name Annapolis stands for 'Anne's City' to honour the then 'future Queen Anne of England'. It was also in Annapolis that Kunta Kinte was landed from Africa (Gambia) to be sold into slavery. The story was told by Alex Haley in his novel 'Roots' . Haley claimed that he was a 7th generation relative of Kunta Kinte.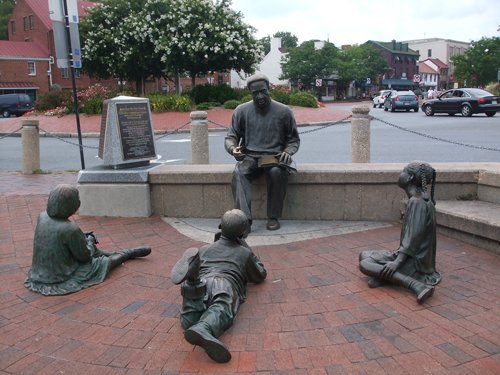 The Alex Haley Memorial Statue in Annapolis. Quote - "One African-American girl and one Asian-American girl join a European-American boy as they "listen" intently to the master storyteller, Mr. Haley. Many a young child has joined this trio, or sat on Alex's lap to take part in this wonderful opportunity to share their stories with him".
Announcement of arrival of a slave ship in Annapolis which would then sail onwards to England with a cargo of tobacco.
Inside the Naval Academy Visitor centre in the background. Yes it had been raining again!
Layout of the Naval Academy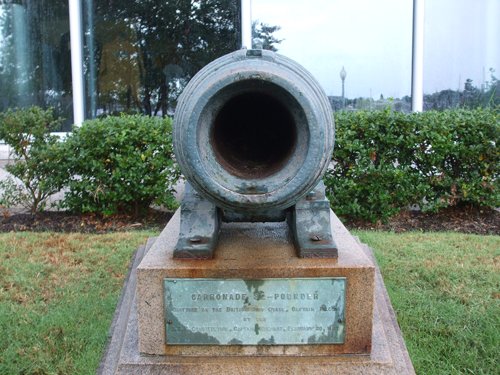 One of our carronades !!! This was taken from the British warship 'Cyane' by the American warship
'Constitution' in 1815. We tried to take it back but couldn't get it past security !!
Spot the policeman on the battery powered chariot - he sped up as the picture was being taken. Not surprising really.
Historic row of dwellings now restored.
Shiplap House - one of the oldest surviving houses in Annapolis - circa 1715
Today we are leaving Annapolis to sail back into the Bay towards St Michaels on the east coast. A distance of around 25 miles and the first part of our cruise to Washington DC.
---