Festive Greetings from Rock Sound

AJAYA'S CRUISE
Phil & Nikki Hoskins
Sat 24 Dec 2016 22:35
Rock Sound 24:51.87N, 076:09.78
In the Bahamas they like to remind you when it's that special time again and the locals go to a lot of effort to make the 'season to be jolly' – well, extremely jolly. Even if the displays are more sunburnt rather than frostbitten or wind-blown, Christmas is still Christmas. The Bahamas Police Band in-between apprehending are busy plugging their Christmas Carols CD for $10 available from any police station apparently, although we've yet to buy a copy, and the Junkanoo season will shortly be getting underway.
We've moved on from Spanish Wells but instead of heading straight down to the Exumas we decided that Rock Sound in Eleuthera would be the perfect place to spend the festive period. Excellent all-round protection from the anticipated strong winds that are forecast to blow over the holiday period. With a small number of cruisers likely to have the same idea we'd enjoy meeting new folks as well as old friends that regularly use this route to get south. Whatever, we will be spending Christmas Day together as a group pooling all our Christmas fayre on the tables of a waterside restaurant. Today, Christmas Eve we all (16 of us) congregated at Sammy's Restaurant for a traditional Bahamian Christmas Dinner and boy were we full after that lot!
So, to keep the festive flavour going here's our pick of the garden displays we enjoyed seeing around Spanish Wells this time round.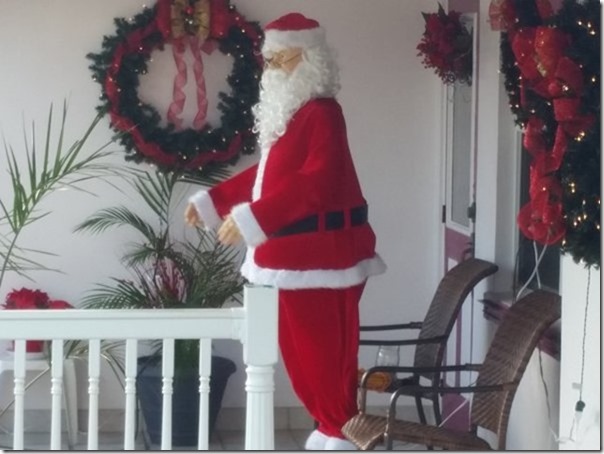 HAPPY CHRISTMAS EVERYBODY
---