Last of the ICW images!

AJAYA'S CRUISE
Phil & Nikki Hoskins
Fri 19 Jun 2009 13:11
A selection of images taken in the ICW from Southport to Norfolk .......
One of the many opening bridges of differing types that open on the hour, on the half hour,
on request or when they feel like it........
We should have booked but it was late & they let us stay on the fuel dock for the night!
More Ospreys - just can't resist it - they moan like anything when you pass close.
No accounting for taste.......................
Passing through the army ranges - evidence of target practice. An ex-tank. Luckily they
do close the ICW to traffic at those times.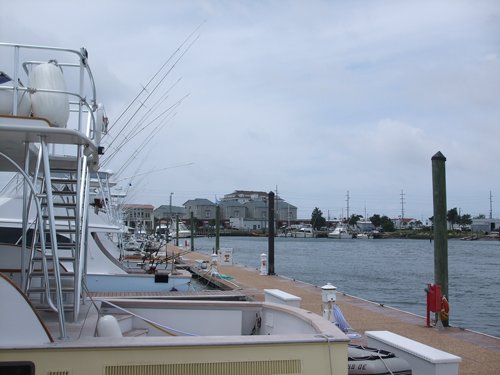 Morehead City during the sport fishing competition - row on row of expensive rods.
A large tug pushing a very long barge & shrimper on the Neuse River.
More Pelicans hanging out........
Belhaven - the pergola is for customers to relax in a bug free environment!
Skipper catching up on the e-mails & Skyping home!
One of Belhavens beautiful little gardens.
The Albermarle is a river to be very wary of in high winds due to strong currents- we had
flat calm.
The seemingly endless Alligator & Pungo River canal.
The super flies.................
Alligator River highway bridge, the span is 2.5 miles long & it won't open in high
winds.
Queuing at Great Bridge highway bridge - we parked the other side to the right for the night.
The only lock we needed to go through at Great Bridge was only a foot or so drop.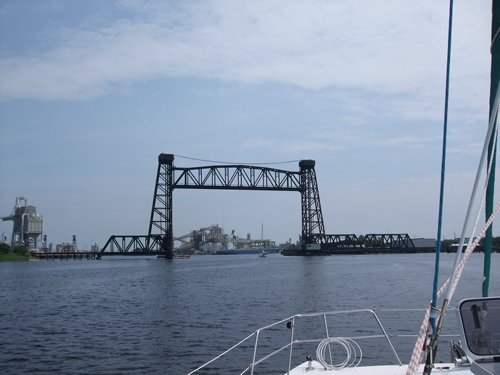 Another sort of bridge to add to the collection!
Old Liberty ships in mothballs on the way into Norfolk.
---