In Lake Worth - Florida

AJAYA'S CRUISE
Phil & Nikki Hoskins
Tue 17 Dec 2013 02:19
We left Vero Beach last Tuesday after enjoying a night time Christmas Boat Parade of Light, or something like that, through the anchorage on the Friday evening (6th). It was an interesting spectacle. It's amazing to what lengths people take the trouble to dress up their boats for the festive season and put on a parade for gawpers like us. To add to the noise and cheering we set our automatic fog horn on to the 'vessel aground' setting and were surprised at the interesting tonal notes emitted from the loudspeaker mounted on the mast. This speaker was originally fitted for 'Skip' to bellow instructions to the 'Admiral' on the foredeck but after one withering look early on in our cruising life it was consigned to official fog and recreational duties only. Shame.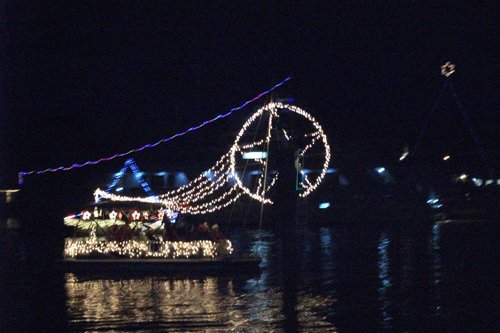 So much work was put into the Parade of Light engendering the spirit of Christmas to the residents of Vero Beach
On the Sunday afternoon we strolled along the waterfront, under the vast spans of an urban bridge across the Indian River and through a local park along the river side. There were excellent facilities, barbecue pits, relaxing areas and even a beach volleyball pitch which to 'Skip's' delight was filled with nubile young schoolgirls being taught the rudiments of the game by their enthusiastic coach. Who wouldn't be! They didn't seem to be playing much actual volleyball though? Unfortunately, 'Skip' wasn't allowed use of the camera to take any pictures at this point in the walk so we'll move on to the memorial park.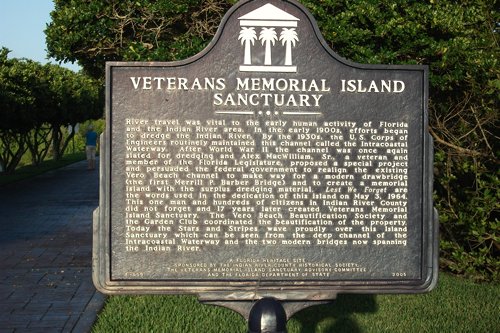 As concrete bridges go this was a work of art - an excellent illustration of perspective and the signpost at the entrance to the memorial park
We walked across a small bridge onto a 'spoil' island. That is one created by the dredging of the ICW many moons ago, with the 'spoil' as it is called being used for land creation rather than being dumped at sea. The Indian River has many such islands which locals canoe or motor over to at weekends for picnics, camping, fishing and doubtless other activities.
This particular island had been given over to a Veteran's Memorial Park and very nicely done too. A real haven of tranquillity with nice views over the river. As we walked round the ultra-clean pathway we were ambushed by grey squirrels. Well, about six in total obviously on the lookout for tasty treats. They were in more danger of a well aimed toe from the 'Admiral's' right foot coming that close.They soon got the message that we didn't have any food and coming from the UK we much prefer Red Squirrels thank you very much.
Whilst still on Vero we should mention the free (that magic word) bus service for residents and visitors alike. There are several routes that take in the marina where we were, the beach and the major shopping locations. Needless to say we made full use of this excellent facility and spent much of Saturday (and Monday!) meandering around the various shops in the vicinity until the novelty wore off and we tired of the excessive Christmas musak played in every store we entered.
Tranquil setting for a memorial Park....
Pesky squirrels! Half mast flag - Tribute to Mandela perhaps?
So, time to leave Vero Beach and head outside to the Atlantic again for the 45 mile ride to Lake Worth. We overnighted at Fort Pierce fifteen miles south of Vero to make an early bouncy exit through the inlet at first light before turning southwards. Initially we sailed but subsequently motorsailed a mile or two offshore all the way to Lake Worth inlet. The trip was memorable for two events. First, our very first fish of the season caught in just fifty feet of water. A two foot long Wahoo (looks a little like a Barracuda) which took our 'dipping and diving plastic fishy look-alike' lure with a vengeance. Our catch was well behaved until we landed the thing. It went daft, thrashing around on deck with blood splattering all over the place, until 'Skip' placed a foot firmly onto it's upper torso to quieten the little devil whilst gloves and pliers were sourced to avoid the triple hook still residing in its mouth from finding a new home!
The second event followed shortly after - just as the fish was in it's final death throws. A fast triple engined sports boat hammered straight towards us at about thirty knots until we could see the decals of the Customs and Immigration authorities (a.k.a Homeland Security) clearly emblazoned on the side of the impressive looking new craft. With our decks looking as though the massacre at Rourke's Drift had just taken place they approached and the twenty question interrogation commenced at a safe shouting distance. They then asked to see our paperwork which the 'Admiral' retrieved from below and 'Skip' handed over as they motored to within six feet of Ajaya. They must surely have smelt the fish. We were still motoring along at four knots on one engine throughout the manoeuvre and the Wahoo was now sitting quietly in the fishing trug awaiting the filleting knife. After five minutes and much radio traffic between the Border Protection boat and their headquarters we were deemed to be not so undesirable aliens. Our paperwork was handed back across with just one more question from our chief interrogator - 'How long did it take you to cross the Atlantic?'. That was easy and much better than 'What do you intend doing with that fish you've just caught? No, we don't have a State of Florida fishing license do we! But the fish didn't know that, we were somewhat offshore and it was dinner.........................
One Wahoo onboard - haven't had fresh fish in months! New perspective on the meaning of 'houseboat' close to entrance at Lake Worth
So, we sit in Lake Worth waiting for the right weather to get to the Bahamas which may not happen 'til after Christmas. There is a narrow window of opportunity on Sunday 15th. But, squally conditions are forecast for the Gulf Stream crossing following a big winter storm moving through the eastern States - we've decided not to bother. Perhaps we'll head down to Miami Beach on Tuesday and see how the weather pans out over the next ten days or so.
---