Slowly wending our way............

AJAYA'S CRUISE
Phil & Nikki Hoskins
Thu 7 May 2015 13:22
In Green Turtle Cay – Abaco 26:45.49N, 077:19.38W
In real terms we are just 165 miles from Florida which represents about thirty hours sailing or motoring. Normally at this time of the year this would be a doddle as the fronts don't quite reach the Bahamas. Benign conditions allow movement in just about any direction before the summer trades establish with east to southeasterly winds being the norm. This year seems to be different as having sat out one recent weather system in Marsh Harbour before moving to Man 'O' War Cay to hide from the really nasty stuff we are now in Green Turtle Cay hiding from another developing system. This is an early 'hybrid' low (the forecasters love their jargon) or a cold core low (more jargon) which could develop 'tropical characteristics'. Thus the 'hybrid' aspect. OK we give in – we'll seek some shelter and see what happens next. This could take a week before the area of nastiness has decided how quickly it wants to move northwards and into which area it will make landfall and ruin somebody's barbecue ashore. We have actually managed to move about twenty miles in the right direction in the last few days and have put the infamous Whale Cay passage firmly behind us, which, if you know this area will appreciate it's better behind you than in front when trying to get somewhere.
Arriving on Donny's Dock in Black Sound we were fortunate to catch the last day of the Island Roots Heritage Festival held in the settlement of New Plymouth. A place we've visited and described before -in January 2014 to be precise. The event was well organised and held in the park at the point just at the entrance to New Plymouth harbour. It was certainly a brave move to go ahead with the show as a lot of investment was required to bring in acts from other Abaco locations, mainly Marsh Harbour. The famous Bahamas Police Marching Band was also booked and flew in at enormous expense from Nassau. They are a real crowd pleaser and draw people to the event that would otherwise perhaps not bothered to catch a ferry from the 'mainland'. We saw them in George Town last year and looked forward to seeing them again. This time however, they augmented their marching with some serenading antics from one of their members who has a very good voice. We suspect that when they are not marching around various locations in the islands they are moonlighting behind drum kits, guitars and microphones supplementing their income. The ladies in the crowd certainly loved the serenading. And there was also an excellent Junkanoo display by the winning Forest Heights Junkanoo youngsters of Marsh Harbour. They were brilliant. Anyway, pictures always tell a better story so here's our photographic take on the event including a marathon wait of almost forty minutes by the 'Admiral' for a freshly made Conch Salad at one of the food stalls.
Golf carts rule in New Plymouth but you have to watch for cars as well Welcome to the Green Turtle Cay Island Roots Heritage Festival
The Police Band relaxing before they start their routine They have to deal with all surfaces when marching – sand, grass, rock, coconuts you name it......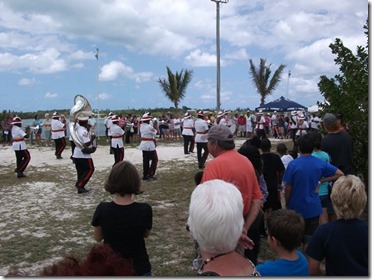 ......but they still manage to put on a good show.... with some complicated switching of direction..... ......which the crowds appreciate
The less said about these two pics the better !!!
Des in't no Knock Offs – Des Bahamian......Means they weren't made in China then Roots Festival means British colonial influence dating back over 300 years
Having marched around for a while it's time for some fun with the local ladies.............when have police been so popular!
And now the great Conch Salad Bar challenge when our 'Admiral' fancied some freshly made Conch salad. Behind the stall by the waters edge were dozens of live conch tied together by string to stop them walking away, albeit very slowly as they only have one leg and are like a large sea snail. To extract the conch you have to make a hole with a sharp implement in it's shell about five spirals inwards from the pointed end, then insert a sharp knife to sever the muscle that holds the conch inside it's shell and hook the thing out ready to be skinned and cut up. Best not to see this process if you haven't tried conch.
1410 'de Admiral' joins de (short) queue Here de tasty fresh Conch being chopped 1412 and dey is busy, busy busy (ladies be chattin some!) We need more conch Mon!
We chops de salad while waitin' for more conch Oh Mon.. Is dis de policeman arriving @ 1424? Hurry wid de conch mon, hurry !!!!! dem ladies still waitin and it's 1425 already..............
1440 - She got de conch salad mon – after 35 minutes!!
The Police Band need food too........... They be marching on de stomach and shiny brass trumpet voluntarily waiting it's turn in food queue
Later in the evening the Junkanoo begins...............
Some of the best costumes we've seen
They took a good hour to circulate around the show ground – it's better than going to the gym any day
The costumes represent the seasons
After the Junkanoo the evenings entertainment started on the stage with a Rake and Scrape band which got the audience dancing .........
It's dance time for the crowd whilst at the ferry dock all the Junkanoo costumes are stuffed into their own transport going back to the mainland – the kids had their own ferry
A successful event for this small island. We hope they continue to hold it in future years. We loved it.
---