Time to leave the Rio Dulce

AJAYA'S CRUISE
Phil & Nikki Hoskins
Sat 26 Nov 2011 14:23
It's nearing the end of November and that means it's time to square up the boat, finish off any last minute projects and head back to sea. We can hardly believe it's been a long 5 months since we scurried into Guatemala at the beginning of the hurricane season last June, having given up on our attempt to get to Panama.
It's been an interesting few months for us. June & July were unbearably hot with constant thunderstorms leaving us fearful that we or our onboard electronics would become what is now that popular _expression_? - toast! Well, we and the boat survived but it wasn't pleasant. It's been a busy hurricane season so we have been fortunate to be in such a secure place where these storms don't penetrate to any degree. We are now ready to head off back into the Caribbean to see new places, experience new adventures whilst we ponder exactly where we may end up next summer when it all starts again. But that's 7 months away, so too early to fret as to what may or may not transpire.
Here on the Rio Dulce November got off to a bad start especially for our erstwhile skipper when he slipped whilst heading dockside from the side deck. His portside leg slide across the wooden dock, which was surprisingly slippery, whilst the starboard leg got itself into all sorts of trouble clobbering parts of the boat, stanchions and dock before he was seen to disappear between boat and dock into the water. He sheepishly climbed back onboard using our boarding ladder sporting some very nasty grazes on the starboard shinbone. He insisted on continuing his chores for the day (where do we get such men!) - but we did have a hatch in pieces which could have let plenty of water in had it rained. But not before the 'Admiral' had slapped some antiseptic cream onto the wounds which stung just a little to say the least. Unfortunately the grazes were merely the visual precursors to other painful aspects of his injuries as the shin bone and ankle developed a swelling from the knock, causing a few weeks of pain which has still to fully heal - poor o'l Skip!
This injury severely handicapped his ability to fight for space in the queue during the 'All You Can Eat Pizza' night at one of the Rio marinas recently. With many more cruisers returning to their boats from their summer breaks it was a bun-fight to get any food at all let alone as much as you could eat. With over 80 people turning up on the night and with live music provided by some of the few talented sailing musicians on the Rio the kitchen staff could barely keep pace with the demand from the hungry cruisers. As for the few Veggie pizzas that surfaced from the galley - well these were thrown to the queuing wolves who didn't really care what the topping consisted of, leaving the four vegetarians present fuming. 'Admiral' included!
However, one fruitful event was the flea market at Mar Marine where Skip eyed up an original Freiberger Yacht Sextant made in the former East Germany, complete with wooden box, error certificate and the original receipt dated 1978!! At Q200 (£16.50) this must have been the steal of the event as a similar sextant recently sold on Ebay for £375. It was up for Q300 but as the Skip was asking too many technical questions the seller merely dropped the price Q100 to get it (and the skipper) off his hands.
One Freiberger Yachtsextant with original instruction manual and receipt
Our next culinary experience was the 'Surf n Turf' at Brunos restaurant (for the 'Admiral' it was 'Surf n Surf') which featured live music and another chance to get together for a chinwag with those that had just returned from their six week break in the USA.
That Big!! (Note - long term resident of Rio Dulce in background!!) Just havin' a bit of fun Just havin' a bit of a strum
To round off our Rio Dulce experience we enjoyed a fantastic November 24th USA Thanksgiving celebration at Backpackers restaurant where some 60 people paid to enjoy a wonderful turkey roast with all the 'trimmings'. This event was in aid of Casa Guatemala a local charity that helps Guatemalan children who have been rejected or are just unable to be with their parents to be educated and take their place in society. Some 250 children benefit from the charity's work at any one time and the folks there do such wonderful work to help these poor children.
The 'nut seller' cometh........ "That's not a full pound of nuts" he exclaimed!
Here we go again - eating, drinking, chatting! Here's the food....... ......... including choice of apple & pumpkin pies
However our final evening was spent at 'Sundog' where the 'Monkey Bay Six' met for one last time on the Rio Dulce before going our separate ways. And bless them all, they paid for our wonderful pizza, surely the best to be had on the Rio. A memory we will cherish until we meet up again hopefully in the Bay Islands.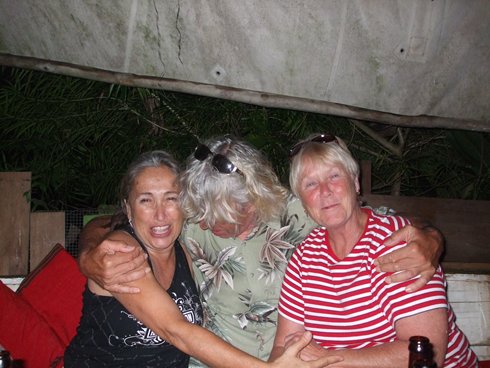 Overcome with emotion - or caught breast-gazing again! yet another Hawaiian shirt (size XXL) from the wardrobe makes an appearance
and finally here are our monthly critter offerings........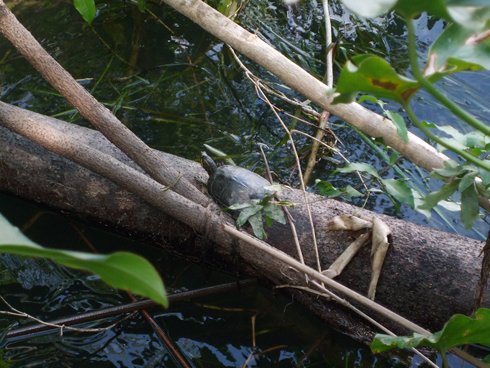 Frog - Bull variety Terrapin - log variety Heron - white type
Some 120 miles to the east lie the Bay Islands of Honduras, a small archipelago of islands famous in history as being the haunt of many a pirate - in fact up to 5000 pirates were thought to reside there at one time if you believe statistics. All waiting to pillage the Spanish Galleons laden with gold heading back to Europe. They must have been busy pirates or perhaps they were on shift work. Columbus was also a visitor who was convinced the indigenous people were cannibals. Of course that was many years before the pirates arrived.
To our north is Belize, formerly British Honduras, which offers the second largest barrier reef in the world to explore. So we have choices although as always they are very dependant on the weather. Winter is arriving in the tropical belt in the northern hemisphere and that means strong trade winds from the easterly quadrant punctuated by cold fronts coming off the USA coast. This brings cooler northerly winds which provide not only some relief from the warm trades but also the possibility to claw back some miles to the east.
So we hope to depart Monkey Bay Marina this Saturday. We need to clear out at Livingstone on Monday and then see what's going on with the weather. There is plenty of shelter from easterly winds in the area whilst we wait for favourable breezes to take us east to Utila or Roatan. We may just have a weather window to get there in the next few days. We'll see, as we've experienced the dodgy end of these weather windows in the past!
---