Back down the Potomac

AJAYA'S CRUISE
Phil & Nikki Hoskins
Sun 30 Aug 2009 01:19
Leaving Washington we began the trip back down river, passing Ronald Regan airport and the Pentagon on the starboard side then under the new Woodrow Wilson Memorial Bridge. Interesting to note that in recent times ex Presidents have bridges and airports named after them rather than expensive monuments. We couldn't find anything named after Nixon though !
That night we stopped back at Mattawomen Creek which is a jellyfish free zone so the ships diver duly donned suit and switched on the electric air compressor to clear the considerable growth from the saildrive legs which lost any antifouling paint a long while ago. The water was like a dark soup with no more than 12-15" of visibility. There was a lot of barnacle growth to be hacked away and the starboard prop had a massive tangle of weed wrapped round the blades. I have to confess to giving out a garbled scream as a shape loomed into my peripheral vision but it was a fish that had arrived for a free meal. So inquisitive was the little thing that he kept looking into my face mask which meant I could hardly see what I was doing, so I bonked it on the nose and he kept a distance after that. An hour later the job was done and ships diver duly surfaced.
From Mattawoman we headed for Colonial Beach on the Virginia side of the Potomac. Going up we had kept to the Maryland side. Unfortunately the Navy decided they needed to lob some live shells at permanent targets situated just north of Colonial beach, out on the water, so routed us down the Maryland side which would have meant a large detour at the end of the range - just in case their gunnery chaps were having an "off day". We spoke with them on the radio and after some discussion we changed the plan and decided to stay on the Maryland side for the night. We sat in the cockpit underway, eating our Saltines whilst guns were blazing off to our right, with big plumes of water shooting into the air about 3 miles ahead of us. It made a rather uninteresting stretch of the river considerably more exciting this time around. We eventually fetched up in Breton Bay which proved to be an excellent substitute for Colonial Beach, no bugs, no wind and no other yachts. It was hot though.
Leaving Breton Bay we motored the 20 or so miles down to the St Mary's River. The firing range now behind us was in full blast again. The range boats which are responsible for the safety of craft moving through the area were busy deflecting strays left and right of the live shells. An exchange with one of the US Coastguard boats contained a slight inter-service edge to the conversation, as the coastguard insisted they had some buoys (pronounced boo-eeze in these parts) that needed servicing in the area whilst the Navy insisted they were dropping live shells around the place. No contest really !
As we had last filled up with fuel some 3 weeks back we were getting low so called into Carthagena Creek which had a small marina with Gas & Diesel available. We had then intended to move on further up the St Mary's river as the creek was small with limited anchoring room - but we are glad we didn't as we were shortly to experience American hospitality at it's best.
Having taken on just enough fuel to get us back to Solomons (preferring not to fill up in seldom used marinas) we then motored a little way into the creek and decided to stay for the night. There was a beautiful wooden 'Herreshoff' looking sailing yacht, with raked-back masts moored on a back garden mooring.
We dropped anchor just 50 yards or so away and settled down for the evening. The owner of the yacht came down and called across to find out where we were from and shortly after he came out (with his little dog) and invited us for breakfast the next morning. We gratefully accepted, had an early night, but not before watching another fantastic sunset.........
.......and were collected at 0800 the next morning. His neighbour also had a boat on his own slip and he joined us at breakfast. The meal was punctuated by lively conversation and ended with a tour of the estate and then the fantastic boat he himself had designed and had built in Indonesia.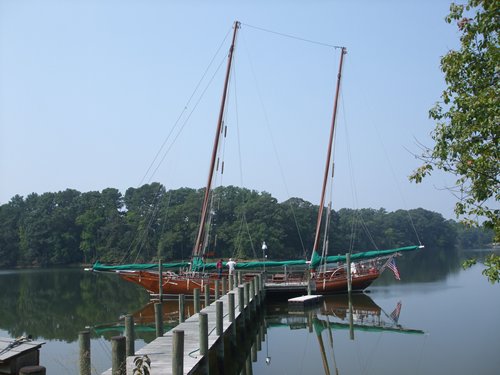 He then sailed the boat without an engine (except for the Red Sea where it was shipped as deck cargo) all the way back to the USA. He is still completing the boat down below but up top it's all done. Four hours later we were back onboard Ajaya, giving our own guided tour before we parted company. It was a memorable morning, but one of the reasons we like the States - great hospitality to visitors, however you arrive!
The house he built himself & Sandy - the stray that adopted them !!!
We left the creek and headed for St Mary's City just a few miles up river.
---