How many cranes to lift a fallen boat....

AJAYA'S CRUISE
Phil & Nikki Hoskins
Tue 6 Dec 2016 17:35
Two actually, much to the insurance underwriters chagrin. The fallen Moody, a victim of Hurricane Matthew needed to be placed back upright and for the rigs of all three craft to become disentangled. It was a right mess and Westland has no machinery for such work. It has a travel hoist that can lift boats that are already in the upright position but no way to resolve this situation caused by a micro blast of wind, apparently after the storm had passed.
When an outside contractor arrives on site with one of those big alpha male type Tonka cranes the whole yard comes to a complete standstill. When two show up, well, you could sell tickets to watch the proceedings. People emerged from boats we thought were derelict to watch the spectacle. The 'Admiral' duly attended with the camera to record the happy event as nobody likes to see a distressed boat, especially a British made one! So here's how it all panned out..........
Just a reminder of the job in hand....
Crane 1 in position with a spreader bar and strops running beneath the boat ready for crane 2 to do the same with a spreader bar.....
...with both cranes now joined together by their lifting strops the lift can commence........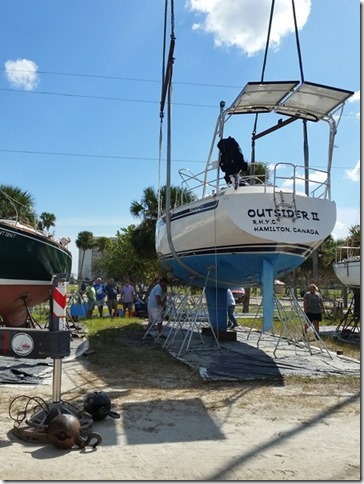 .......with crane 1 providing a lifting action on the port side of the boat and crane 2 providing momentum in a downward action. All supervised by one man on the ground watched continuously by the two crane drivers in their cabs. Once upright the Moody is treated to a nice new set of supports set by the yard crew who stood and watched the whole procedure as spectators themselves.
Easy when you know how eh?
As a footnote, the boat was subsequently written off by the insurers.
End.
---