It's Christmas!

AJAYA'S CRUISE
Phil & Nikki Hoskins
Wed 23 Dec 2015 17:10
With an extremely windy stretch of weather predicted until after Christmas we are still in Hope Town on Elbow Cay and will remain so during the festive period unless the weather suddenly changes. The boat tree is up, pretty fairy lights adorn the cockpit, Christmas Stollen Cake is waiting to be devoured along with a few bags of chocolates to keep the waist line in bad shape. We even have some TV coverage so may be able to celebrate the festive season watching Bahamian or USA TV, depending on our mood on the day. Neither is very inspiring although the Bahamas channels can be a riot of fun.
Last night we dinghied ashore around 1700 to catch the parade of decorated golf carts. It was advertised that they would be driving through Hope Town after being judged at the Christmas Village set up on the ball field in town. Unfortunately for whatever reason there was just one decorated golf cart entered. Usually, we are told, there are up to twenty participating so not too sure what happened this year. Maybe there are just not the visitors around but good news for the one participant – they won all three prizes up for grabs. Good on them!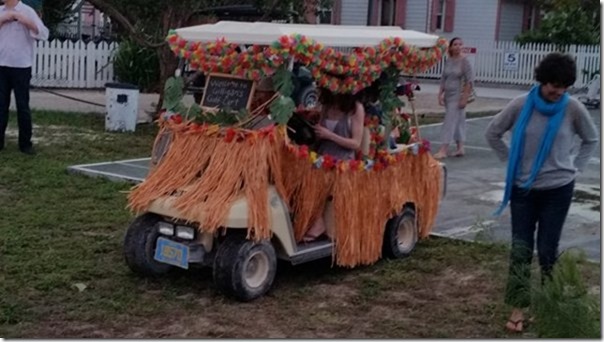 And the winner is............. err... this one. Well, the only one actually the ice-skating was popular with the kids despite the lack of ice.
'Skip' taking pics of the 'Admiral' taking pics of him (and Santa!) and it all looks very festive.
The locals have made tremendous efforts to put on some entertainment for townsfolk and visitors alike and the ball field sported a number of attractions including 'ice skating' for the kids, a bouncy castle, a Santa's Grotto and some gift stalls, along with the usual food and drink facilities. It was the first time such an event had been put on and it was clear that a lot of hard work had been put into making it a success. We left just in time - on reaching the boat the heavens opened with a squall passing through which would have had everyone there running for cover. Just hope the bouncy castle survived. Around Hope Town there are plenty of festive displays to give a Christmassy feel to the town and even the candy-striped lighthouse has some extra lights strung up for the season.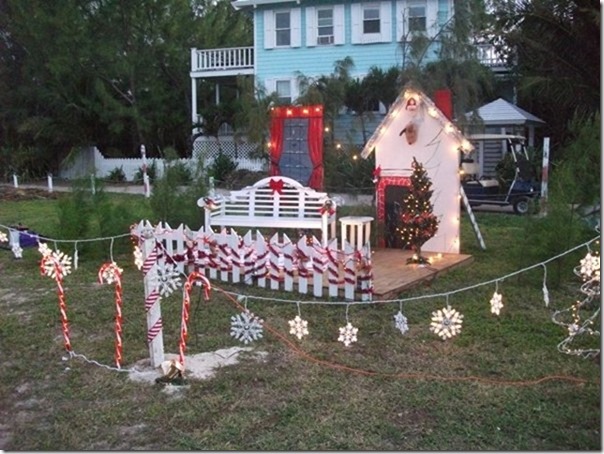 Santa's not yet in residence..... ..... although his slay-boat has arrived pulled by two dolphins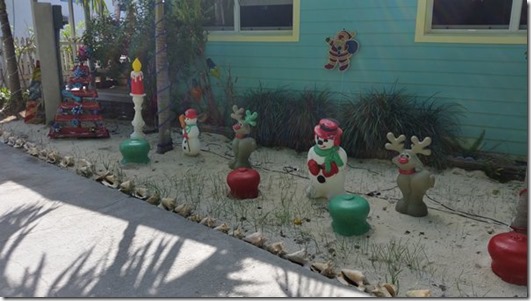 Elsewhere in town....................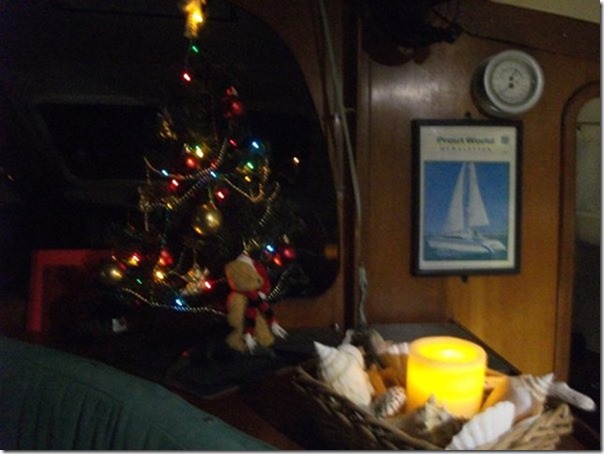 The boat tree makes another appearance and the cockpit lights twinkle provided we keep changing the batteries
A carol possession is due to walk through town tonight (weather permitting) which we may attend. We certainly won't be doing much singing. And at this time whilst we are safely moored in a Bahamas harbour enjoying temperatures in the 80's with Christmas fast approaching our thoughts are also with one of our Panama acquaintances Jeff, who in the last day and being well on the wrong side of seventy years old, has just rounded Cape Horn for the second time in his forty foot Baba Ketch 'Sailor's Run,' some fifty days into his second solo circumnavigation. Safe sailing El Jefe!
To our families and all our friends we wish you all a very Merry Christmas.
---