Nibbling away at the Abacos

AJAYA'S CRUISE
Phil & Nikki Hoskins
Tue 3 Jun 2014 16:27
In position 26:54.11N, 077:28.94W Powell Cay
After Fishers Bay we moved to re-provision at Maxwells Supermarket in Marsh Harbour which is just about the closest likeness of an American styled retail outlet outside Nassau. It has most things. The isles are wide enough for two or three trolleys to pass and there's little risk of being buried under an avalanche of tins and packets stacked high above. 'Health and Safety' hasn't quite made it throughout the islands of the Bahamas yet. Quite a nice shopping experience really made even better by 'Skip' finding a number of small packets of cumin seeds for his curries. Ground cumin just doesn't 'cut - it' these days in the galley.
We thoroughly enjoyed a meal at Mangoes restaurant over looking the harbour. The 'Admiral', just to erk 'Skip', broke with her Conch tradition and ordered Mahi, therefore implying that if we can't catch it then we buy it! 'Skip' ordered land food in the shape of ribs which were also very nice. In fact the whole meal and service was excellent. We even negotiated a reduction in a bottle of Chardonnay when the chef came to humbly apologise that all of his stock of six bottles had accidentally been frozen with the corks having popped. Not to worry we said - just reduce the price and we'll give it a go. We only drank one of the six bottles though. Not sure of the fate of the others. Or of the chef come to that if he continues to blow corks from his wine stocks in the freezer.
With the boat now stocked up 'Skip' took the jerry cans to the fuel dock to keep the diesel engines running. Just fifteen gallons would do it. But he arrived to find the 'Essence of Cayman' an 85 foot powerboat taking on a mere five hundred gallons and was only one hundred gallons into that fill. Our fifteen gallons would last just twenty minutes in that thing at cruise speed and ten minutes when the two thousand horses were fully unleashed down in the engine room. The on-board engineer, not wishing to see 'Skip' bake in the noon heat waiting for the pump to read 500, invited him onboard for a look around. It had been built in Turkey in 2004 or thereabouts and had cost the owner many millions then and no doubt a few since. (Currently for sale at $3.69M) In fact this refill was setting the owner back just under three thousand dollars alone compared to our pathetic ninety dollars worth to eventually be pumped into some beaten-up old plastic jerry cans we carry with us.
'Essence' classic lines at 85 foot length & sumptuous main saloon
Rob, the engineer regaled 'Skip' with tales of 'A' List celebrities he'd been hob-knobbing with during his regular charter runs to and from the new Baker Bay resort on Great Guana Cay. From a long list only Sean Connery was recognisable but then we have been away for six years and 'A' Listers come and go with some regularity. 'Essence' was beautifully constructed made from cold moulded ply and fitted out in the most astonishing quality of veneers with oil paintings hanging in the dining area - but one of the saloon windows suffered from a leak proving above all else that it's still just a boat, albeit with more expensive repair bills!!
One item we didn't take onboard was water. We can make about three gallons an hour if we have a long motoring trip ahead and can let the watermaker pump away to it's hearts content. Otherwise we gradually eat away at our dwindling stocks. Water is expensive to buy in the Bahamas. We (well 'Skip') was convinced that all the water we would need would be falling out of the skies in the coming days, landing on the decks and running straight down into our tanks from the dams we set up for such an event. In fact millions of gallons fell in the Abaco over the next few days but we were never underneath any of it. It fell in isolated pockets of thunderstorms. You could see both visually and on radar where the rain was teaming from the sky with us still basking in sunshine a mile or so away.
Water,water everywhere but not in our tanks.......................
First stop after Marsh Harbour was Treasure Cay where we motor-sailed alongside a storm cell with nice cold rain that just continued to hug the main island shore apart from a few spill over spits and spots. Anchoring in Treasure Cay for the night we left early the following morning to try and transit the 'Don't Rock' channel which saves a five mile trip out to the Whale passage. However discretion proved to be the factor and valour was saved for another day. 'Don't Rock' had a two foot swell running. We could only make it across on the high tide with inches to spare and the wind was blowing from behind us. We felt it was a risk not worth taking for a first time transit so burnt some of that precious diesel to go out further and take the traditional route.
As mentioned before the Whale Channel is the nemeses of many a cruising boat where the actual wind strength can be just a few knots yet the high ocean swell hitting the shallow cut is able to roll a large boat over to destruction. That said the most recent disaster to our knowledge was the loss of a jet ski and a dog. Yes! the dog was actually on the jet ski but obviously not in charge of it although the dog probably had more commonsense than the man riding it, but there you go. We transited when the swell was hardly measurable. Our last major obstacle to getting back to Florida apart from the Gulf Stream of course. We could now carry out our last plan of the season in the Bahamas and take a closer look at the northern Abaco islands. Most cruisers scurry past this area on the way south and then back north again at each end of the season rarely stopping to explore.
As the squalls were still lingering we anchored in White Sound, Green Turtle Cay on what was forecast to be the worst weather day. Along Great Abaco island there were impressive thunderheads and torrential downpours but our tank levels were still falling a little each day. Friday, the day in question didn't look to be that bad after all and we motored out of White Sound in the direction of Manjack Cay just a couple of miles away to the north-west. It was a pleasant night there with at last a brief rain shower. We took a walk on the local beaches dinghied about spotting rays and turtles and made ready to make the next move to Powell Cay. Which is where we are now.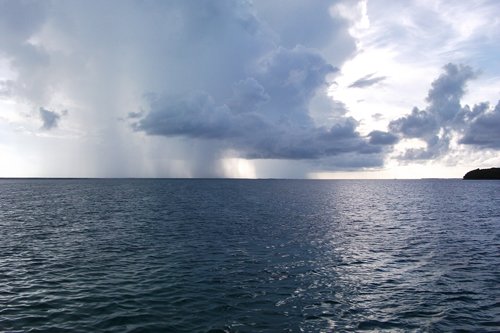 Manjack anchorage with personal cloud and yet more rain 'over there'..............................
Exploring Manjack beaches and shallows.................
...............a shoal of parrot fish making a nice pattern!
---