Georgetown, Long Island and Rum Cay

AJAYA'S CRUISE
Phil & Nikki Hoskins
Fri 11 Feb 2011 21:59
Our reason for being back in Georgetown was to reprovision, order a part for the engine, fill up with water and depart in the soonest possible time frame. Georgetown is currently full of boats - about 265 visiting at the latest count. In fact it's busy the whole winter and for those not wishing to indulge in a high density social calendar of Bridge, Yoga, Volleyball, Pilates, Texas Hold'em (that's Poker we think) and more it's preferable to get out as soon as possible and leave it to the regulars.
Whilst we were there the Bahamas Tourist Board held a reception party at the Peace and Plenty Hotel on the waterfront with anybody visiting Georgetown being welcome to attend and enjoy the hospitality. This would involve listening to some speeches from local dignitaries before letting the guests loose on a free Bahamian buffet. The hardened professional eaters, veterans of many such receptions, timed their arrival at the buffet tables perfectly just as the speeches ended leaving those slower off the mark to stand in a very long queue which snaked around the bar and down the side of the swimming pool. Quite how nobody fell in during the afternoon is a minor miracle. For cruisers a free buffet is akin to a small win on the lottery - not life-changing but not to be 'sniffed at'. A large gathering of itinerant boat dwellers as found in Georgetown is capable of clearing fully laden buffet tables of their contents within minutes. The food was all washed down with large amounts of 'skyjuice' a mix of coconut water, evaporated milk with optional Gin for those driving or in control of high powered dinghies!
Speeches - This is inspector Darling of the Georgetown Police and the 'pic in the pic' is of a young Constable Darling taken many years ago on duty at the airport .... followed by the local MP speaking.... and some of us 'tourists' waiting for the grub.
After the food had (rapidly) disappeared we settled down to some entertainment with a Lucky Draw containing lots of excellent prizes donated by local businesses. Everybody stood a chance of winning something although somehow Phil avoided one of the several free haircut prizes gifted by a local salon. The lucky winners were in no need of a haircut for some time to come but then they would also probably be in Georgetown for the rest of winter.
The afternoon events ended with a fashion show, local dancing by some school children and a Junkanoo band that had the more agile amongst us dancing around to the rhythmic beat of the drums. Moving at the traditional Junkanoo snail's pace the musicians took about half an hour to enter the terrace, circle the pool and exit the terrace leaving us with shattered eardrums from our close proximity to the band. All in all it was a very enjoyable afternoon so a big thank you to the Bahamas Tourist Board.
The local folk dancing was fun to watch....................... ' and what a pretty smile!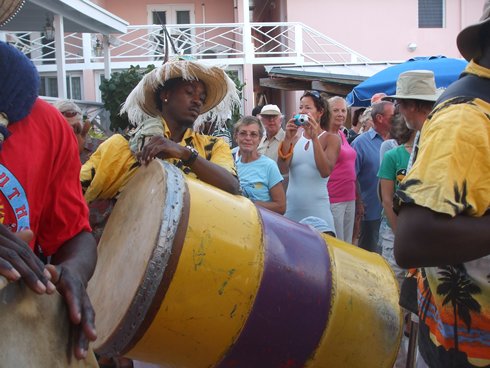 Here come the Junkanoo Band (not sure about the gloves?) with enough drum power to send everybody deaf standing close-by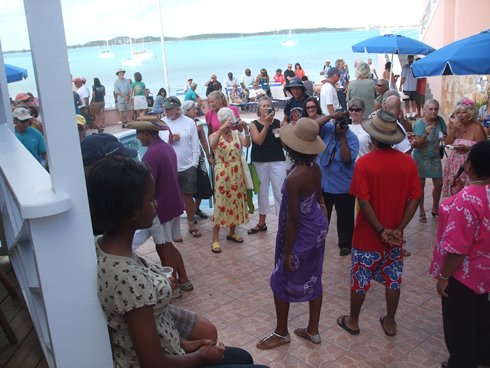 Food 'to die for' - just love the levitating white cap! The fashion parade - perhaps lost on us scruffies! Our friend winning $20 worth of groceries!
Leaving Georgetown for Long Island we were trying out a newly made fishing lure which the skipper had made in one of our 'Arts and Crafts' sessions onboard. Made to a design by our good friend 'Dr Geoff of Tasmania' we were hopeful, having already lost three fish in recent days, of actually landing a big one. We were not fussy - Tuna, Wahoo anything (other than a wretched Barracuda - even we have our limits). Surely no hungry pelagic monster could resist such a specimen of the rare blue squid family despite a nasty looking hook embedded in the frilly skirt that you could hang a cart horse from.
We set off for Calabash Bay on Long Island and watched in amusement as our new creation danced around above and below the surface looking very much the part. Fishermen will tell you that fish are attracted to a surface pandemonium which implies that there is food around. Maybe we were just unlucky on the day but our home-made pandemonium squid attracted no interest of any kind from any fish in the vicinity. We arrived at Calabash Bay fishless.
This was an overnight stop as we witnessed lightening in the far distance indicating a front heading up through the Bahamas from Florida. There was no dangerous weather about but the next morning we were slopping around with a light fetch coming into the bay from the Bahama Banks. Perfect conditions for sailing to Rum Cay, an island to the east of Long Island which we had heard was worth a visit. It was on the way that we at last hooked (and kept on the hook for a change) a Tuna of about 8lbs, although it was not caught on our new creation but on a pink squid lure which had proved successful in the past.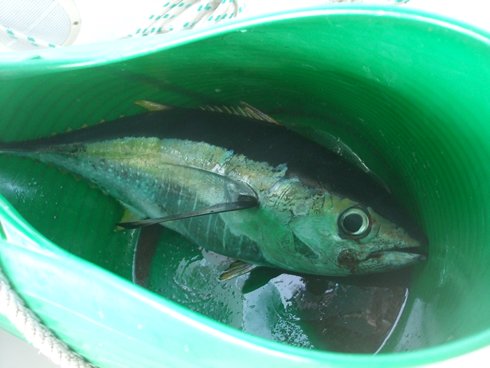 Bluey - our home made squid lure We think this is a big eyed Tuna (open to other suggestions as to species)
This also gave us the opportunity to try out the lethal filleting knife we had bought before leaving the USA. It's the sharpest implement we have onboard - excluding the 'Admiral's' tongue, and would allow us to savour some of the best parts of the fish without ingesting a mouthful of bones in the process. Many previous trips to the foredeck for gutting and filleting bore the hallmark of a crazed mass murderer tearing into the flesh with a blunt instrument. But the new knife worked perfectly although Phil did keep some thick gloves on in case of any slippages!
Rum Cay has only one real anchorage and a small marina close by which is on the southern side nestling in with some coral reefs. Unfortunately the anchorage affords the best protection from the north and north east and we arrived when there was still a lot of northwest with a sizeable swell making the anchorage a little difficult. In fact had the wind not been forecast to shift into the north and then northeast we would have been nowhere near the place. We spent the whole of that night feeling as though the boat was underway at sea with us both asleep or trying to sleep in the forward cabin. It was an uncomfortable night - but things would improve and indeed they did as the swell gradually died the following day and life became more bearable and then very pleasant.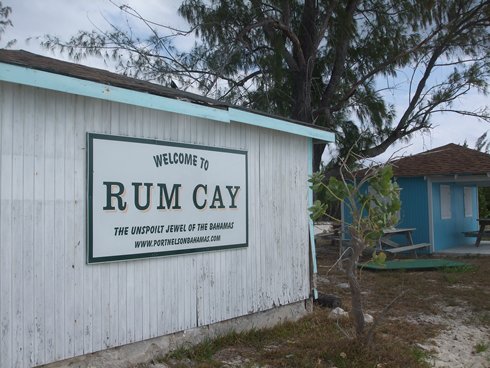 "Welcome to Rum Cay" the sign reads This is the Government Dock situated ....... on a mile long sandy beach
On the southeast side are beautiful coral reefs and nearby is Rum Cays (unfinished) marina
No doubt in December 1861 the Captain of HMS Conqueror - one of the Royal Navy's latest steam driven Battleships felt much the same way -wishing he was nowhere near Rum Cay, as his ship foundered on the reef at Summer Point having been 20 miles out on his navigation. Fortunately his crew of 1400 survived but in those days the island was uninhabited. Some quick thinking by the Captain saw every drop of intoxicating liquid onboard dumped into the sea as he sought to prevent his crew, many being non-swimmers, from drinking themselves silly. He then sent his two largest boats off to Nassau and Jamaica respectively to bring help whilst the remaining crew were all marooned on Rum Cay. The story had a happy ending - all were rescued and the remains of HMS Conqueror can still be seen on the reef to this day.
Rum Cay, formerly known for its salt production with a 'then' population of some 5000 is now mainly a sports fishing island with a mere 60 or so permanent residents. The outer reefs are abundant in large Wahoo, Mahi Mahi, Bluefin Tuna etc. By 'large' they refer to fish in the 50-100lb plus category, not your regular large cod and chips size or indeed the 8lb Tuna we swung onboard which must have come straight out of the Tuna nursery school. Some of the species grow larger than the men that fish for them. For us catching anything larger than 10-20lb gives us a logistical problem - storage. We simply don't have the facility to deal with fish any larger as our freezer, such as it is, takes all day to freeze down a few fish fillets so trying to cram the remains of a 50lb monster into that space would prove impossible. But a nice problem to have all the same especially as it is unknown for cruisers to turn down free fish when offered unless its a Barracuda!.
The ocean reefs on Rum were stunning. We went for a walk along the various rough tracks that lead over to that side of the island. We met a couple with a house nearby that fly down from New Hampshire USA to Rum in their own light aircraft. (We assumed it was them that buzzed low over the anchored yachts the next day before landing back at the airstrip). We had been looking for a sand beach with no footprints to photograph as it's rare to get to a beach with that untouched feel to it. We found one with not one single footprint the whole way down the beach - but instead were the deep tire tracks of a golf buggy that had driven along the pristine sand that morning!
With the breeze setting more into the east southeast the obvious next destination was Conception Island - an untouched jewel. Uninhabited, no bars, no restaurants or any sign that man ever intended to make this island a home. Now part of the Bahamas National Park Conception Island will remain what it now is, a playground for cruisers to visit, with stunning views from beach to boat and from boat to beach, each of us no doubt hoping above hope that everyone else would sail off to another island leaving us the only visitors alone in this wonderful haven. Some wish!
(Stink Bug update :- Yes we are still plagued by the little brown devils which emerge at a daily average rate of 10-15 from various hiding places around the boat. This has been the trend for about 2 months now which with simple maths we calculate to be in the region of 600-900 bugs on top of the 600 plus we mass-murdered back in the USA when we pulled some headlinings down. Instead of flying off the boat they sit around for no particular reason. A boat is not their natural habitat and there is no food source. The vast majority meet a quick end by drowning. The odd one does fly off into the blue yonder but as we are always anchored with the wind offshore they are seen to fly off downwind with the next stop usually many, many miles away. As they are not good flyers we doubt that they ever make landfall. Research on the internet has not come up with any known 'antidote' to the problem so we just continue to dispatch them as they appear in the hope that one day they'll all be gone! We have heard that other boats that were in the Chesapeake during the invasion are also having problems so we are not the only ones.)
---