Escape from George Town (for a while)

AJAYA'S CRUISE
Phil & Nikki Hoskins
Mon 4 Apr 2011 16:45
With a boat full of laundry, both engines needing new clean oil and filters, a new alternator booster to be fitted to the port engine and a starboard engine starter motor that was intermittently working (needing to be tapped ever increasingly with a hammer to get it to function) we needed a marina so that all could be taken care of whilst safely tied to a dock - preferably a cheap dock! The Marina at Emerald Bay (now owned by Sandals) offers such a facility along with free wifi and - unbelievably FREE LAUNDRY!!! Surely cruisers Heaven. (We could also purchase day passes into the Sandals resort next to the marina but at $180 per day each we opted to stick with the maintenance and laundry chores and forego the fun!).
We motored the 10 miles to Emerald Bay (no fish yet again) and docked on D31 for 4 nights. The marina was pretty empty but a visit to the laundry room revealed that those few visiting yachts were all there for the same reason.
All maintenance work was successfully carried out and amazingly everything now works, despite our on-board 'engineer' taking apart first an alternator and then a starter motor. After stripping the starter twice and cleaning the shiny bits that the brushes whiz round on it was discovered that the two retaining screws that keep the brush assembly pinned in place had vanished at some time although no screws were ever found in the engine compartment and so there was a short whenever the assembly moved forward in the motor. That's where the tap with the hammer came in useful we suppose. Yawn Yawn (Admiral). Anyway, both engines now start 'on the button' and the hammer is back in the tool box.
Our 'pit-stop' for four nights - $1 per foot per night - plenty of room!
A round of golf costs $125 or 9 holes for just $85 - a bargain. (Shame about the divots on the tee) - or just lie on the beach for $0 per day
As so often happens when we hit a marina there is a conflict of interests. One of us is trying to get things clean whilst the other dismantles dirty greasy engine parts making the whole boat smell of diesel and oil. During this time 9 loads of laundry were run through the excellent machines in the marina although this was trumped by another cruiser who did 12 loads! Basically if it didn't move it got washed and even the bear contingent were fearing they would be cast into the soapy abyss, or at least their jumpers! We refuelled with 63 gallons of diesel before leaving Emerald Bay and set off on a mini-cruise of the Cays close-by, intending to be back in George Town for the Admiral's Birthday and to get the first service on the new outboard engine taken care of as long as we could get enough engine hours logged.
Leaving the marina we motored 7 miles down to Barreterre Island which is an extension of Great Exuma Island. There is a small settlement there which we walked round having anchored half a mile away from shore. The new dinghy got us to the dock in minutes! There wasn't much going on ashore - very sleepy. We were greeted by the resident potcake who wanted to play with us and then became excitable when we didn't want to play with him. A few stern words from the Admiral (previous dog experience certainly came in handy) and he slinked off to find some shade.
Phil checking the dinghy is secure!!! Local fishing boat in Barraterre and Ajaya anchored half a mile away (faster dinghy makes this feasible now!)
We stopped to chat with a local man who was working on a fairly recent Ford Mustang which looked as if it had previously been used by stuntmen in a Bond movie. It was hard to see a straight panel anywhere although this aesthetic anomaly was being corrected by a ton of body filler that he was in the process of applying whilst we chatted. It reminded Phil of his own Mustang which had consumed so much time, money (and body filler) so many years ago.
Phil inspects the large amount of body filler in evidence Last resting place for a comfy chair - a local pit stop!
From Barreterre we then spent a night at Children's Bay Cay, a private island owned by somebody with lots of dosh judging by the building work in progress, including a small marina for day boats carved into the shore. This was a very pleasant stopover. Phil swam around the boat looking at the graceful and always fascinating Rays that are predominant in the area. They also attracted a few fast day boats on "Exuma Adventure" excursions who stopped briefly for photos before zooming off to the next natural wonder.
Unfortunately, with the wind due to clock from SE through S into the West at 15+ knots we couldn't stay in the anchorage nor could we go to our next planned stop at Lee Stocking Island to visit the Caribbean Research Centre. This would also have been a lee shore so we went shallow and crossed over to the Brigantine Cays, a group of small islands that extend onwards over the bank side from Barreterre which would give us complete shelter from the SW, W & NW as the cold front approached from Florida.
Given that this stop was to get some protection it proved to be a beautiful place. These Cays are uninhabited and amazingly no other cruising boats were there - just us. The colours were stunning, the beaches untouched, the water calm and warm and we were only 5 miles from humanity which we could just see in the distance. The new engine logged some miles as Phil whizzed backwards and forwards along the coast exploring whilst the 'Admiral' relaxed onboard in splendid isolation.
New engine undergoing speed trials off the Brigantine Cays with the 'mothership' peacefully at anchor close by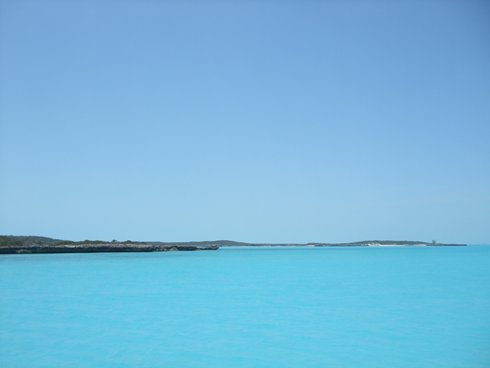 Deserted - our playground for a day - it doesn't get much better than this.....................
Next morning it was back to George Town to find a restaurant for the 'Admirals' special occasion.
Those truly special Bahamian colours which we never tire of looking at.
---