White Sound - Green Turtle Cay, Abaco

AJAYA'S CRUISE
Phil & Nikki Hoskins
Sat 9 Apr 2016 17:41
In position 26:46.81N, 077:20.19W
We are currently anchored in White Sound, Green Turtle Cay, having rounded the infamous Whale Passage last Thursday. Not possibly the very best day to undertake the tricky cut. There was still a big ocean swell running in from offshore which made the re-entry back onto the banks running before two metre breaking swells a little tricky. Not half as tricky as Elon Musk's SpaceX team landing their big booster rocket onto that barge off Cape Canaveral recently. However, we all prevailed and lived to fight another day. Plus we did have a good sixteen mile sail from Hope Town in the process.
We are now waiting for our weather window after the weekend to make the transition from the Bahamas back to the 'Land of Plenty'. With arrival in Florida predicted to be on either Tuesday or Wednesday this coming week. So we will stay anchored in the vicinity of Green Turtle over the weekend and make a move westwards on Monday. Whether we head for Fort Pierce as usual or head up to Cape Canaveral we've yet to decide.
Just the one important occasion of note recently – our 'Admiral's' latest birthday which we celebrated in style with dinner at the Hope Town Lodge restaurant. Real table cloths and 'non-plastic' chairs. What a treat!! The food was rather good too. Lunch, after a leisurely stroll by the Atlantic waters was at a beachside bar called 'On da Beach' where we shared some fresh Mahi Mahi and a couple of bottles of the local brew.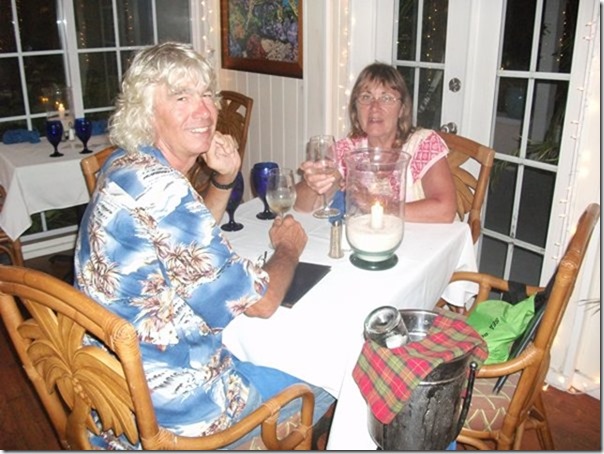 ---