Into the Carolinas - Bear country !

AJAYA'S CRUISE
Phil & Nikki Hoskins
Wed 11 Nov 2009 19:42
35:40.29N, 76:02.82W
We've seen - None! Not one bear and yet we are informed through local knowledge that we have just transited the most heavily populated county in North Carolina - black bear population that is. It would have been nice to see just one peeking at us through the woods as we motored sedately past on the river. All we saw were signs that read - 'No Hunting'. But bears can't read so they stay out of sight.
Our southward progress has come to a temporary halt - bad weather has a dampening effect on the urge to continue our migration towards the tropics in gale force winds and pouring rain. Although some hardy souls do continue onwards. Winter is coming to the northern states - the Ospreys have gone and eagles have taken their place - we've seen quite a few gliding overhead or sitting in trees. All the nests on the navigation posts that contained baby Ospreys in the summer have been cleared ready for them to nest again next year. Places we passed through in the humid heat of summer on the way north have a different feel to them in November as storms become more numerous along the coast. But the cruising fraternity continue their movements southwards - all looking forward to getting back into shorts and tee-shirts again. Our fridge is full of ice cold beers - we haven't drunk a can in weeks!
The last few days have seen us leaving Norfolk behind, stopping for 2 nights at a town called Great Bridge - the location of a rather embarrassing defeat for the British in 1775. We passed through the double bascule lifting bridge at Great Bridge appropriately named Great Bridge Bridge (of course). In fact all the bridges along the intra coastal have names by which they are contactable by VHF, otherwise it would be chaotic with 100s of boats all calling for openings of various bridges at the same time. The bridge keepers are proud of their job - they have to keep the traffic flowing over their bridge but also let the commercial and pleasure traffic pass through. Some open at set times, others are on demand depending on traffic flow. In bad weather they can close for safety reasons and everything grinds to a halt on the ICW for a while. After transiting the bridge its common courtesy to thank the bridge tender via the VHF radio thus a staggered chorus of "Thanks for the opening Great Bridge", (or 'steel bridge' etc depending on location) usually answered with - "OK Captain - Have a nice day".
Great Bridge Bridge ! - large tour boat approaching.
Cruising boats on the way south having just passed through the lifting bridge The 21 mile Alligator River - Pungo River Canal - straight as far as the eye can see
So we have paused for a few days at a tiny marina in the location of Dowry Creek on the Pungo River. We are not alone as other cruisers heading south are also holed up waiting for the bad weather to clear. Its a good opportunity to chat and exchange notes on progress to date, ultimate destinations, good places to go and places to avoid. The 'jungle grape vine' is a vital part of what we do. New friendships are forged at these stopovers. Despite what some may think, being thrown together because of bad weather brings people of different nationalities and differing social profiles together. Some in large expensive powerboats - others in tiny yachts. Then, when the weather clears we all depart on our seperate ways again.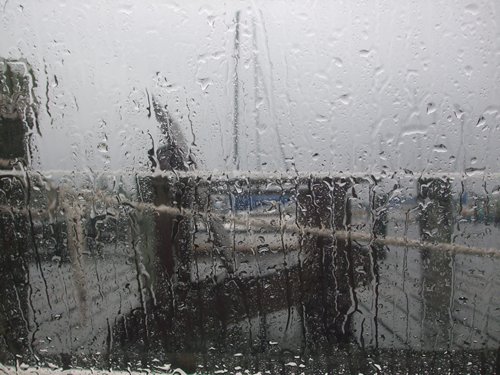 An unhappy sky at dawn yesterday ................. .......leads to this unhappy dockside scene the following day !(view from galley window)
---