Towards Bocas

AJAYA'S CRUISE
Phil & Nikki Hoskins
Mon 7 May 2012 23:43
We enjoyed six hours of actual sailing before the wind finally died and it was on with the motors. A 5 lb Tuna mistook our lure for something related to a fish and that was gratefully reeled onboard and 'processed'. Just enough for two meals and some cerviche for the 'Admiral'. We were then treated to a great display of dolphin antics at the bow which made for some fantastic pics
OK so it's only 5 lb - so why the miserable face? Here's looking at you kid!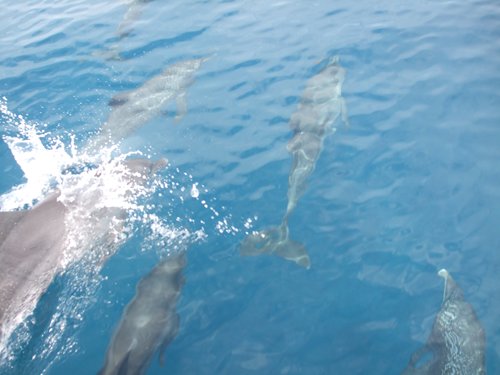 Our intension was to call into the small island of Escudo de Veraguas or 'Viagra Island' as we came to call it as Skip could never remember its correct Spanish name. At about two miles long and just under a mile wide, it's home to a small community of Guaymi Indians. So small in fact that we couldn't see any of them as we anchored off the western end of the island. The huts were there but no sign of life. Our only neighbour was a French Catana Catamaran which had already occupied the best spot so we gave them plenty of space and took the windward anchorage for ourselves. We didn't go ashore as friends had already warned us of their experience with sandflies along the beach which had curtailed their walk and driven them back to their boat to escape the savage biteing insects. So we enjoyed the beach views anchored 100 yards offshore, which also gave us a margin of safety should the wind change into the west overnight. And it did. Fortunately not too strong as, with a fetch of over 20 miles, we would have had a torrid time with nowhere to run except the way we had come.
We are not a fast catamaran by any stretch. The Catana is and it had left an hour earlier to sail up and down the mainland coast at speeds we could only dream about whilst we thrashed along under the engines. We logged 29 miles to Bluefield Lagoon. The Catana probably sailed 40 miles and still arrived off Punta Allegra before we did. Although we did have an abortive attempt to anchor in Playa Raya which proved too bumpy so we up-anchored and motored out just as our French 'friends' motored past us having no doubt enjoyed their wonderful sailing day!
Bluefield Lagoon was named after the 17th Century Dutch Pirate Blauvelt who gained notoriety in this area of Panama. (Hope he had a cruising permit!) It's an interesting area inhabited by Ngobi Indians who are a curious bunch. As we were anchoring we were gradually surrounded by four or five ulus (dug-out canoes) with various Indians paddling around keeping station as we tried to get the anchor to hold. In San Blas the Kunas want to sell you something, they are very enterprising, whereas these Ngobe chappies didn't seem to know what they wanted. One man just stared at us from twenty feet away, a mother and her daughter approached the boat and asked if we were well. This is a pre-cursor to their next move which is to try and procure something from you. Having politely declined their request we were next visited by a six year old boy who could barely see over our topsides. He proved quite persistent and was not going to be fobbed off with our 'poco espanol' explanation. He then stared through every portlight in the side of the boat which was somewhat alarming. So we engaged him again offering him an inducement of two of Skips caramel toffees, which might keep him occupied for a while, so we could enjoy our sundowner in peace. Then we made the mistake of taking his picture and with these Indians that means a $1 for their trouble. So that was 2 toffees and a dollar gone and he was still clinging to our rail until we shooed him off. Back to the sundowners. Thirty minutes later and he's brought his older brother and a friend out to see us! No more photos, no more dollars but Skip's cream toffees were going fast as they asked for five between them. These were quickly devoured and the wrappers discarded into the water until Skip made them retrieve them and give them back to him for correct disposal.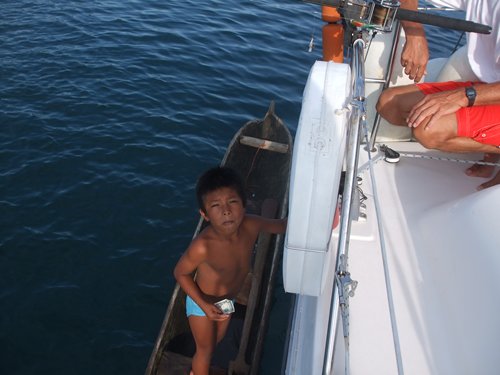 These toffees are great !!! ....and I now have my dollar (smile is extra)
...........so it's time to go ............. Hey !! That'll be another dollar......
Our other source of entertainment in Bluefield was looking at a herd of grazing cows on rich green pasture on a steep hillside. How the cows clung to the slope was amazing. What was even more entertaining was when their owner showed up in his boat shouting "tora tora tora!" as he approached. Hearing his voice the cows stampeded down the steep slope towards the boat. They must have been beef cattle as running that fast their udders would have been swinging all over the place curdling the milk.
The village off the Punta Allegra At least the cows don't charge for photos!
Our next visitor was a chief from across the lagoon who spoke some English and invited us to visit his village the next day. We politely declined as we were leaving early in the morning to arrive at Bocas del Toro in time for our Wedding Anniversary but mentioned we'd be back in a few months, so maybe then. He paddled off to the next boat to repeat the invitation before paddling back to his village a mile away.
Early morning scenes in Bluefield Lagoon with a pelican sensing some fish in the offing
It poured with rain and thundered overnight. The next day the surrounding jungle was steaming, the cows were steaming,and we were steaming.Not a great day for boating. Onwards to Bocas del Toro....................
(Note: The reason the indians charge a dollar for their photo to be taken is that a Kuna visiting Panama City many years ago saw postcards of the indigenous indians on sale to tourists for $1 and so, ever since they have charged the same amount for anyone to take their picture).
---