Leaving the Exumas - heading to Spanish Wells

AJAYA'S CRUISE
Phil & Nikki Hoskins
Wed 5 May 2010 22:49
In position 25:32.51N, 76:44.72W
From Normans Cay we sailed the few miles to Ship Channel Cay which is pretty much at the northern-most end of the Exuma chain. It feels it too. A small shore side beach club, a couple of anchorages and a house ruin on the shore is all that Ship Channel Cay offers passers-by. Generally that's exactly what most yachtsmen do in their haste to either sail up to Nassau or Eleuthera or south towards George Town as Ship Channel Cay doesn't quite fit into the magical Bahamas vision. But we used this small island as a staging post for our departure to Spanish Wells (about 45 miles distant) before heading across the Northwest Providence Passage to return to the Abacos. (Another 45 miles further north).
After just the one night we left at daybreak and motored across the banks to Spanish Wells. If the charts were anything to go by then we wouldn't have slept the night before as there is an area depicted along the route that suggests an excellent opportunity exists to hit a solid coral head with all the attendant problems of sinking. However, the reality proved very different as the coral heads were nowhere near the surface to cause any possible damage, so after a while we motored through the area with more confidence than when we set out. We arrived at Spanish Wells in the mid afternoon with the grand total of 2 Barracudas caught along the way - not what we would have liked as neither were destined for the barbecue or any cooking utensil we might have onboard.
Spanish Wells is the name given to the town on St Georges Cay and was so romantically named because it was where the Spanish Galleons laden with gold took on fresh water from the wells on the island before departing on their long eastbound voyages to Europe. Today its an important fishing centre and supplies much of the Bahamas with its lobster, conch and other fish needs. It's a curious place, being an active fishing port yet with homes that have beautifully kept gardens most with lush green grass lawns. Perhaps the wells are still full of that precious water! The north side of the island and the adjacent Eleuthera is a mass of horrible coral reefs known affectionately as 'The Devil's Backbone'. If you want to take your boat from Spanish Wells to Dunmore Town on the eastern side of Eleuthera then you are strongly advised to hire the services of one of the local pilots or risk becoming another statistic with your insurance company.
On arriving through the narrow cut we noticed that the dock side was full of fishing boats, a working haul out boatyard, some food stores (where we purchased some dubious margarine with a sell-by date of November 2009 which almost walked off our table the next morning), a couple of golf cart rental premises and a small handful of restaurants. Following a walk round the immediate locality we decided that we rather liked Spanish Wells and as it was our third wedding anniversary we felt the rare need to indulge in a special meal ashore to celebrate. Somewhere with hopefully lots of local atmosphere.
Entering Spanish Wells ........ A popular place to lift out beamy catamarans - that's not us by the way!
We had looked at one or two of the restaurants on our walk, some appeared shutdown so we sought some local advice from one of the pilots (nothing to do with airlines). We chose a restaurant set back from the quay which had about ten tables in total available. We called in the previous evening to ensure they were open on our special anniversary day - they were, although at 1800 that particular evening there were no customers to be seen. It was a Monday, maybe not the best day for eating out for most folk.
Tuesday proved no more popular for eating either. We turned up at 1900 for our meal. We hadn't booked but then the place was empty anyway despite the few golf carts and cars parked outside - probably belonging to the staff. Well, in for a penny as they say. We sat down by the window overlooking the car park and quay. The view was slightly impeded by a container trailer parked outside and next to that a rusting pick-up truck with a load of steel pipes loose in the back. Not the most romantic of views given that we were in the Bahamas. The waitress kindly switched off the air-conditioning located above our heads as it would have frozen us both to death before the meal had arrived. The food was rumoured to be good, and it was, although the portions of fish on the large oval plates needed an organised search party to find them. We each had different fish, Mahi Mahi and Wahoo, just to keep the chef on his toes! The meal was washed down with glasses of ice cold tea. Spanish Wells has by-laws forbidding any sale of alcohol. The locals have to take a one mile boat ride across to the main island of Eleuthera should such dangerous substances be required. Hardly a major deterrent!
Shortly after we had ordered our meal one of the local fishing boat Captains popped in for a quick meal. This at least swelled the customer numbers but didn't really enhance the atmosphere. We did have trouble with his unusual accent as the words "pork chops" were all we could understand when he placed his order.
We barely finished the large plateful of food. Yes, we did find the fish portions buried under an onion & green pepper sauce. With stomachs heaving from the large quantity of 'sides' we took a final stroll around the dock area before heading back to the boat which was tied to a nicely protected mooring just across from the quay. There we met up again with the fishing Captain who was sitting on the dockside smoking a cigarette of questionable content. We declined his kind offer to share it of course. He said that he had needed to give up the booze as it had become dangerous to work and drink at the same time - at least that's what we thought he said as we were still having trouble understanding him. But the 'cigarettes' brought wonderful relief from the various ailments and injuries he had suffered over the years. Presumably alcohol related!
The pristine beach on the north side of Spanish Wells This is part of the 'ring road' that circulates around St Georges Cay with colourful houses in abundance
Looking across the reefs to 'mainland' Eleuthera The few moorings available - nearly all occupied by cats!
Another reason for our stopover at Spanish Wells was to have our propane gas cylinder refilled by the local garage. Having grappled with the large empty orange cylinder we should have had refilled at George Town we trollied the empty tank about a quarter of a mile to where our guide indicated we could have it filled. Propane tanks of all shapes and sizes were stored at the back of the premises - too many to count. However, our bottle could not be filled by their system of gravity filling as we do not have the required bleed screws fitted on our UK cylinder. So we trundled the empty bottle back to the dinghy. Mission unaccomplished once again!
We slipped from our mooring buoy the following day, took on some diesel fuel and motored 5 miles to Royal Island a neighbouring Cay to Spanish Wells where there are great plans to build a new marina and a golf course designed by Jack Nicklous with luxurious accommodation for the well-heeled. We wondered what we would find.........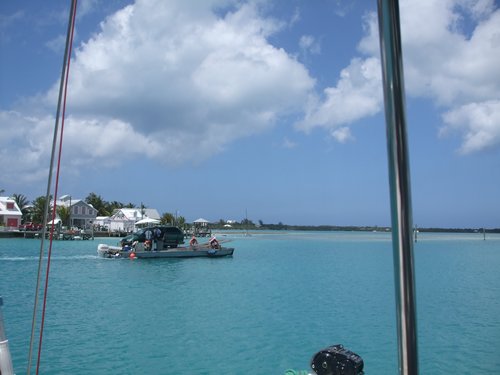 The fuel tanker delivers diesel and gasoline to Spanish Wells as we depart One way to get your vehicle across to Eleuthera
some more views of Spanish Wells.....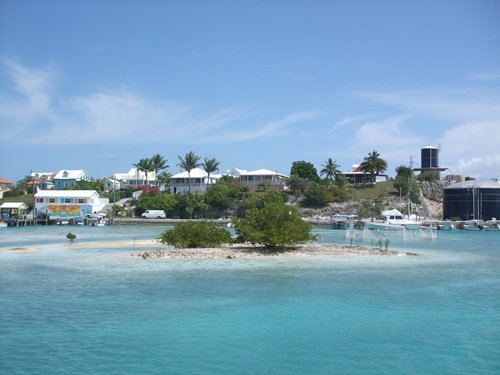 ---