The 'Admiral's' Birthday and an engine problem

AJAYA'S CRUISE
Phil & Nikki Hoskins
Thu 10 Apr 2014 17:07
Yes, still in George Town, only now it's an enforced stay instead of choice as we have a small engine issue to resolve, but more of that later.
Before that we celebrated the 'Admiral's' Birthday - not her first to be celebrated in George Town and possibly not the last! A nice relaxing day, most are here, was capped by an excellent meal at St Francis Resort on Stocking Island just a mile across from George Town. We took dinner on the terrace on a beautiful evening overlooking the harbour whilst a number of acquaintances were playing Texas Hold 'em (Poker) in the main bar. This is a twice weekly event popular with American cruisers in particular. As the buy-in is just $5 absolutely nobody gets shot for cheating. Must try it someday.
View from the terrace at St Francis - that's definitely not our catamaran! and the view over Hurricane Hole No1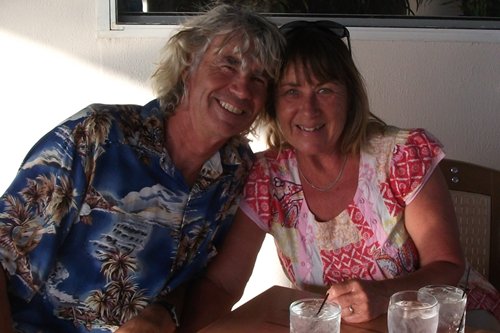 Lovey dovey birthday pic you're stopping me eating !!!
Calamari starter ......... followed by cracked conch main on a bed of potato, carrot, cauliflower and one Brussels sprout !
And now the engine issue....
Warning: Technical part of blog - but a possible cure for insomnia...
Well, we've endured a diesel leak for some time from the port engine somewhere between the fuel pump and the fuel filter housing. It's hard to stop these niggling drips, especially when the fuel tanks are higher than the engine itself meaning that gravity is always happy to lend a hand in the leaking process. However, this had become annoying and was bad enough to require a drip tray below that area to capture the diesel fuel before it collected elsewhere under the engine. Last Saturday became the day when 'Skip' took up cudgels to fix that dam leak once and for all. He managed in one twist of the wrench to turn the drip into flood by stripping the thread in the fuel filter assembly thus making it impossible for the banjo union bolt to seal any more on the inlet side. Grrrrr ! Knowing the delicacy of these fittings (a mild steel bolt screwing into an aluminium housing) no excess force was used at the critical moment - it just gave way and stripped a spiral of aluminium out when the bolt was removed.
Now, yachties are a helpful lot. Generally if you're not carrying a part then someone else is and visa versa with parts you have that somebody else may need. We have a cupboard full of Yanmar spares, unfortunately not this particular part, so we put a call out on the morning VHF net but with no success. It was a long shot really as the majority of boats here are monohulls with much larger engines that have much larger filter housings and larger fuel lines. However, there was no shortage of help, advice and jury rig suggestions from good friends.
With frontal systems still whizzing through on a weekly basis we really do need both engines functioning as manoeuvring in 25 knots of wind on one engine in a catamaran isn't fun in a crowded anchorage. A means of getting that engine going again until the replacement part arrived from the States was a priority. That's where some parts that we do carry with us came in handy - jubilee clips and a G clamp for instance. If we could re-assemble the fuel filter assembly and clamp the banjo bolt into position using those items then we would have a means of at least running the engine for long enough to get us out of any trouble should we need to move. And it worked! The drip hasn't gone away of course. In fact once the engine gets hot and things change size it drips quite a lot but at least the engine continues running. As any diesel mechanic will tell you, if air gets into the fuel lines then the engine won't run.
And of the replacement part? Well, a kind cruiser whose own 'Admiral' was spending time with family back on the East Coast USA offered to accept delivery of the part so she could bring it back with her. Now that's cruising kindness in the extreme and we are most grateful. Incidentally, the cost of the part including shipping from Massachusetts to South Carolina was still cheaper than if we could have walked into a UK Yanmar dealer's shop and bought it over the counter. Crazy. Anyway, here's the set-up. It's not pretty but it works...
(For the non-technical play spot the G clamp!)
Meanwhile, we are still enjoying the beaches, trails, flora & fauna..............................
---