New Year's at Green Turtle Cay - Abaco, Bahamas

AJAYA'S CRUISE
Phil & Nikki Hoskins
Fri 17 Jan 2014 16:01
New Year's Eve is a great time to arrive anywhere in the Bahamas as the people are still in a partying mood. Actually they are most of the time in the islands but this is a special time. But ,first we had to check into the country with Customs and Immigration and buy our $300 cruising permit.
Compared to Central American countries where you need to visit or be visited by umpteen officials (and occasionally their dogs) and have a ream of boat papers photocopied and stamped, struggle with the local Spanish dialect and still hand over $3-400, well, the Bahamas is so very easy. That is if the one or two officials are in their office when you arrive and that it's not pouring with rain whilst getting there. He wasn't, as Green Turtle has only one person on duty at a time and it was raining. The notice stated 'Back @ 1200'. So we trudged off to Sid's Grocery Store down the street and bought some essentials to keep us going before heading back to the Customs office where we waited for his return which wasn't at or before 1200 but sometime after. But we weren't bothered as we were back in the Bahamas.
Previously we anchored in White Sound in the north of the island but for convenience we picked up a mooring belonging to 'Donny's Boat Rentals' in Black Sound which is right alongside the settlement and main town of New Plymouth. We wondered why they were called Black and White Sounds. If you look at Google Earth, well, Black Sound actually looks Black from high up, but maybe that's not the real reason as Google Earth didn't exist back in the days when they were named and we never bothered to find out whilst there.
New Year's Day is 'Junkanoo' time in much of the Bahamas and Green Turtle is no exception. It's amazing how much of a show a small island community can put on and we went ashore at 1400hrs to take in the atmosphere, catch up with good friends and buy some tasty street grub washed down with a beer. 'Junkanoo' is fairly predictable throughout the Bahamas, colourful costumes, some of them extremely ambitious for the individuals wearing them, and most importantly lots of percussion. All home made of course with the deeper base rhythm being supplied by an ensemble of 50 gallon oil drums skinned over at one end. These are carried or worn by some of the stronger members of the parade. We can honestly say that when half a dozen of these things pass within feet of you being banged hard then every internal organ in your body seems to resonate together with the recently consumed contents of your tummy. But enough of that here are some pics.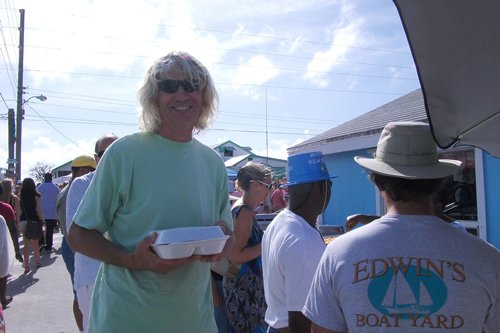 'Skip' with his tuckbox.....we sat and ate our lunches in the basketball field listening to a live band before the parade.. The Admiral's Conch Balls looked nice!
The parade's about to start, led as usual by the younger and more athletic of the 'Junkanoo's' performers......
An awful lot of costume for one man alone! and the white flanking 'horses' would be lucky to make the whole parade still attached
This looked like a crab with old soccer balls for joints but we may have that wrong - but this was definitely the band arriving 'cos the man in white was leading them
Great costume but not sure about those sunglasses... this chap looked as though he could carry that drum all the way to Nassau and back!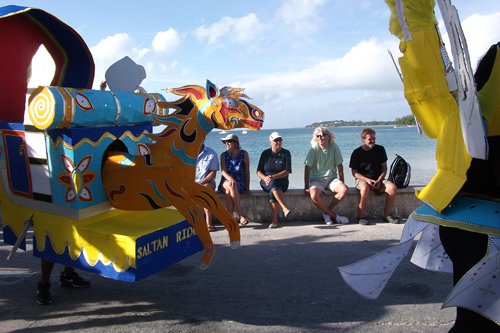 We then caught the procession at the waterfront.. just to see how that man was fairing with those horses - looks like he's lost one enroute!
The 'Admiral' snaps 'Sunglasses' again, ... so something to get her heart rate down again when editing this blog
The good folk of New Plymouth must have prayed very hard for good 'Junkanoo' weather. It had rained all the previous day when we had checked in and it rained and blew the day after. But It was just perfect on the day and we were so pleased. They work so hard to make it all happen and the day was a great success.
One day it will be your turn little one !! But you'll need a bigger drum you know!
---