Islesboro to Castine - Penobscot Bay

AJAYA'S CRUISE
Phil & Nikki Hoskins
Fri 30 Jul 2010 22:48
First stop after our few days in Camden was Warren Island situated by the island of Islesboro where we picked up a mooring kindly supplied by the Warren Island State Park. Apart from a warden's log cabin the island is uninhabited except for the few campers who can book any of the seven secluded sites. Each site has its own privy which is set a discreet distance away for modesty reasons. Whilst being a good idea in theory neither of us fancied the thought of traipsing through the park in the dark early hours to answer the call of nature wondering what may be inhabiting the privy overnight - there are many snakes on the island along with various other woodland beasties! Each site also has its own protected fire pit to avoid the whole island going up in smoke and campers are encouraged to collect their own firewood of which there is no shortage of dead and decaying trees.
Looking over to the mainland & Camden Hills Then waiting to receive news from any loyal subjects!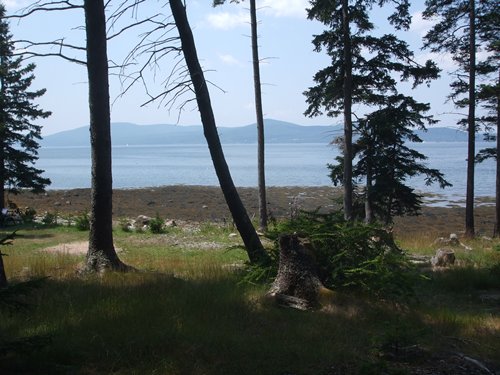 A beautiful place to spend the weekend This is the 'root' we took around the island
We walked the trail which skirts the circumference of the island and also met with some nice Canadian folk on another yacht that came over to introduce themselves. It's a very pretty location and we enjoyed a few nights here.
You never know where and when you will glimpse these lovely old Windjammers Our view at Warren Island from Ajaya
Next it was off to Belfast situated on the Passagassawakeag River. (Obviously an old Indian name - good luck with the pronunciation!). Belfast was burnt down twice in its history and was finally rebuilt in brick. There was a Celtic festival ending just as we arrived - we could hear bagpipes and saw some interesting costumes from a distance.The two memories we have from here are the numerous items of street art scattered around the main town area, consisting of old bicycles that had been reformed into some wonderful looking objects. The other was the Co-op health food market complete with it's slender looking staff (obviously a pre-requisite in securing a job there). It stocked amongst many other goodies large self-service jars of herbs, spices, rice and pastas and best of all those flavoured sesame sticks which we love to have with our sundowners. Whilst the 'Admiral' was pushing her trolley round the narrow isles Skip was busily shovelling Fenugreek and Asafoetida powder into paper bags. Then he discovered the Turmeric powder hidden low down at floor level and managed to get just a few ounces of the bright yellow powder into a bag before he was discovered - earning a severe reprimand as the 'Admiral' considers this spice to be a real staining hazard on curry nights. We stayed just the one night on the mooring ball in Belfast.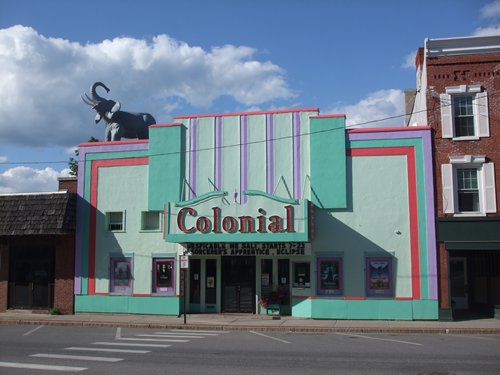 What, dress up as a bear with tennis racket, ski poles and funny hat ! The elephant (named Hawthorne) was later recaptured and returned to the zoo!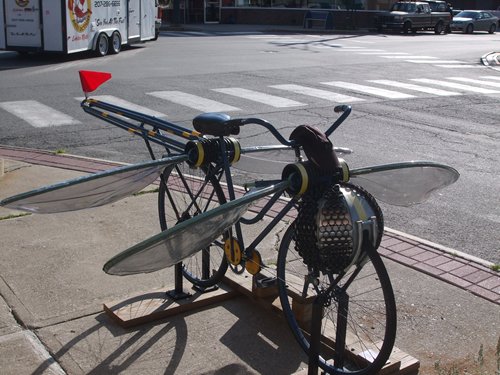 Had to promise a meal out to get this picture Phil's steed - we don't eat out that often! Mick Jagger look-alike totem pole carving
Next stop was Castine - a five star location in our Maine cruising guide and which we thoroughly agreed with. It also sits on a (pronounceable) river - the Bagaduce. Castine changed hands 25 times in the early days with the English, French, Dutch, Spanish and American colonialists all contesting ownership. Very confusing for any local Indians attacking at the time - being met with rebuffs and cussing in different languages on each occasion. Very little evidence is left of it's active military history except various plaques dotted around town indicating sites of battles or forts or battle lines. It's also home to the Maine Maritime Academy which swells the number of residents in the small town by many hundreds. On the waterfront the State of Maine a 13,000 ton ex survey ship is berthed which enables the students to study onboard a real ocean going ship which last year visited Portsmouth UK. We toured the ship which is open to the public and were shown round by a young Russian student who now has American residency. How times have changed! It was interesting to see Ajaya on its mooring close-by from the bridge. So that's how we look to the Masters of big ships! Also docked is a restored tug that offers visitors the chance to go up and down the river and there is a travel hoist with an old racing yacht near by which we guessed allowed students the chance to learn the skills of operating the hoist before being let loose on somebody's pride and joy.
Our view of the 'State of Maine' and the view from it's bridge towards us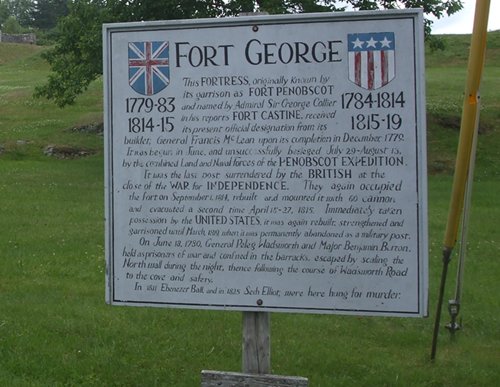 It reads that there were quite a lot of battles here The museum building with a sinister shape in the entrance window
We walked round the town, spent an hour in the local museum which houses artefacts mainly from a resident family who had travelled in the early 20th century to places like Africa and the Far East so there were plenty of relics originally designed to maim and kill amongst the collection! The sinister shaped carving in the front window is said to have winked at staff recently! It's enough to give a small child (or Phil) nightmares.
Continuing our walk around town we were hailed by an elderly lady who came out of her house to say hello and to discuss the poor state of the road and the appalling quality of the goods offered in the yard sale in the large house opposite. She was strangely overdressed in thick jumper and long slacks in the heat of the day but we soon realised why when we were both savagely bitten on our bare legs by some very aggressive horse flies which she seemed to almost be on first name terms with - hence the thick clothing. We hastily said our goodbyes whilst wiping away the blood leaching from our wounds. Of course she was quite unscathed and quite philosophical about the situation, probably labelling us as whimpish Brits as she gathered her beloved flies together for the next attack on some unfortunate passers-by.
We liked Castine and nearby Smith Cove where we anchored overnight during the visit. Our first evening made even more enjoyable by the arrival of a large Windjammer which anchored close-by. From a yachting purists aspect we enjoyed our views of them probably more then they did of us. We just hoped they had set their anchor correctly.
The 'Victory Chimes' largest passenger schooner in the USA built in 1900 & our neighbour for the evening
The next day we left for passage through the Eggemoggin Reach and onwards to Mount Desert (pronounced as in pudding not as in Sahara!)
---