Pipe Cay to Sampson Cay

AJAYA'S CRUISE
Phil & Nikki Hoskins
Sat 15 Feb 2014 20:01
24:12.285N, 076:28.662W Dennis Cay
Our departure from Pipe Cay proved just as frustrating as the events of the previous evening as we had planned to transit through this extremely pretty area of the Exumas known as 'The Pipes'. It's an area where cruising boats are able to find shelter from the westerly winds that come about when cold fronts affect the Bahamas. There are many potential hazards, rocks, coral heads and shifting sand banks to be avoided. The pilot book suggests visual pilotage in good sunlight. Although we had placed waypoints to get us through most of the area, we were relying on local buoyage to get us through the first part as there is a marina and resort on nearby Compass Cay which superyachts use. The island also has it's own airstrip which is handy for owners or charterers flying in to spend time aboard.
Unfortunately, we found out that the buoyage was no longer in place and such was the flow of current through the area that it wasn't prudent to start to input further navigational waypoints so it was back to plan B and we retraced our footsteps from the afternoon before. If in doubt - get out, as they say. Maybe another time.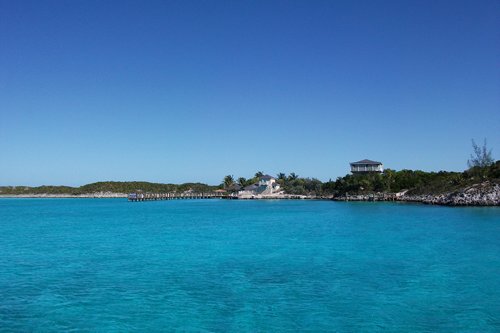 Sampson Cay Club - All closed down!
Our next stop was at Sampson Cay, or close-by. Another new anchorage for us and very pretty it was too. Until recently Sampson was an upmarket resort and marina, with 'fine dining' available in the restaurant, dockage for superyachts, a small store and fuel dock. Well, now it's all gone. Well, not literally as the buildings and docks are still there. Apparently the island's owner became tired of being told what he should or shouldn't do to run the businesses and in a fit of pique he shut the whole complex down. Lock, stock and barrel as they say. All around the island there are 'Keep Off' notices and the whole place has a sad feel - such a shame really. We felt for all the local staff that would have relied on this complex for jobs and incomes. That said, there are so many places around the Bahamas where millions have been spent on developments that never got off the ground. Sampson Cay was one success story until recently, but there you go - some people are very fickle over being told how to spend their money. Actually, we probably all are come to that!
Through the shallow water pass into Big Major's Spot and on to Black Point where there was a wonderful sunset to be enjoyed
The following morning we made our way through the surrounding Cays passing Big Major's Spot where the piggies swim out to great boaters bringing scraps to the beach and on to Black Point. There we hoped to catch up with the mounting laundry, replenish the diminishing reserves of food and beverages, collect some more sea glass pieces and catch up with old friends.
---