Through the Abaco to Little Harbour

AJAYA'S CRUISE
Phil & Nikki Hoskins
Wed 29 Jan 2014 20:22
Little Harbour 26:19.63N 076:59.92W
From Green Turtle Cay where we had whiled away some ten days without much explanation as to what we had actually been up to we felt we really should get going again. Ah! just remembered, we had alternator issues to resolve which took up a fair amount of time. We certainly walked a lot which is always good to do but the need to move further southwards and an opportunity to get through Whale Cay Cut in a flat calm sea proved too irresistible. Besides we've known boats to get stuck there for weeks due to that passage being untenable. Briefly, it's where the large ocean swells meet the Abaco islands and the sea depth rises from hundreds of feet to just a few, making the whole area a maelstrom should there be an outgoing tide or strong onshore winds. We left just after sunrise and two hours later we were motorsailing past Whale Cay where you could have safely canoed through. That's just the way we like that cut to be!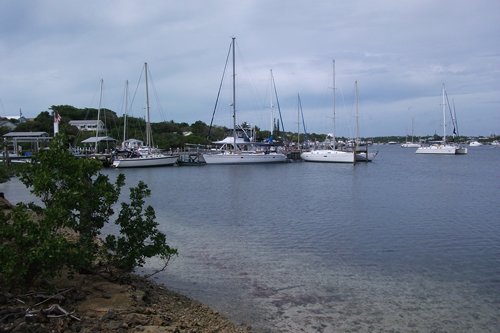 'Donny's Dock' at Green Turtle, although we chose to use one of his moorings
The other side of Green Turtle which has a fringing reef some distance out and shallow sand banks close inshore
Marsh Harbour, the main town in the Abaco islands, was the next port of call. Here we re-provisioned in the large (new to us) supermarket called Maxwells (no they don't sell silver hammers and no doubt the joke has worn thin with the staff by now). Also on the shopping list was a SIM card for our USB datastick so we could access the internet throughout the Bahamas. This is a service that was unavailable last time we were here and were looking forward to seeing how it would work. Well, initially it didn't! Couldn't gain any connection at all to the BTC network. So the following day it was back to the BTC office to see what could be done. No joy there as they were unfamiliar with our USB modem stick. Phil had 'unlocked' it using some dodgy internet site since leaving Panama where it had been purchased to work on the Digicel network there. Fortunately the very nice man (I.T Geek) in the computer shop in Marsh Harbour was able to put in the correct information to make BTC talk to the stick and we now had internet. However, we discovered later that Skype communication was to be another problem altogether.
Leaving Marsh Harbour in a hurry due to a nasty cold front that was due to arrive in a day or so we motored to Hope Town on Elbow Cay which had all round protection. The front never came to much in the end but we spent an enjoyable four days re-acquainting ourselves with this beautiful if slightly crowded holiday isle where memories of past visits from family and friends came flooding back. Here was a chance for the 'Admiral' to dare to open our dirty linen lockers which were crammed full of unmentionables since when? Well, since before leaving Florida actually we are loathe to admit. The facilities at the Lighthouse Marina into which our ripe washing was stuffed were by the 'Admiral's standards quite acceptable and it was a joy to sit down and arrange the sweet smelling t-shirts, shorts and undies into their respective clean piles afterwards. Ah! such simple pleasures.
Picturesque Hope Town, with its famous lighthouse in the distance......and a reminder that these shores were even more hazardous in bygone days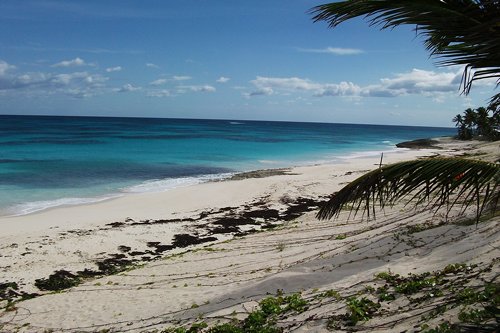 Ocean side, Elbow Cay with calm conditions - a rarity in winter
With the weather now settled we decided to continue the momentum southwards and head to another of our 'must stop' locations. Our last in the Abaco which was Little Harbour. We even had a reasonable sail most of the way there, taking the scenic route past Lubbers Quarters which sits just west of the south end of Elbow Cay near Tahiti Beach. Then across the shallow Tilloo banks and onwards to Little Harbour, picking up a mooring belonging to Pete's Pub.
Those who cruise the Abaco rarely exclude Little Harbour from their list of favourite destinations. That is those with a draft of around four feet or so otherwise you may not get in over the shallow sand bar as many have found to their embarrassment. It's a unique place with virtually no Bahamian influence or culture in evidence. Little Harbour was brought to fame by Randolph Johnston who lived in a cave here and set up a foundry casting beautiful bronze figurines of sea creatures. Many are scattered around the waterfront for visitors to enjoy as well as a shop where bronze castings can be bought, many at eye-watering prices. That foundry is operating today under the expertise of Pete Johnston, Randolph's son. There's plenty on the internet about this family if you are curious.
That wasn't there last time we were here! New shack (Little Harbour Yacht Club!) on the pier
There had been a few changes over the three years we'd been absent. Some new building projects and some new faces in what is a very small community where just nine people live all year round. This time of year that figure swells somewhat and we met up with four new inhabitants that had either built or bought their own little piece of paradise. We met them at a 'sundowner' gathering on the beach which was followed by an invite to view the one bed home of one of the newcomers which overlooks the entrance to Little Harbour itself. They were in the process of selling their motor trawler which they had cruised in over many years, now wanting to devote their time living in the Bahamas in winter and their home in Connecticut in the summer. Made perfect sense to us!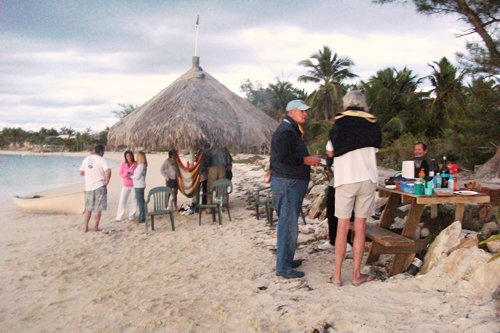 Sundowner get together for residents, guests and no see-ums - we were ruthlessly bitten! and the only evidence of Skip's first ocean swim of the season
Views 'to die for' - yes we would probably be tempted to own a property with this outlook too, but the boat views we daily enjoy take some beating as well
Yet more memories returned from good times past as we walked to the ocean beach looking for seaglass for the 'Admiral's' collection. This practise, which 'Skip' has become a willing participant off, consists of walking along a sandy beach, preferably at low tide at a speed that an arthritic tortoise could easily keep up with. Then bending over and picking up tiny pieces of glass that have become worn smooth by the action of the sea combined with the abrasive effects of rolling around in the sand over countless weeks, months, years or more. Who knows. But the pieces have to be 'cooked' ('Admiral's' terminology) that is, not have any jagged or shiny edges.
Every piece collected with care - oh my back! (shut up! and keep looking - ed)
Any not meeting that quality are thrown back for perhaps someone else in the future to collect and take away. (Or tread on and need medical attention). In order to momentarily evade seaglass duties 'Skip' took to the warm Atlantic waters for a quick dip, leaving the 'Admiral' to scan for more pieces of 'cooked' glass. It's a popular pastime with cruisers and with the constant bending over it perhaps serves some physical exercise needs. There must be a handy device that would do the scooping up to save the bending over - a JCB maybe! No that's just silly so we'll end things there for now.
Just remembered this little fellow we passed on the track walking away from our friends house. Only minutes before his jeep had driven along this stretch and he could have become homeless and suffered shell shock.
Looks like the creature in 'Alien' doesn't it - just a land crab.
---