Herrington Harbour North - 38:46.48N, 076:33.82W

AJAYA'S CRUISE
Phil & Nikki Hoskins
Fri 19 Jun 2009 21:29
The final 30 miles to Herring Bay were uneventful. It rained most of the day & No 2 nearly put the boat aground on the shoals in the tricky entrance. The whole bay has a shoal that extends south from the northern tip. Boats have to skirt the south side, go close in shore & follow a buoyed channel - having spent months in the ICW moving close to the markers it was more than a little concerning to have the depth alarms sounding a few hundred yards away. With a cacophony of noise we finally docked on the outside of the "transient" dock. "Transient" is the name given to the roving boaters in these parts, the myriad of craft that surge north in the summer & south in the winter!
We both went to look at the place - an hour later we'd agreed on a reasonable weekly lease for a very fine berth just by the swimming pool, a convenient ablution block and the laundry!! Herrington Harbour North is a vast marina situated on Tracey's Creek, the area is very rural, beautifully landscaped & maintained. There is a huge area for storing boats ashore, many workshops for all kinds of repairs, a large chandlery, customer lounges (where they serve free coffee & pastries on Sunday mornings!) & a fitness centre. The only downside is the lack of shops within walking distance. The staff kindly drive you when required or you can borrow cycles which we hope to do to soon.
The nights are quiet & the bugs few (apparently they spray the area). The jobs list has grown as has the chandlery shopping list. Hopefully our post that has accumulated since February is on the way. The wifi is excellent. So we will be staying put for a few weeks...............................
Entrance to pool area, laundry to the side.
Ajaya nestled between a power boat & Vagabond 47 (for sale)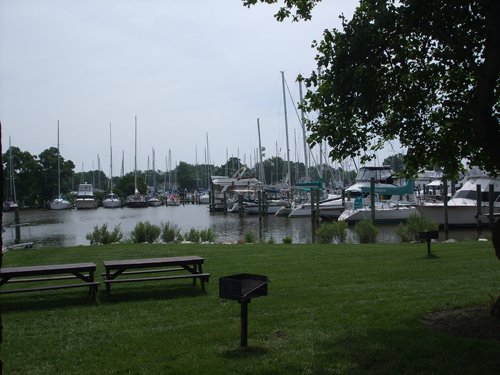 The area is full of picnic tables & barbecues for use by berth holders
The long wooded walk to the marina office
The pool - our mast is one in the back ground!
A little battered & bruised but here!
---