What's happening in Little Harbour?

AJAYA'S CRUISE
Phil & Nikki Hoskins
Sat 28 Mar 2015 18:28
'Nothing stays the same' the saying goes. 'Never go back' avoids that particular issue. But there are some places we do like to go back to. Especially to such gems as Little Harbour in the Abaco, brought to notice by the famed artist sculptor Randolph Johnston. He set up home in a cave there some fifty or so years ago, creating a foundry for casting world famous bronze figures, putting Little Harbour firmly on the map. Although to be fair it's a wonderful destination regardless. Randolph Johnston is no longer with us but his son Pete has continued the family tradition. No that doesn't mean he lives in a cave for goodness sake but Pete and his family keep the Little Harbour Johnston history alive. The foundry is still there nestling in the backdrop of trees lining the shore. There's a wonderful stone built gallery overlooking the Harbour selling the bronze castings some of which are sympathetically mounted on interesting pieces of drift wood, some at eye-watering prices. A refreshing drink and meal can be had at Pete's Pub, just along from the gallery – OK it pales a little to pay good money to eat off paper plates and drink rum punch from polystyrene cups but what the heck, it saves on the washing up and nobody seems to mind. It's all part of the experience.
The locals that now reside in Little Harbour, some forty in number, are mostly USA ex Pats. A cruisers get-together is hosted on the beach at Happy Hour by one friendly resident on the one afternoon a week when Pete and his Pub are closed for business. Bug spray is essential as when the wind drops the sand flies are vicious. There seemed to be more boat moorings available this time round which could be seasonal as on our last visit the place was empty. Being half term in the USA meant a continuous coming and going of charter boats that Pete probably prefers to see arriving on his moorings rather than a couple of old farts like us soaking up the atmosphere drinking cocktails and nibbling nuts all procured from emporiums such as Publix and Piggly Wiggly back in the States. This visit there was a bulldozer shoveling large amounts of hardcore to reinforce the entrance to the little secluded lagoon in the east of the Harbour. This had the effect of clouding the usually crystal clear water we've always enjoyed at Little Harbour. But hey!.... nothing stay the same.....
One serious limiting factor with Little Harbour is that if you draw much over five or six feet in draft it's a very narrow window on the tide for entry or exit over the shallow bar. The entrance channel is buoyed but the sea life below still run for their hard hats. In such a tiny secluded harbour anchoring even a few boats would be sheer lunacy as the holding is awful. Hence moorings are laid to accommodate the cruisers. One of these can be rented for $25 per night. They used to throw in a third night free but that's no longer the case and three nights now cost $60. Still..nothing stays the same..... Now the tranquil if slightly cloudy water of Little Harbour is threatened by a developer who wants to shoehorn a forty four slip marina into the place which would just about wipe out the available Harbour for visitors. You could buy a slice of the action if you happen to have $125,000 which apparently is to be the going rate for a slip. If you have that much spare change then your boat will probably be challenged in the draft department in getting in and out, but they don't plan to dredge the entrance so don't count on using it too much! The boat or the entrance!
This situation has arisen because the resort at Winding Bay along the coast to the south has been sold to a developer chappie who has millions to blow on property development in the Abaco. Part of the Winding Bay deal included three ramshackle buildings in Little Harbour which seems to give the developer grounds to consume a fair chunk of the Harbour for his own purposes. We'll have to wait and see what happens over the next few years. It's no secret, except maybe to this particular developer, that the Bahamas is liberally strewn with the ruins and shells of failed development projects, usually depicted by rusting old bulldozers parked in bushes close by. Although the one we saw offloaded from its trailer helping to cloud the pristine water was certainly working hard. It will be a shame if it all changes as we like Little Harbour pretty much as it is, or should that be as it was. Wonder what Mr Johnston would think?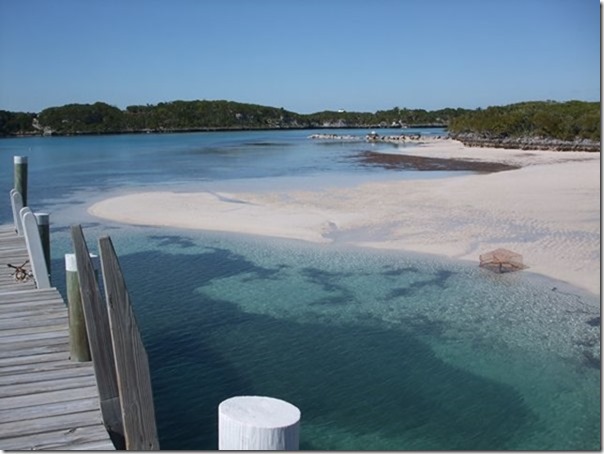 One of our 2010 images Artist's impression of how the marina might look at Little Harbour
Spotted in Little Harbour on our visit puppets made from flotsam – In light of unwelcome developments, could these be effigies perhaps?
Nevertheless we enjoyed our visit staying two nights after an overnight sail from the Berrys. However, for us no trip to Little Harbour is complete without a visit to the ocean beach. This involves a walk along a couple of rough tracks that give access to properties in the area and then a well trodden grassy path cutting through what looks now like somebody's building plot, although we have always been assured it's a well trodden path used by all. It was interesting to see various sticks with pink ribbon fluttering in areas of flattened undergrowth looking like a large bull elephant had passed by that way recently. This denotes that the land had recently been marked out into plots for future development. The mile or so of sandy beach is not much visited and you'll often have it all to yourself.
Whilst the 'Admiral' scoured the sand for good sea glass specimens 'Skip', having lugged his snorkeling gear for a mile or so, decided to take a look at one of the reefs lying just a hundred yards off the beach. The conditions were benign so it wasn't difficult to swim out to the first reef. What an amazing sight! It was like a fish laboratory where the fish had eaten something fed to them by mad scientists and grown to sizes rarely seen. Obviously not a lot of visitors bearing hunting spears visit this area then! First spotted was a Nassau Grouper of probably fifty pounds or so completely out in the open despite it now being the hunting season. However, after being starred at for a few minutes it became distinctly uncomfortable and swam back to it's hole. Huge Parrot fish in shoals were just swimming over the reef excreting their usual clouds of coral debris from the rear end. Yellow tailed Snappers, a large Mutton Snapper, again so big you couldn't miss with a spear – if 'Skip' actually had one with him! This reef was dinner heaven. And then the residents of this serene aquatic haven called in the Barracuda police to evict the interloper.
About three feet long, the dam thing appeared from nowhere as they always do and immediately made a great show of opening it's mouth to demonstrate it's ability to bite anything that was considered food or anything that it didn't want on the reef messing up it's feeding time. 'Skip' fell into the second category as there's nothing of him worth eating. It was, after all, 1630 hrs. and so maybe approaching hunting time for the non veggie residents. Time for a slow strategic withdrawal back to the safe shallows whilst keeping the inquisitive blighter in sight. Now the dam thing starts to swim towards 'Skip' with its most menacing look before slowly turning and heading back towards the reef. Yes, we know that ploy, and sure enough it turned again and stalked our defenseless snorkeler who was now secretly wishing he was wearing a chainmail wetsuit at this moment. The old cruisers adage of 'where would you rather be, here or in the office?' came back in his head - "In the blinking office at the moment working lots of overtime!". Was it good to feel the sand under the feet again? He emerged with as much dignity as he could muster from his exploits out on the reef to his loving 'Admiral' who had a small bag of sea glass to show for her troubles. "Oh! I've seen lots of big fish in the shallows just off the beach" the Admiral remarked. Hmmm!!!
Many folks we speak to say that you just have to ignore Barracudas or give them a poke with your spear (if you happen to have one handy) unless you have just speared something yourself which is probably why its bothering you in the first place. Or maybe you are wearing some flashy jewelry, necklace, rings etc. which can be mistaken when glinting in the sun for food. They are magnificent fish, just as sharks are. Not to be maligned but respected when in their habitat. But they are just a little bit scary at times.
Had plenty of space so thought we'd stretch the image a little – sorry! (or the side view from 'Skip's' dive mask!)
---