The seasons they are a changing

AJAYA'S CRUISE
Phil & Nikki Hoskins
Sat 22 May 2010 13:52
In Green Turtle Cay 26:46.7N, 77:20.2
As May draws to a close so the summer weather arrives in the Caribbean and Bahamas. Humidity shoots upwards ensuring that a t-shirt donned one minute is soaking wet the next. Thunderstorms become a daily threat as huge columns of convection cloud spiral upwards to form threatening and powerful afternoon storms that can affect one small area and leave others completely untouched. The skies take on that look so beloved of the travel brochures with awe inspiring cloud formations that we never seem to see in the UK. The locals love the rainy season which refills the water tanks that are running low after the 'dry' winter. One characteristic of the change in season the locals do not welcome is the threat of hurricanes. June 1st is deemed to be the start of the hurricane season. However, rather like Britain's official start of summer on June 22nd there is certainly no guarantee that it will actually happen that month, which is good because we are still here!
Plans to move north to the Chesapeake in one hop are on hold as an area of low pressure has formed and will move just where we would be if making that voyage. We are not alone. Whilst many yachts de-camped from the Bahamas at the end of April some remain still cruising the islands and also waiting for the weather to clear further north so as to make the same trip as us. In the meantime we enjoy our current location of Green Turtle Cay.
To fill in some details since we were in Marsh Harbour, we finally met up with our friends on Lily Pad who deserve a medal for waiting so long to get across from the USA for a months cruise of the Abaco. They must have felt they were going the wrong way as most of the traffic crossing the Gulf Stream was heading the other way. It was great to see them again and catch up with their recent adventures. We met up in Marsh Harbour and again in Great Guana Cay before we sadly parted company to go in opposite directions. Have a great time in the Abaco Nancy and Sandy. See you again soon.
The Lily Pads - See you again soon we hope Heart-stopping moment in the anchorage - a barge arrives The Whale Passage on a flat calm day - a rare event
The Whale Passage is one of those areas where you need to throw a double six to pass through. Locally it has a bad reputation and we can understand why - reef strewn, exposed lee shores and an ocean swell on the beam that's travelled thousands of miles adds up to a nasty place to be in the wrong conditions - fortunately we caught it on a good day!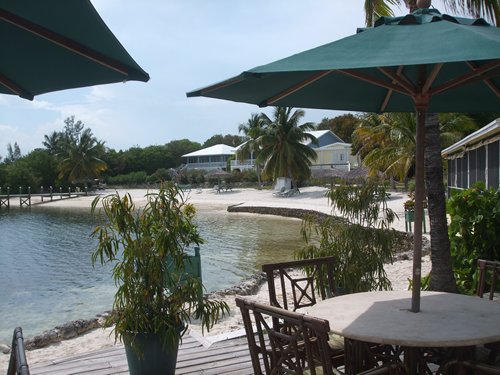 'Grubby' is glad to be through the Whale Passage! The marina setting at Green Turtle Club ........ and the anchorage
It's no place for small squeaky ducks! (see note at end)
The reward on the other side was arriving in an area we had yet to experience in our Abaco travels and Green Turtle Cay has a good reputation for a very friendly welcome and its excellent shelter for visiting boats. The settlement at New Plymouth is a gem. Old colonial homes, some restored, some in ruin adorn the narrow streets just wide enough in most places to accommodate one car or two golf carts. We spent a few hours wandering the quaint town populated by British Loyalists fleeing the upheaval in the Americas and more latterly being the home of a very young Neville Chamberlain whose family owned a sisal plantation on the island.
Welcome to New Plymouth as the sign reads Captain Rowland Roberts house c.1863 - now restored .... as are many more of the local properties
One particular dilapidated house we passed had an aroma that could be picked up long before we were got there. It wasn't the tantalising smell of a bakery, or somebody cooking some tasty Bahamian dish - it was the stench of many feral cats living in a very small area. There were too many to count, were not in the least bit friendly, obviously out of the same family lineage and beginning to also occupy the building opposite - presumably to stake a claim on some new territory whilst still being fed by an old lady that we suspect smelt similar to her moggy brood. We passed by as quickly as possible, heading for some sweet clean sea air!
This is the local jail - honest . Still in use Just a few of the residents of one property - Up the gingers!! The house Neville Chamberlain lived in as a boy
We stopped by the hardware and marine store to purchase another fishing lure. Out of desperation our lures are becoming larger and more adventurous, with various forms of silicone squids, hopping fish and cedar wood plugs with vicious looking hooks in the end. It has to be said that few actually look edible but then pelagic fish have never acquired the suspicions of their pond and lake living cousins that know exactly what looks like a meal and what doesn't! So we are now ready to get out into the deep blue again and catch some good fish. In the meantime we have had to suffer the frustrations of seeing the sport fishing boats that have been flooding into the Abaco in the past few weeks hitting the Dorado and Tuna populations just offshore. They bring their catches back to the marina where they are all expertly filleted before their carcasses are thrown into the water to be seized upon by shoals of hungry snappers, rays and nurse sharks all fighting for some of the action in just 2-3 feet of water. Fascinating and just a little sobering when we were about to go back to the boat 100 yards away for a swim!
4' Nurse Shark - looking for some pickings A stingray settles over the carcass of a Dorado and tucks in
We have walked the ocean beach here for the last few days - its one of the best, although hopeless for collecting seaglass except for an exceptional piece of blue glass that Phil walked straight past. Luckily the Admiral had her eyes in and picked it up. Our wanderings around the island were interrupted as the air became very unstable for a couple of days causing rain and thunderstorms to move through the area, but that's now cleared and we are back to blue skies and sunshine.
The ocean beach at Green Turtle Cay Long and sandy with rocky buffs Nikki in a rare moment with both feet off the ground!
Despite its beauty this is not the sort of sunset we prefer to see in the Bahamas - precursor of unsettled weather to come
(Note - Grubby Duck joined the crew of Ajaya back in Bimini. Was found sitting on the beach looking lost and lonely staring out to sea. We said if he was still on the beach two days later we would adopt him - he was, we did.)
---