Lake Worth to Grand Bahama

AJAYA'S CRUISE
Phil & Nikki Hoskins
Fri 24 Dec 2010 15:15
Our last few days in the States were spent in North Lake Worth in Palm Beach a.k.a 'Condoland'. After one night at anchor catching up with some great Canadian friends on Polar Pacer (who were so kind as to actually feed us before taking off the next day for the Bahamas themselves) we then stayed five nights in the Old Port Cove Marina where a view out of our saloon was filled with brightly lit tower blocks full of, we guess, people staring back at us! The marina mainly contained what we call 'stink boats' (boats without masts but with big noisy engines) along with some superyachts, with professional crews who could be seen each morning wiping over acres of already gleaming white structure with a chamois the size of a pocket handkerchief - meaning they were kept busy much of the day. We were one of just a few visiting yachts. Over the top of the high rise apartments large numbers of eagles could be seen riding the thermals making for an fascinating sight. But this was a working stop with the engines crying out for fresh clean oil and the engine charging system needing some new components to replace what had broken back in River Dunes.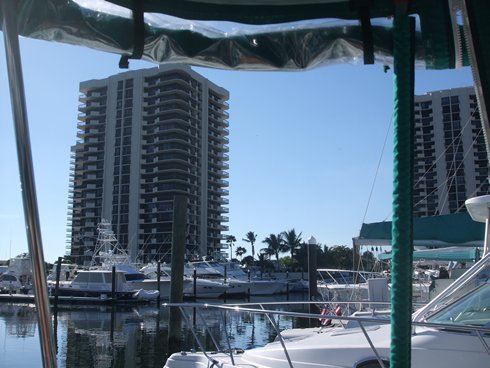 Surrounded by high rise apartments Circling eagles enjoying the warm thermals of the buildings
Then, when they are tired of riding the thermals.......... they sit on your wind vane electronics!! 'The Eagle Has Landed'
We bought a new 'clever' split charge diode system from Sterling USA (but a British designed product) which senses when certain battery banks, namely the engine batteries, are fully charged and isolates them to allow the main domestic bank to receive all the amps. (Hope we're not boring you with this!) Then there was a new alternator booster for the port engine which makes the alternator work harder to recharge the domestic bank in a much shorter timescale. (Yawn!) As we have high electrical needs onboard these add-ons are an essential part of the electrical system. Without the boosters it would take forever to get our batteries back up to an acceptable charge. The required components arrived next day delivery courtesy of UPS and Skip proceeded to pull the boat apart yet again.
The 'Admiral' walked off to the local Publix supermarket to plunder the shelves in a last attempt to fill up every nook and cranny onboard. Two trolley loads and a taxi ride later she found the cockpit still full of new and used oil containers, funnels and oily measuring jugs as Phil is not the cleanest of self confessed engineers by far. In fact messy only begins to describe what he is capable of being when his beloved engines are in need of TLC. At times like these a casual observer would notice a tension onboard that could be cut with a knife as food stores and engine parts vie for space with their respective charges bristling like two porcupines.
The following day we set off for West Marine to buy even more oil and some electrical bits and pieces. The store was meant to be about a mile away but they must have moved it overnight as the walk took forever, not helped by torrential rain showers associated with a cold front which we tried to dodge once too often, finally running into the Publix supermarket again for shelter at which point the 'Admiral', having suffered a complete sense of humour failure in the deluge, suddenly remembered some essential items that had been forgotten the day before!
We eventually reached West Marine in a generally soggy condition buying another 3 gallons of oil meaning we had sufficient for two more oil changes in the future as it doesn't get any cheaper in the Bahamas. As usual Phil could be found looking blankly at various packs of electrical bits unable to decide exactly which one he needed. Fortunately the walk back to the boat was in the dry but all the wet and muddy clothing then needed washing whilst the boat was once again taken apart to fit the new electrical goodies that had arrived in interesting colourful boxes with mind withering instructions on how to go about fitting them.
We signed out of Old Port Cove and resumed our position at anchor (in the cheap seats) ready to take the only real weather window to get across to the Bahamas before Christmas. This we achieved without any breakages or incidents, the Gulf Stream taking a night off from its usual rough seas as we motored the 80 miles to Lucaya on Grand Bahama. Our track across the stream which was running at around 4 knots on the axis made interesting viewing on the chartplotter as our heading vector and actual course vector varied by some 30 degrees as we crabbed across the 40 odd miles affected by this massive body of water. Unlike a Channel crossing which is affected by tidal flow in both directions this body of water only knows one direction and that's northwards!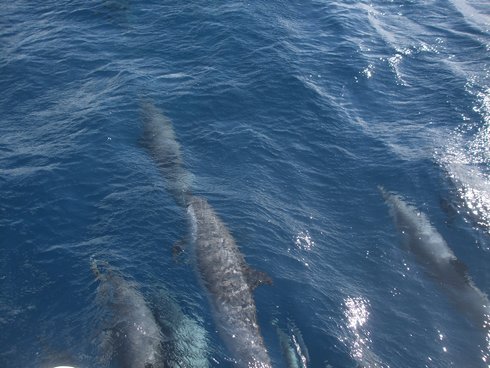 Atlantic Spotted Dolphins - one of the most playful, acrobatic & daft species of dolphins we have encountered - this was a huge school that played all around the boat
We were back in the Bahamas at last! However, the entrance to the marina down a narrow canal was not what you would like to be faced with after an overnighter with little sleep. Today, as we walked a deserted beach close-by, we witnessed a single handed yacht bouncing up and down on the coral in the entrance in his steel boat. This left us to wonder, should he be wrecked at the entrance, as to just how long we would be stuck inside! Fortunately he got off and is now in the marina behind us. So we will stay for Christmas Day and head off again maybe the day after.
Me & My Shadow Late afternoon reflections
The 'Admiral' explores Nature's own sand art
---