News from Bocas - June

AJAYA'S CRUISE
Phil & Nikki Hoskins
Mon 2 Jul 2012 23:00
Another month passes and we are still exploring this part of Panama with just six more weeks before we head off to the UK for a well overdue visit. Time is just flying by.
June saw us anchoring out amongst the mangrove islands for two or three days at a time and then returning to Bocas town to re-provision and catch up with friends, much as we had done the previous month. This way we at least get a change of scenery, charge the house batteries and see some new parts of the archipelago.
We went to our favourite restaurant 'Rana Azul' a couple of times with various friends and enjoyed very nice food at reasonable prices. It's situated some 12 miles from Bocas town and is pretty much surrounded by jungle. When Maria & Joseph arrived a few years ago they took over the property and reclaimed some of the surrounding jungle. Snake tally during the clearance was 6 Bushmasters and 1 ten foot long Boa Constrictor. Fortunately the locals 'dealt' with these unwanted residents. They only open Friday night and Sunday lunchtime when the customers could be described as 'people growing old disgracefully'.
There was also the Chocolate Farm visit of course and the Birthday celebrations. Quite a full month all in all.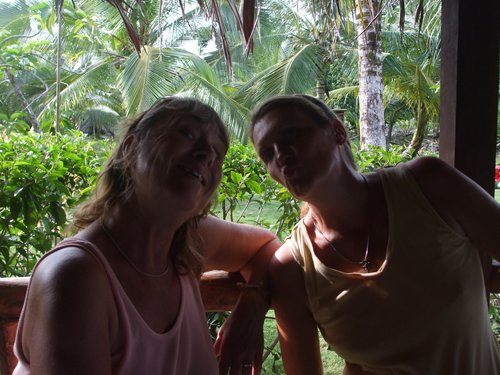 The boat dock with Ajaya anchored in the distance.........with the assembled masses gathered for Sunday lunch with ..............our ladies behaving badly................
Skip eating badly............. Men behaving extremely badly !!!.............
Parrot behaving lewdly - and this is Maria and Joseph, c/w lederhosen - the wonderful hosts at 'Rana Azul' Restaurant
Like many cruising boats we carry far too much 'stuff' with us and the opportunity to sell some of this on to other cruisers came by way of a 'Swap Meet' held at Bocas Marina. Digging our way through various lockers it was amazing what we found we could probably now do without. We grabbed a table at 0800 at the Calypso Cantina in the marina and opened our stall for business. Part of our stock included some 22 pairs of promotional sunglasses as trading items with people we met along the way and these were priced at $1 a pair. (They weren't exactly Polaroids!) A few were sold to cruising friends but the majority were snapped up by the local young black Panamanians who love to look 'cool' and have something their friends don't have. The rest of the morning we saw them walking around the marina with their new 'shades' on. In total we took $88 which wasn't bad really.
A break between customers - we probably spent half our profits buying breakfast and Bloody Marys
'Ribs Night' at the Calypso Cantina saw us enjoying live music from four local cruising musicians. Phil couldn't resist helping out in the drumming department hammering away on a small bongo much to the probable frustration of the musicians. Well it was their fault for handing around the various percussion instruments for customers to play with! It quickly became apparent that drumming was never a latent untapped skill of Ajaya's Skipper. He wasn't much better on the maracas! The evening's 'entertainment' was enhanced by the untimely arrival of a landing craft contracted by the marina to dump several tons of rock into the water behind our table, apparently to form a small breakwater.
Either Phil is off beat or Jim is in the background! The modest audience at Calypso Cantina appreciating the excellent music whilst............
.....a couple of tons of rock arrive to be dropped into the water close-by
In a not so enjoyable moment we had an extremely close encounter with a lightening strike which happened just a couple of days ago. Out in the Crawl Cay area some 8 miles from Bocas town we had anchored for the night. At 0230 there was a tremendous bang from the starboard side of us and immediately our gas alarm went off with a strange smell throughout the boat which may have accounted for the alarm sounding. In the morning having successfully re-set the gas sensor we found that the electronic ignition for the oven/grill was not functioning. Thankfully that's all we've found so far. The strike must have hit the water just a few feet away from the boat and we possibly suffered what is known as a side strike. This is the wet season and with the enormous heat and humidity at this latitude in the northern summer thunderstorms are almost a daily occurrence. Sometimes rolling in during the day but more often in the dark early hours when we are lying in bed we find ourselves counting the seconds between the flash and the bang. It's always a relief to hear those storms moving away from us! The rain they bring with them is often torrential and by putting a towel behind the water fillers on deck we can collect anything up to 80 gallons in one deluge. It's beautiful water as well, nice and soft.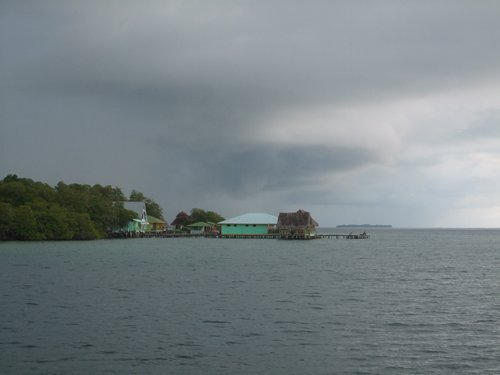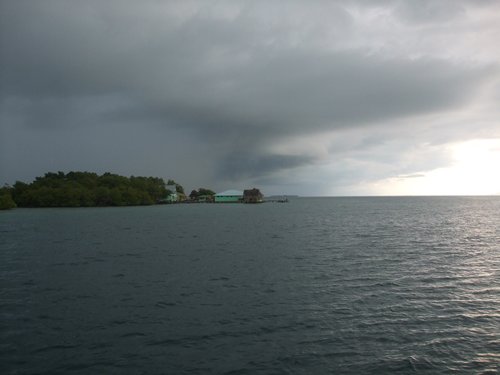 Crawl Cay looks very nice in sunshine - but not quite so appealing when the storm clouds gather
Cloud formation is quite spectacular at this time of the year with very active storm cells regularly moving across the area
On a lighter moment we were entertained by some 'pedalmarans' (our made-up name for them) which were being delivered to the Starfish Beach area near-by. They are obviously an acquired skill judging by the difficulty the riders had in retaining their balance. Although a water taxi had recently sped by sending up some wash!
Whoever invented these contraptions had a real sense of humour
Just July to go now and then we take up our slot in the marina to prep the boat for leaving around the middle of August. There is plenty to do so just four more weeks to play at cruising before plugging into the mains and becoming marina bound for two months.
And finally in June...........
R.I.P Lonesome George - the last of his kind in the world. Died at the Darwin Centre, Galapagos Islands 24th June 2012. Age 100 + years. We were privileged to have spent time watching him back in 1996. A grand life.
and a big beast to be throwing over the garden wall Skip!
---