More on Georgetown

AJAYA'S CRUISE
Phil & Nikki Hoskins
Mon 23 Nov 2009 19:49
Georgetown was a great stop despite the fact that it poured with rain which didn't show off the town in its best light. Also, anywhere that old 'long-legs' can buy Levi 501 jeans with a 36" inside leg on a 34" waist for under £20 must be worth visiting! In fact the legs are a mite too long, although their first trip to the laundry tumble drier will soon sort that little problem out!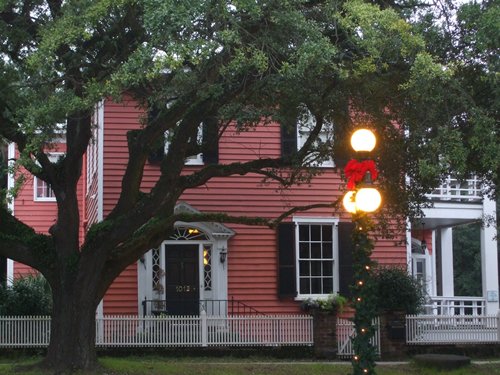 The famous clock tower which forms part of the rice museum It's beginning to look a lot like Christmas!
A loose canon! View towards the main shopping area
Having walked through the pretty main shopping street we returned via the boardwalk along the creek where, in season, the many restaurants must be full of visitors and locals scoffing seafood with waterside glimpses of the paper and steel mills belching out their smoke just a little further up the river. Ironically, near the restaurants were signs discouraging people from feeding the alligators - we didn't see any, perhaps because the restaurants were all shut, although we were told of a good size specimen reputed to live somewhere near the dock. Hopefully nowhere near our spot in the marina.
The fuel dock at Georgetown across from our berth The boardwalk that skirts the waterfront - even nicer if the sun were shining
Wet bedraggled bird viewed from our berth - it was blue, that's all we know! Nothing could be further from our minds!
Our walk took us back past the marina where we were staying for the night and on towards the shrimp dock which was open. We went in to take a photograph and came out with a pound of shrimps and a pot of shrimp dip. The salesman there was pretty good at his job! That evening we ate the fantastic shrimps, cooked in a white wine and garlic sauce. Perfect!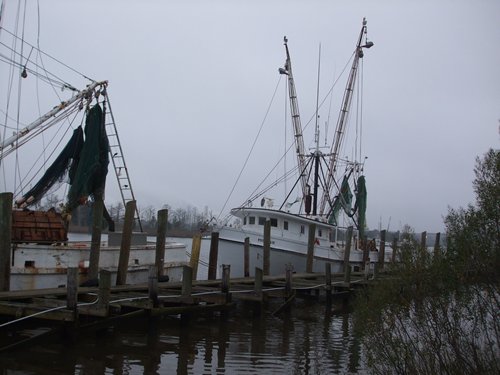 The various choices of shrimp on offer - head on, head off, medium, large, x-large ........all caught by one of these fellows
Whilst in the Marina we were collected and taken to the local Piggly Wiggly supermarket to re-stock. This is a large chain of east coast outlets - not big on veggie food (the clue being in the name) but very well staffed with people that must have a wonderful sense of humour as some of their overalls have 'fat pig' inscribed on the back. Once we had pushed another groaning trolley load of produce through the checkout it was back into the courtesy car for the drive back to the marina. We're not sure we could envisage Sainsburys or Asda picking up customers from the local marina at home somehow.
Next morning we left early to head for Charleston.
---