New Years at Rock Sound

AJAYA'S CRUISE
Phil & Nikki Hoskins
Mon 3 Jan 2011 00:00
Rock Sound is a large body of water measuring approx 4 miles by 1.5 miles and protected from most wind directions. As we had prevailing easterlies we anchored just off the settlement of Rock Sound itself where provisions, fuel etc are available. If a cold front comes through, which at this time of the year is quite likely, then it's easy to up-anchor and move somewhere in the Sound where better shelter from the west to northwest winds exists.
Remains of the old dock dock-side meet-up on New Year's Day Approaching Rosie's place
There were just two other cruising boats in residence in an area in which you could easily accommodate 1000 boats at anchor. So there was plenty of space for us. We had last seen Mon Amie in Onsett, Massachusetts in the summer where they were hauling to have a hull re-paint but heard them often as Mary is a net controller on Cruiseheimers, the daily SSB net we listen in to. The other boat, Braveheart, we hadn't previously met but with just the three boats for New Years it wasn't long before introductions were made over a New Years Eve sundowner on Mon Amie. The new paint job was fantastic and we were almost afraid to take our dinghy alongside! Mary and Dave suggested a New Year's Day lunch at Rosie's about a mile walk on the ocean side of the island - we couldn't think of a nicer way of kicking off 2011. After drinks we returned onboard for dinner of Veggie Bangers and Mash before settling down with a glass of wine or three to watch our DVD's of Jools Holland's Millennium Hootenanny. There were no local celebrations or fireworks that we could hear or see as this is a small community with few resources although the beachside bar in front of us had some New Year's revellers.
Rosies proved an excellent choice - typically Bahamian fare of conch, fish, peas & rice and 'mac' & cheese garnished with coleslaw. The walk to her restaurant was straight across the island on tarmac roads passing sparsely populated dwellings. We received friendly waves from the residents and a close encounter with an excitable pack of 'potcakes', the local breed of Bahamian dog, so named because they were reared on little other than the solid cake-like remains from the cooking pot. Generally a friendly, endearing and clever breed as pets but excitable and slightly intimidating in a pack. This was a small pack and as the men from our party had walked slightly ahead of the ladies along the road we looked back concerned to see if they were OK. They were. The excited barking was as much as we suffered.
Waiting to be seated at Rosie's with stunning views over the ocean reefs
Rosie's dining room Where else would an old ball-cock feature outside a restaurant!
Off to explore the beach This was just the cutest crab we've seen
We had a great lunch with good company and beautiful views over the ocean beach on which we walked after the meal. Rosie is a wonderful hostess, along with her well proportioned but protective Golden Labrador Teddy. She greets and seats everyone front of house, prepares the meal, clears the plates then engages in conversation with her guests. Teddy, meanwhile walks from table to table looking for any morsels on offer. Afterwards Rosie appeared from the kitchen with a 'doggy bag' for each boat as a thank you and farewell gesture. We trooped off along the road with the men dutifully carrying their respective plates of food wrapped in a plastic bag. The potcake pack were still sunning themselves by the roadside and with the smell of freshly cooked food wafting towards them we felt somewhat vulnerable to their inevitable hunger pangs. We kept together in our own pack although should push come to shove we had visions of leaving the food in the road and fleeing as quickly as possible should their excitement turn to aggression. It didn't and we enjoyed the remains of the lunch later on in the day. Last stop on the way back was to the Ocean Hole, a well known feature on Rock Sound. A roughly circular hole about 200 yards diameter which local folklore deems as bottomless and linked to the ocean by some geographic subterranean tunnel. No less a person than Jacques Cousteau has explored this deep hole and could find no obvious passage out to the sea. However, the level changes with the tide which must surely prove that link exists. The area around the hole has been tidied with picnic tables and a small play area for the local children although that is sadly in disrepair.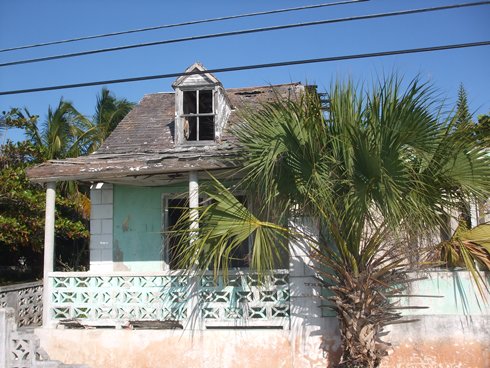 Rock Sound architecture ...........
The next day Braveheart played hosts at cocktail hour - being like minded we never ran short of conversation!
We were anchored about two hundred yards off the beach where a large beach bar has been opened catering for bussed-in parties from the cruise ships that stop at the south end of Eleuthera. Here they are treated to a lively demonstration of Junkanoo music where the staff double up their duties doing a quick change into colourful costumes and dancing to the typical sounds of Junkanoo. The visitors are encouraged to taste freshly prepared conch (pronounced conk) fritters prior to being given a live demonstration on the art of prising the wily mollusc out of it's shell. This is not a procedure to undertake lightly as they are pretty stubborn characters and don't take too kindly to outsiders messing around with their homes. If the person undertaking the preparation isn't quick enough in severing the main attachment, usually by means of a sharp instrument in a specific spot on the shell, then the conch expels a large quantity of horrible slime. Having witnessed this rather stomach churning process this was possibly one of the reasons the bar toilets became blocked the following day resulting in us, anchored directly downwind, being engulfed in the smell of raw sewage for a short while as it was directly pumped into the clear blue water before the next bus load of cruise ship passengers arrived for their own conch and Junkanoo demonstration. Needs must as they say.
Plenty of room at Rock Sound The 'Admiral' props up another palm tree
After getting back from Braveheart we settled in for a quiet evening which was suddenly interrupted by the arrival in the saloon of a Bat Moth. In fact, at first we thought it was a bat - it was flappy and very excitable which is what we became as we struggled to see what had flown into our home. When it finally settled we could clearly see that it was a moth - quite the largest we have ever seen outside of captivity boasting a five inch wingspan - a magnificent specimen, beautifully patterned and with large reflective eyes. The problem was how to remove this beautiful creature from the saloon without damaging it in anyway, especially as we are now fully fledged mass murderers of brown stink bugs which continue to appear from all over the boat in the warm weather. After a photo call which the bat moth patiently sat through we set about shooshing it out, eventually achieved after a short chase, before shutting the saloon door for the rest of the evening to avoid any unwanted night time flying activities inside the boat. As we both retired for the night it could still be heard outside flapping around and flying straight at the door until we doused all lights - presumably at which time it looked around for another bright light to aim for.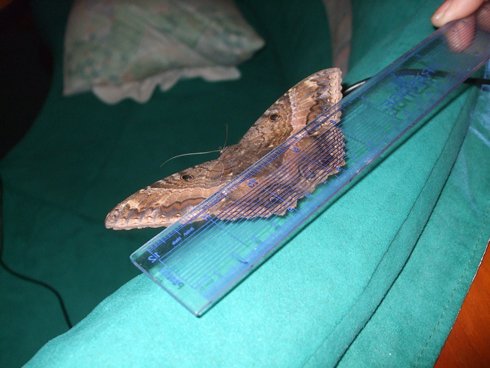 The grandfather of all moths sits very obligingly whilst we make some measurements
Our final evening at Rock Sound saw us providing the venue for the last sundowner meet-up between the three 'resident' yachts. We had thoroughly enjoyed their company over the New Year's period but next morning before the sun had risen we slowly motored out of Rock Sound heading for Warderick Wells and the Exuma Land and Sea Park which we had enjoyed visiting last spring. In the distance behind us we could make out Mon Amie who were heading down the outer chain of islands whilst Braveheart stayed over another day.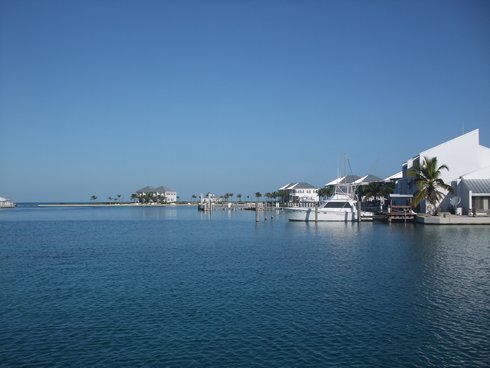 A peacefully quiet dawn scene and the tranquil Cape Eleuthera Marina
After a brief stop to take on fuel at Cape Eleuthera Marina - generally a watering hole and fuel stop for larger private yachts, verified by the alarming flow rate of the diesel nozzle which had a kick like a mule when squeezing the trigger and which wouldn't even fit into our tank filler pipe - it was off on a forty-nine mile motoring trip across Exuma Sound then through Warderick Cut onto the banks and hopefully onto an available mooring in the north mooring field of the park. The promise of catching a good fish brought out the fishing lines as we were just about to motor off the banks and into deep water. But the lures were deployed too soon (naughty Skip) and within minutes we had the unwanted capture of a 3 foot long Barracuda. It's typical, when you want fish to drop off the line they don't - and this was no exception, being firmly attached meaning a confrontation with a mean looking fish with even meaner looking teeth! It was all we caught the whole trip!
Our unwelcome catch Hook extraction can be a rather tricky process
We arrived at Warderick Wells, but with no free moorings in the north field we opted to anchor for the night off Emerald Rock on the west side of the island. With an approaching cold front this was not the place to be in a day or so's time so we made arrangements to find a more suitable location to sit out the pending storm.
---