Fiesta in La Gomera

AJAYA'S CRUISE
Phil & Nikki Hoskins
Thu 26 Feb 2009 10:48
We stayed for the fiesta celebrations in La Gomera. Besides, with the music stage set up just 200 yards from our marina berth we couldn't really avoid them. Most of the earlier events in the days following our arrival here had centred around drumming bands using probably the loudest amplifiers in the Canary Islands. Being close-by guaranteed us very little sleep each evening until the early hours when the bands finally ceased their drumming, or somebody turned the electricity off. But Saturday was to be the mainstay of the celebrations in San Sebastion, with a carnival procession culminating in more loud music, which is what you would expect from a Spanish fiesta.
We were determined to see how the San Sebastians enjoyed their festivals, so when we heard music emanating from the main square on Saturday evening we walked up to see what was going on. This was a carnival unlike any other we've seen. The procession of floats could be seen slowly making their way along the main street, the smell of burning clutches and unburnt diesel fumes emanating from the procession affecting the nasal senses long before the floats reached where we were standing . As carbon footprints go - this one was Yeti sized - but who cares - it was about having fun on this small island. These were obviously floats that were, in the main either a one-shot special, ending up in land-fill after the festivities or they were parked off the road ready for a quick revamp and new paint for next years celebrations. Most were totally unrecognisable as road going vehicles - also, call it clever or crazy, there was often no sign of any driver on the float! It became a challenge to spot where the float was actually being controlled from, which, given the close proximity of the advance party of walkers/dancers could have been quite a risky undertaking. Some of the floats were heaving with merrymakers that were inducing such a violent rocking that the suspensions seemed in danger of collapse. Large banks of speakers were precariously balanced on top of many floats, blasting out music relevant to the float's intended theme, which, when overlapped with the surrounding ensemble became a mish mash of harsh noise. In fact there seemed no real overall theme to the procession, not that it mattered a jot although gangsters, cross-dressers and dapper-dressed men with canes seemed to be evident in large numbers. Standing on the pavement close by to us was a 'Nun' chewing gum and clutching a copy of the Kama Sutra.(See pic). Elsewhere side stalls had been set up - the most notable being four large replica bulls in a row which rocked and bucked in time to music with the intention of throwing off the young children astride their backs. With this ride the bull always won!
As the last floats ambled down the road we were amazed to see that when they could go no further they simply parked up behind the float in front and as close to the music stage as possible, at which point fold-up tables, chairs, food & drink emerged in large quantities to be set up on the pavement. They had successfully reached their objective - the town square. The celebrations continued. A glance inside many floats revealed their secondary function - to ferry as much food and booze to the event as possible.
We retreated to the boat for an alcoholic fix ourselves thinking we would pop back to catch some of the 'organised' music being laid on later in the evening. In fact it was so much later - gone 2300 hrs before we heard anything resembling a live band that we both retired to bed with heads under pillows to get some beauty sleep. For once the music was not all drumming but mainly Salsa rhythms 'al la Rio Carnival' - much easier on the eardrums. It all eventually petered out at 0500 just before dawn! As we walked down to pay the marina fees in the morning all the floats were still parked up with some very sore heads close-by. It had been a good night and we saw not one (real) policeman - nor witnessed any disorder of any kind - it was a true community event that everyone joined in - young and old alike.
We departed La Gomera heading for Tenerife shortly after. We wouldn't forget Fiesta in La Gomera.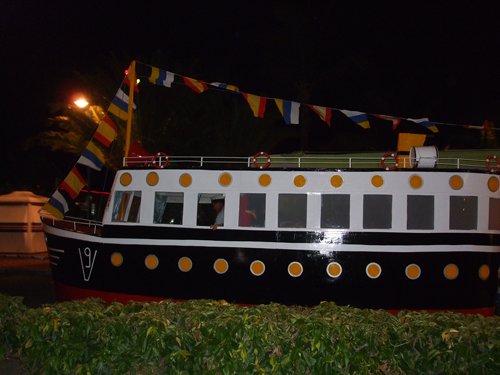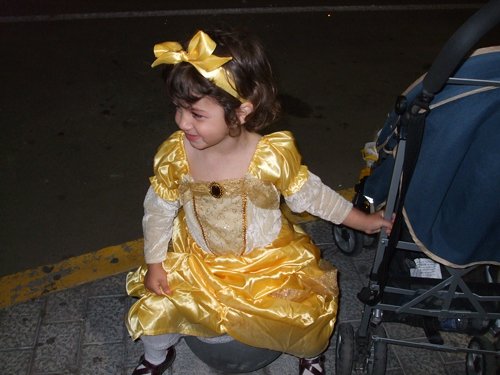 ---