Last days in Maine

AJAYA'S CRUISE
Phil & Nikki Hoskins
Thu 19 Aug 2010 20:16
Leaving Rockland behind us we began our return to southern waters. It was high water and we witnessed the strange sight of people wading along the extensive breakwater leading out to the impressive lighthouse at the breakwater's end. On it's way in was a replica sailing ship possibly intended as a feature at the forthcoming Boat Show in Rockland.
Lighthouse at the end of Rockland breakwater which has all but disappeared beneath the high tide
The weather didn't allow for a straight shot down to Cape Cod as the prevailing winds are from the southwest - great for moving north but not southwards. Our first stop from Rockland was in Turkey Cove on the St George's River. We arrived in the late afternoon after a tedious day of dodging lobster pot buoys along with numerous quick stops to clear quantities of kelp entangling itself around the props. On one such occasion we were in a narrow buoyed passage between rock strewn islands our speed dropped from 6 knots through 5, then 4, then 3 with the engine revs still the same. It was as if we were suddenly motoring through one of Pooh Bear's pots of honey and became quite concerned given our proximity to the 'hard stuff'. We took both engines out of gear then engaged reverse with Nikki watching over the stern reporting a vast mass of weed being returned to the surrounding waters from our clogged propellers. Back into forward drive, once more we were soon up to cruising speed and making progress. This manoeuvre was repeated several times!
We passed some local old whaling boats that combined sailing with rowing and were full of young people obviously having a lot of fun out on the water. They all cheered when we motored past taking their photo although we got the feeling they would have cheered a passing floating log with their high spirits.
We saw many of these gaff-rigged whalers - no that's not a man overboard in the foreground - just another lobster pot buoy
We had Turkey Cove to ourselves and spent a peaceful night at anchor listening and then spotting in the early evening a Loon with it's distinctive call which we'd often heard but not actually seen. A beautiful sunset sequence then followed before the day ended in tranquil calmness which made for a restful night. Sunrise was just as spectacular!
The sunsets we witness on our travels amaze us with their intensity and diversity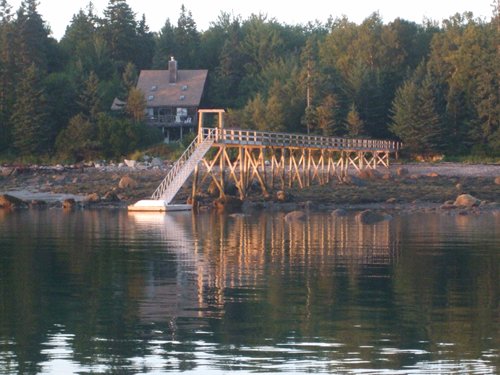 Sundown on a private slip at Turkey Cove Sunrise at Turkey Cove
The next day we moved on into the Midcoast, the next area of water and islands, west of Penobscot Bay. Our evening stopover was Lewis Cove in Booth Bay, anchoring off a small hotel resort which seemed very popular judging by the number of people enjoying the facilities. Hopefully the open-air swimming pool was somewhat warmer than the surrounding sea! We had not indulged in any swimming activities whilst in Maine (apart from the ship's diver duties inspecting the keel damage a week or so back) and still didn't fancy a quick dip in the chilly waters of Lewis Cove although it was a few degrees up on the mere 9 degrees we had recorded in Tenants Harbour.
Our final Maine stop was The Basin in Casco Bay. This totally enclosed inlet is accessed through a very narrow quarter mile long entrance passage, rock lined each side and festooned in the first 100 yards with lobster pot buoys to make life even more interesting. Casco Bay isn't as popular for cruising perhaps not having the natural beauty of Penobscot or the convenience of the central islands as stepping stones from east to west across the bay. Casco has long islands and necks stretching south-westwards so cruising up and down entails an awful lot of sailing or motoring and the density of lobster pot buoys is just as high.
You have to be quick to catch seals on camera - it's the closest we got! Entering The Basin in Casco Bay
Once into the bay all round shelter was guaranteed, which was just as well as there was a blow forecast, so we were in the right place. At first glance the shoreline seemed deserted but closer inspection revealed properties scattered amongst the dense tree lined landscape and at night lights were seen from the various residences.
From here we could have struck out for Bideford as a day hop with a couple of further stops down the New Hampshire coast before reaching Cape Cod. In reality we made the 117 mile trip in one hop as the weather for once assisted our efforts to be on our way south as quickly as possible.
We stayed three nights seeing other boats come and go. There was plenty of space in which you could sit out a hurricane. Having sat out the blow we decided to leave on a forecast of southwest winds which would veer into the west then northwest - just perfect. But we awoke to dense fog in The Basin - we couldn't even see the trees 50 yards away! By 0900 the fog had cleared so we pulled up the anchor and headed out through the lobster pots and down the bay. Before we had gone 2 miles the fog closed back in to about 50 yards so we threaded our way along the track we had laid down on the chart plotter when we arrived. Around us we could hear the sound of lobstermen in their boats whizzing around at great speed. This was unnerving. We discussed heading into a small harbour close by but it had rocky ledges and numerous obstructions to make any approach in thick fog stressful to say the least. We opted to keep heading out of the bay towards deeper water where the density of lobstermen would be less along with the amount of rock to run into. It was the best decision as once clear of the bay the fog eventually cleared back and we laid a course towards Bideford passing close by Portland. The wind was south-easterly - unpredicted but not a great hindrance so we continued motor sailing as close as we could to the wind which was a course that took us roughly towards Portsmouth - New Hampshire. If the wind did as it was predicted we would keep on that track until the wind turned west when we could head towards Provincetown, Massachusetts an excellent stop to make before entering the Cape Cod Canal.
We both agreed that the delights of cruising Maine were tempered by the frequent fog and ever present lobster pot buoys which for a catamaran presents quite a challenge when underway. For that reason we felt that our 2010 visit would in all probability be our only visit to these waters - by boat at least. The view of a surprising number of fellow cruisers that have ventured to these waters. However, despite the conditions and of course the "mishap" we both enjoyed the Maine event (sorry) and have no regrets at having spent time there. Our last pictures depict the fog on leaving Maine - similar to our arrival!
A foggy sunrise in The Basin
An overnight trip with fair winds and no disasters onboard saw us approaching the hook of land that is Cape Cod and Provincetown. Nikki saw the first of many whales in the distance blowing columns of water into the air making them look like sailing boats on the horizon until the blown spume dissipated into the surrounding water. It was a fantastic sight but we decided we would not get close leaving that to the armada of whale-watching boats leaving Provincetown in the early morning.
We passed a charter boat-full of tourists jigging for mackerel. It was a strange sight with 50 odd people of all ages jigging enthusiastically with their rods - but we did not see but one fish emerge from the water whilst we were in sight of the boat - pretty much summed up our own fishing exploits in recent weeks. Had they hit a large shoal one could only imagine the chaos on board with 50 rods trying to land their catch with precious room to swing a cat let alone a rod!
Sunrise at sea - much the same as on land really ... and our boat-full of mackerel jiggers
We arrived in the anchorage and parked near some friends we'd last spent time with in Block Island as well as another catamaran that we knew of from the SSB radio net we check in with each day. So we were not alone in Provincetown and surprise, surprise - it was Carnival Week and there was another parade organised for the Thursday afternoon to look forward to!
---