Then there was the music to our ears.....

AJAYA'S CRUISE
Phil & Nikki Hoskins
Sun 30 Aug 2009 01:15
Enough about the museums .... the music was unbelievable, exceptional quality & most of it is free. Nikki lived in Washington DC as a small child, sort of 5ish for about 3 years, OK it was in the late 50's early 60's. So we contacted some of her parents very good friends who still live in DC & arranged to meet at the Kennedy Centre for some early evening entertainment. 365 days a year between 6-7 they have free concerts given by very accomplished & diverse entertainers.
This involved using the metro, boarding at Smithsonian station, a 10 minute walk from the boat and alighting at "Foggy Bottom" (a wonderful place name, and so called because of the fog that used to swirl in from the Potomac). The Metro is cheap, clean & once understood - user friendly! Plus there was a free shuttle bus from "Foggy Bottom" station to the Centre! That night on the Millennium Stage we saw the Marine Corps Bands Dixieland Ensemble, not a note out of place & most entertaining. This band regular plays at the White House for the President. Afterwards we went for a Mongolian Barbeque in China town - also excellent fun as you served yourself from the raw food containers situated round a central griddle where the two chefs in attendance would quickly cook your selection before scooping it back into your dish again. Delicious!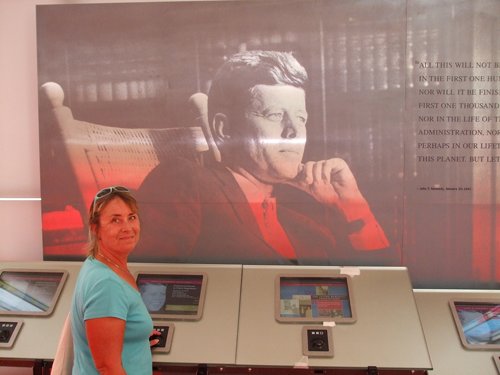 The Metro - Smithsonian Station to be precise. Information at the Kennedy Centre
Having picked up the leaflet of events we went back later in the week and sampled some classical Indian music by a group of very highly respected musicians - all a bit over our
heads but fantastically good.
The Kennedy Sculpture where people meet. Sreevidhya Chandramouli.............
Now - Friday we learnt was "the" night for Jazz in the Sculpture Garden. OK - how? Arrive, sit on the fountain edge (turned off for the evening), put your feet in the water, buy a
pitcher of Sangria & enjoy! An amazing regular "get together" in the summer months to promenade, relax under the trees, meet friends & listen to some excellent music. Very civilised!
Our final night in DC saw us scuttling off to the Metro once more heading for the Kennedy Centre. This time we saw The Rez Bluez All-Starz an extremely talented blues band formed by
native American Indians. The leader, Murray Porter, quite rightly sang a number called - "I'm a Red man, singing a black mans song, in a white mans world". All of them have at some time
supported or played with some of the worlds well know blues artists such as B.B King.
So our Washington visit is at an end - lots of culture, memorials, museums, music but most memorable were some good friends met and made. It would be easy to spend weeks here but we saw what we
came to see, besides, Phil's trainspotting affliction was beginning to surface again as he sat counting the number of goods wagons on passing trains - the record being 113 he told me. So it's time to get out of here
---