Between boat jobs - some time with friends

AJAYA'S CRUISE
Phil & Nikki Hoskins
Thu 8 Dec 2016 16:01
It's not all work and no play although at times it does seem like we are working on a continuous project. One fact we now accept is that with spending less time on the boat each year and more time in the UK, which we do appreciate and enjoy, means the boat is suffering somewhat. Or maybe we are slower in undertaking the essential maintenance we need to do before heading off either to the UK or the Bahamas. Still, it is what it is and we just have to plough on and deal with such matters. So when friends Gayle and Darrell suggested a fish and chip lunch down in Cocoa Beach as a break from the tedium of the 'jobs list,' well, we didn't hesitate. Knowing of our quest to find the best fish and chips on this side of the 'pond' they had found the 'Pig and Whistle' an 'English Pub' a month or so back and wanted us to try it.
First stop was Cape Canaveral for a walk along the cruise terminal promenade to see what ships were in, enjoy a beer and then a stroll through Jetty Park beside the terminal inlet and along the beach.
Getting up close with one of the world's largest ships is what this part of Canaveral is about. The rockets are a few miles away.
This was the longest - not anymore apparently. But only by a foot!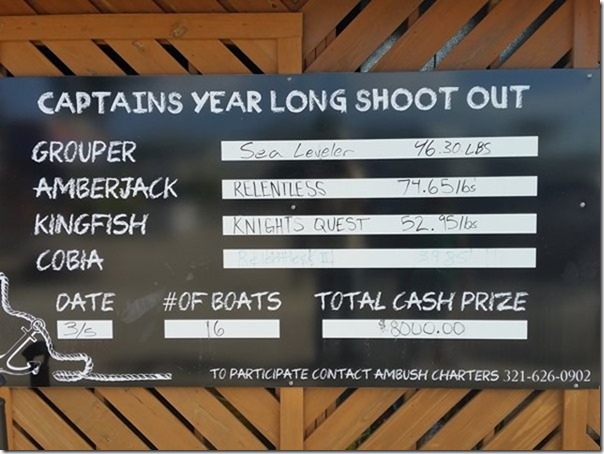 Makes our 16lb Mahi Mahi last spring look a little tame. Jetty Park hiding another cruise ship.
Through the park and onto the beach.
We then drove on to Cocoa Beach to sample the recommended fish and chips. Were they good? Yes they were indeed. They had to be as G & D had announced our arrival to the waitress as British connoisseurs who had come to try their famous fish and chips (or words to that effect). Just to make the occasion feel that little bit more like home there was Chelsea thrashing Everton on the TV just where we were sitting along with some good English brews!
The football.................. Then a walk on Cocoa Beach to round off the day.
After a walk on Cocoa Beach and another 'sniff' of the ocean we were taken to explore the famous 'Ron Jon' surf shop. All things sea and surf and rack upon rack of tee shirts all supporting the 'Ron Jon' logo somewhere! No we were not tempted although the 'Admiral' took a fancy to a small marble effigy of a manatee – just had to buy it to remind us of the endearing critters. After a pit stop for coffee we returned to Titusville. We thoroughly enjoyed our day out, the meal and the change of scenery. Thanks G & D.
End
---