Escape to Eleuthera with yet more bad weather looming

AJAYA'S CRUISE
Phil & Nikki Hoskins
Tue 5 Jan 2016 20:06
Spanish Wells, Eleuthera in position 25:32.51N, 076:44.71W
An enjoyable Christmas in Hope Town with good friends both old and new saw us all re-charge our batteries and plan our voyages south. After a brief re-provisioning trip back to Marsh Harbour and an overnight stay near Lubbers Quarters off Elbow Cay we headed down to Lynyard Cay to 'wait for weather'. New Years Eve saw us tucked up early with a planned first light departure – didn't see the fireworks!
Our friends took this photo of us somewhere under (not over) the rainbow – haven't found the crock yet!
Our trip south from the Abaco wasn't quite as pleasant as anticipated, despite waiting an extra day in the hope the seas would settle to a gentle calm with thoughts of hauling enormous fish in at our leisure. Having just sat out one windy spell in the Abaco the forecasters were now warning of something slightly worse to come so time to find another secure place to tie up the boat and batten down the hatches. Typical boating weather really! We passed through the Ocean Cut at Little Harbour into a 3 foot swell with some wind chop on top. Not quite the flat calm we prefer to chug along in but not too nasty either.
Christmas Party time with friends old and new in Hope Town Our boxed Christmas Cake – from the small box came a much much smaller cake!
We stopped at Lynyard Cay near Little Harbour for a couple of nights ready for the off As did a few other boats with the same idea
On the sixty mile trip south there were yet more rainbows .... but no fish!
Had we motored through a dark night we could have made it further south. Enduring both engines roaring away for twelve hours, six of those into a head sea with heavy rain showers thrown in for good measure we decided enough was enough. So motored into the thriving community of Spanish Wells in Eleuthera to sit on a mooring ball for as long as the bad weather was likely to be in the area. Not only are we expecting a front which itself will be followed by a reinforcing front behind but a low pressure system is forming somewhere along the second front in the Bahamas area which guarantees that nobody will be going anywhere soon in a small boat. And so we sit. And wait. By Thursday it will have blasted through the Bahamas and off to the north-east to join in the melee of storms blasting the UK. It looks a real mess out there later this week.
On a lighter note Bahamas TV threw up a real gem over the Christmas period. No gloom and doom for these Bahamians as we tuned into the 2015 Christmas Bahamas Police Band concert in Nassau. We love the Police Band. On this occasion the Church of God Band was also blasting their way through a festive repertoire which the locals clearly appreciated.
This event took place in Nassau and was watched by an excited crowd of locals probably still recovering from the Christmas festivities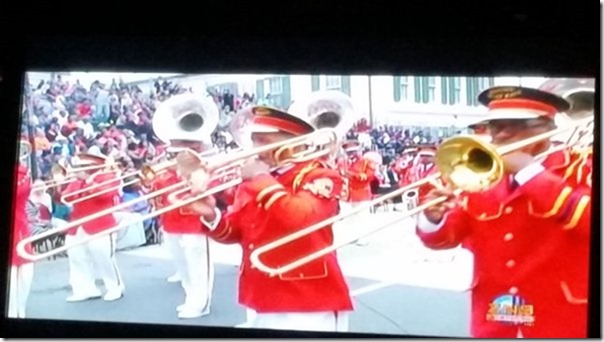 A good march would certainly start working off those surplus pounds put on in recent days
Time to batten down those hatches – the wind's starting to howl! But as we do so we spare a thought for one unlucky cruiser we recently heard about that arrived in West End, Grand Bahama a couple of weeks ago and anchored his boat off the marina to go ashore – perhaps to check in? We're not sure. Who knows how long he was ashore and what precautions he took to ensure his anchored boat stayed put. However it didn't! At some point his anchor dragged and with the prevailing winds the boat would have dragged towards deeper water until there would have been no chance of the anchor doing what it's supposed to do. Next stop? The Gulf Stream, and the wayward vessel would now have been transported northwards in the stream at up to four or five knots with no sails set and no navigation lights that we know off, it's anchor and chain hanging uselessly down into the deep clear blue water at the mercy of anything transiting in its path. What happened to it? We have no idea although it would probably have washed up somewhere on the coast of north Florida or south Georgia. Or it could be heading to Europe!
It's a very sobering thought and an event we would all dread happening to ourselves. In our Yacht Master courses much was made of how much scope to put out in such and such a depth of water ensuring the anchor is set. For us? We put out as much as we can get away with given the locality, especially if going ashore. Forget 3:1 or even 5:1 scopes. It serves no purpose in the anchor locker on a windy night in a crowded anchorage because with dozens of other boats anchored close-by you will always wish you had put more out in the first place. That's a lesson most have us have learned the hard way!
Happy New Year!
---