Havana - the unexpected!!!!

AJAYA'S CRUISE
Phil & Nikki Hoskins
Thu 2 Jun 2011 17:58
Imagine somewhere in your home town or city an area set aside for the restoration of some ancient rusting old relics from a by-gone age. Take an area in central London, the west end for instance, and create a compound the size of half a football pitch. Now dump a quantity of rusting old steam engines and bits of track into that compound and appoint a small team of restorers to attempt the impossible - restore those locomotives to something near their former condition.
Such a site exists in Havana next to Chinatown, with old narrow and standard gauge steam locos in direct competition with the Vieja landscape. Manufactured in the USA many are from the old sugar plantations and are slowly decaying in Havana as they have been doing for many years elsewhere before being brought for 'restoration'.
We were given a tour after one of the team noticed our interest and unlocked the gates to let us in for a closer look. (This is a bit of self indulgence by Phil) ........
Yes - that's a stretched Lada taxi !
asbestos cladding perhaps?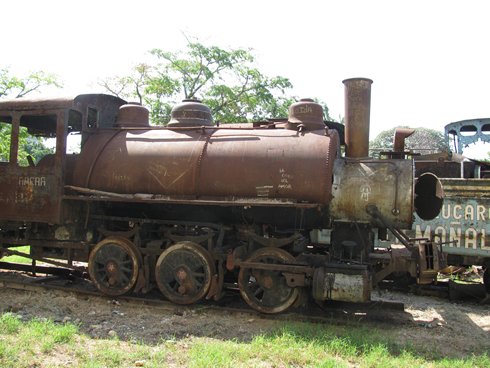 This one's next !!!
Our last blog of Cuba follows.......
---