Christmas in Sunrise Marina - Lucaya

AJAYA'S CRUISE
Phil & Nikki Hoskins
Sun 26 Dec 2010 00:00
T'was a quiet Christmas in the Sunrise Marina on Lucaya. We weren't short of company by any means with three other visiting boats close at hand. One was a Prout Snowgoose Catamaran with two South Africans onboard about to set off on an unenviable delivery trip up to Bermuda, across to the Azores and down the coast of Africa to Sierra Leone. That's a route that in winter would hold little appeal to most cruisers - and you can count us amongst them. A single hander living on a tiny 22 ft long Hirondelle Catamaran and the German couple on the steel boat that had gone aground in the entrance channel when entering the Marina. They were not up for socializing - in fact we hardly saw them from the moment they arrived until our departure. So it was everyone for themselves Christmas day with just a nod, a wave or a 'Happy Christmas' whenever we saw each other. Not that we minded as we are quite happy with our own company.
Our Christmas dinner comprised faux turkey, roast potatoes, yams, cabbage and gravy. We were perhaps short of a few vegetables and some of the trimmings compared to a Christmas dinner back home, but then Bahamian supermarkets don't have all of those veggie choices. However, the 'Admiral' cooked up a great meal and we enjoyed the day which was rounded off by slabs of fruit cake purchased in Florida.
Gourmet, meatless & delicious & serves five - He he! Look's like one of Inspector Clouseau's bombs or a bowling ball
The 'Admiral' carves that bowling ball ............... ......and our Christmas meal is on the plate - delicious!
Christmas Eve we had borrowed a couple of bikes from the marina and cycled off in the direction of Freeport. About a mile and a half away. As with bikes we have borrowed from American Marinas these had no brakes on the handlebars. If you need to stop then you have to remember to peddle backwards which activates a braking system in the rear hub. Not really dangerous as long as you remember to do exactly that when you need to stop. If you forget then life gets exciting when viewed from the saddle. It's fine on the level but any sort of downward incline presents problems in getting enough backwards leverage to stop the machine!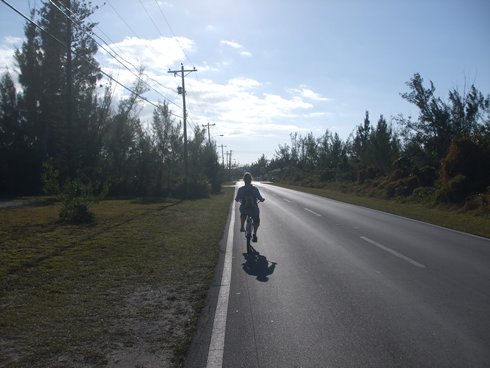 And we're off! Not too much traffic on this stretch of road wait for me!!
A quick walk around the International Bazaar, which had been architecturally constructed with a theme of giving visitors a flavour of numerous cultures, Chinese, Italian etc but which doesn't quite work in our humble opinion perhaps mainly because the tourists don't seem to visit in any numbers.
The 'Chinese' area of the International market place and this is the err, um - not quite sure about this one
Then a visit to the liquor store for some much needed provisions (rum, of course) and then it was off to the tourist area of Lucaya via one of the busiest roads on Grand Bahama. The road system in the Bahamas is one of colonial British influence of driving on the left but with most cars now being shipped in from the USA being left hand drive everything seems the wrong way round, although technically it would seem safer for cyclists because the driver would be nearest the nearside (if that makes sense). But we still felt rather vulnerable on the busy dual carriageway and often veered off onto the grass verge when the traffic noise from behind seemed uncomfortably close. We were relieved to get onto a quieter stretch of road near the tourist area of Lucaya. This resort is near the Grand Lucayan Waterway, a man-made canal system designed to be similar to Florida where houses line a network of canals with a main canal artery cutting across the island onto the banks the other side. This dream was never to realise its full potential or anything like it. The canals are still there and there has been some development over the years but one short-sighted aspect of the design was that the only bridge over the canal linking the ocean side to the banks was a mere 28 ft high - too low for yachts and many powerboats to transit.
After a walk round the waterfront we treated ourselves to a shared plate of fish n' chips and two beers before cycling back to the marina along a much safer route - the beach! It cut off about 6 miles of cycling with less risk to our lives!
They certainly celebrate Christmas in Grand Bahama and you can still call home from a traditional call box. Can't keep him away from cats
The tourist part of Lucaya could almost be in the Mediterranean - high rise hotels, fountains, bars and restaurants and full of visitors from passing cruise ships who are 'deposited' in the hope that they will spend loads of money within the few hours they have available.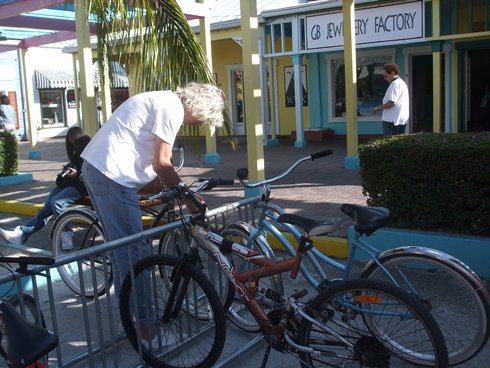 Time to go home - I think this is my bike............ ....or is this it?
We finished the afternoon as we did most afternoons whilst in Lucaya - 'Skip' thrashing the 'Admiral' at table tennis courtesy of the marina facilities.
No traffic here - just miles of beach with warm waters lapping the shore - somewhat warmer than the marina pool
The marina at Sunrise - recently re-named from it's previous title 'Running Mon Marina' has seen better days but has undergone much improvement. The office staff were very welcoming but from pictures on the walls depicting the marina full of megayachts and sports fishing boats it had indeed fallen on harder times but was fighting back under new ownership. We enjoyed our stay and were glad of it's protection when a vicious frontal system swept through over the Christmas period which left much of the east coast USA under snow for the first time since records began. But with a lull in the weather and a chance to head east and southwards it was time to move on to Eleuthera. The African bound Prout left at the same time with two 50 gallon drums of diesel strapped precariously onto the rear deck, anticipating a lot of motoring to come on the Bermuda leg of their voyage. We wished them luck. They were welcome to that trip! They headed north - we headed south.
---