The Journey South

Sulayacht
Tue 4 Jul 2017 15:47
I have just spent the last hour writing about our journey South and then 2 minutes deleting it! Enough said that we have been at the mercy of the winds and sea conditions which have not done what they were predicted and have on occasions been worrying, I am tired of using the words, Choppy, Unpredictable and Confused, not talking about Chris but the sea state. So here we are having island hopped as far as Carriacou, via: Ilse Fourchue, St Barts; Pigeon Point, Guadeloupe; Rousseau, Dominica; St Pierre, Martinique and we are now languishing in Tyrell Bay once again waiting for the weather to enable us to continue down to Trinidad.
One of the reason for this prolonged journey was the appearance of Tropical Storm Bret which came across the southern end of the chain, we sat this one out in Martinique where apart from lots of rain we escaped most of the winds. There are two tropical waves approaching which have a 40% chance of building into a TS over the next 48 hours so we wait here until we can get clean air for our final run down to Trinidad. Looks like it could be Wednesday which means that the Birthday Fairy will have to produce cake to eat on the journey! I am sure we can keep this birthday going for a while longer …..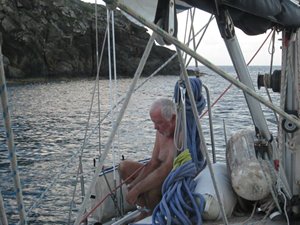 This email has been scanned by BullGuard antivirus protection.
---