July

Sulayacht
Tue 13 Oct 2015 20:55
Before we move from the anchorage at TTSA, Chris gets to clean the propeller, and some water leak detection, while being observed from above,
After a display of water jets from the new Coastgurad boats, boys and toys comes to mind ….
it is off to the anchorage in Chaguaramus where we have to remove the anchor chain which needs to go ashore to Mitch for a SS weld, and Chris gets stuck into some engine maintenance. Our new neighbourhood is a commercial Port so a bit busier than TTSA, with Venezuelan fishing boats, local pirogues rig support vessels….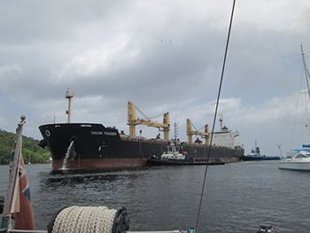 We find time to visit with Graham, Ray and Irene for Sunday BBQ and Saturday trips to the market do not always go as planned
Soon July has ended and it is time for me to have a second visit to the UK.
This email has been scanned by BullGuard antivirus protection.
---