13.00.11N 061.14.76W

Sulayacht
Thu 31 Jan 2013 18:45
After Maris's departure we had a few days of R&R in Canouan on our own and it was here we celebrated 25 years of marriage on 16th January, thank you for the good wishes those of you who knew about it.
We were joined by Just Imagine and together with one reef on the main, the genoa and the stay sail set we had a great sail down to Mayreau, where we joined with Sundance II and Moondance. Our first stop ashore was for Lobster sandwiches, our third visit and not a good as the first time! We celebrated Roberts birthday here with a carrot cake I made, (eaten to quickly for photo's).
Next top for the fleet was a return to Canouan another good sail but too much into the wind to have both headsails up,
Snorkeling, swimming, lobster searching (no joy) and then with the fleet intact we sailed to Ile de Quatre, a small uninhabited Island, south of Bequia, we had not anchored here before apart from having to move when the current, tide and wind took effect and we found Moondance too close, the snorkeling was fantastic and we would anchor here again. From there onto Bequia were we are still, we have had our main sail repaired by the local sail loft, a very necessary outlay, this is our third visit to this Island and if it was not the Whaling we would place it a one of our favorites, but I still have issues with this. The rest of the island is improving every time we visit, after a couple of bad experiences with visiting yachts, (robbery and a shooting) the security has improved and local businesses seem to be taking more of an interest in the yachting pound, with improved services and value for money.
We plan to extent our stay in SVG a we leave here and visit St Vincent which we have not done yet, and then yellow flag St Lucia, (anchor overnight but not go ashore) and our next island stop will be the French island of Martinique, where we need to stock up our wine cellar!
I would like to say Happy 80th Birthday Dad, I think you will appreciate how upset I was not being there but we had a Gin with you and we will celebrate again when we see you. You are both looking great, love you xxxx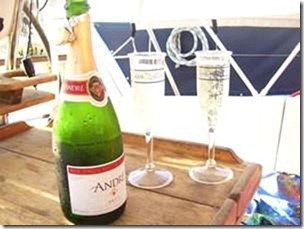 ---