06 20.056N 058 35.541W Baganara

Sulayacht
Sun 16 Nov 2014 11:06
We depart St Laurent on 4th November, one month after our arrival, and anchor in Coswine overnight to catch the 06.30 tide on the 5th taking us out of the river onto the 20 metre contour line hoping this will keep us clear of fishing boats. This works as the only boats we see are to our west, and as we finally reach the mouth of the Essequibo we are met with the fishing poles which from a distance look impenetrable, each of these poles has a fishing net attaching it to its neighbour, and no lights at night so we are pleased to arrive at 14.00 on the 7th November.
Keeping a close eye on the chart and the depth we arrive at our first anchorage at Fort Island at the turn of the tide, here we keep a close eye on the passing ferries and barges.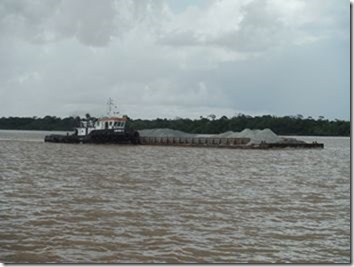 We catch the afternoon tide on the 8th to Hurakabra for our 2nd overnight and plan to stay here until Monday morning when we can clear Immigration and Customs at Bartica, unfortunately we miss Kit and Gem.
Monday morning sees us checked in, market shopped and moving further up river to the Baganara Resort which is closed for a couple of days but they put the internet on for us, until the afternoon rains, thunder and lightning arrive and then off it goes! There is a twice a week flight to Georgetown which Maris takes on Wednesday 07.00, this is when we realise that we have put our clocks an hour forward when we left St Laurent instead of an hour back, so as we sit on the airfield at 05.00 thinking the plane is late and where are all the staff?, they begin to arrive for work and offer us coffee and a time check! All is well, Maris has her trip to Georgetown, which we will do on another visit here and I spend the time catching up with blog, Facebook and emails, while Chris has the sewing machine out and repairs sunshades and diving bags. There is a lack of photo's of this industry as I failed to mention my camera disappeared while we were at the rocket launch and the Samsung tablet which Chris was using has given up the ghost with the photo's not downloaded, so thanks to Fred and Claude and now Maris we do have
some
pictures to post.
---