updates

Sulayacht
Thu 17 Apr 2014 21:08
So what did we do in St martin all that time? St Martin being a tax free Island it is a good place to buy replacements and do repairs so ..... two sea toilets serviced with new parts, new through hull fittings in the heads and showers, we had discovered another two saltwater leaks which had resulted in emptying rinsing the bilges with fresh water again! This also resulted in replacing plastic water pipes and fittings, replacement parts arrived for the water maker and it is up and running, producing 15 gallons an hour, (plenty of wind and sun power to keep the batteries topped so we can run it every day) Batteries rewired, new tiller auto helm installed. I cannot forget the new anchor, a 40lb Rocna, yes John & Roma, we finally changed the trusty CQR for a Rocna, we are delighted with it and I will say no more. We also found time to walk, swim, and enjoy lazy lunches .....
Not quite the mass of market stalls as in Trinidad but a nice Saturday morning outing with breakfast ..
and then back through the bridge into Marigot Bay for the consumption of the days purchases..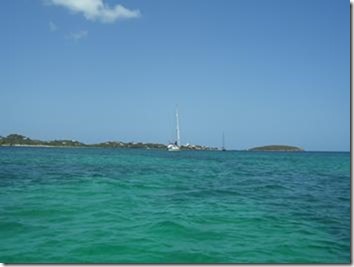 ---