16 48:496N 062 12:638W

Sulayacht
Sun 22 Feb 2015 18:19
On Sunday 15th February the very light winds allowed us use the cruising chute for the first hour of the journey, and then we finished the journey with two reefs in the main and a small Genoa rolled out, we barrelled along and after 29 hours and 150 miles we anchor in Little Bay, on the British Island of Montserrat.
After dragging the fishing lines we finally, as we approached the anchorage landed a Barracuda, too large and too far North for us to risk eating so back it went to live another day!
Montserrat's first European settlers were Irish coming from St Kitts in 1630 after having problems with Kittian protestants, The second wave of Irish settlers arrived in 1649 after Cromwell conquered Ireland. It began as an island of small farms with mixed crops but as sugar became the main crop and slavery was introduced, many of the Irish returned home leaving behind names such as O'Brien, Ryan White and today Montserrat is known as the Emerald Isle. George Martin opened his famous 'Air Studios' on Penny Lane, where the elite of the music world came to record, Paul McCartney, Rolling Stones,Mark Knopfler,
http://www.youtube.com/watch?v=77BhKRaJpBA
. In 1995 the Soufriere Hills Volcano, after 400 years of inactivity, erupted destroying the capital town of Plymouth, covering the area with hot ash, rock fragments and gas. People were evacuated to the North of the Island, two thirds of the population of 11,000 left to resettle in other Caribbean Islands, the UK, Canada and the US.
http://www.youtube.com/watch?v=KaGQjVV2Hn8
,
http://www.youtube.com/watch?v=ObbN18bnRU8
The last eruption was 2010 and todays population of 5,000 are trying to make a living bringing tourism to the Island, and although it is a beautiful Island of contrasts, and hopefully we will return, it is in competition with a lot of other Islands which I am sorry to say have lots more to offer. An international Airport, a more reliable anchorage are just two of the things needed here.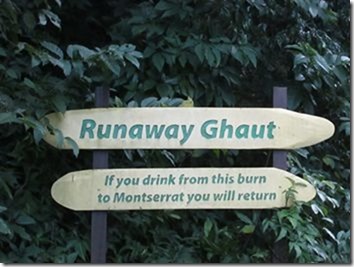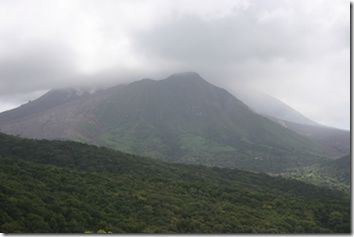 So, happy that we had been able to get ashore and enjoy a visit to Montserrat, we leave the choppy anchorage, and point Quicksilver towards French St Martin.
---