17.08N 062.38W

Sulayacht
Tue 29 Mar 2011 20:04
Left anchorage 07.00hrs, on Friday, for the last few days in Jolly Harbour we have had a good steady breeze heading us straight to Nevis (Neevis), Chris was up the mast repairing the inner head sail so we could use both fore sails in the traditional trade wind rig. This morning, no wind! Main sail to steady us against the swell and motored
out of Jolly harbour and continued to motor.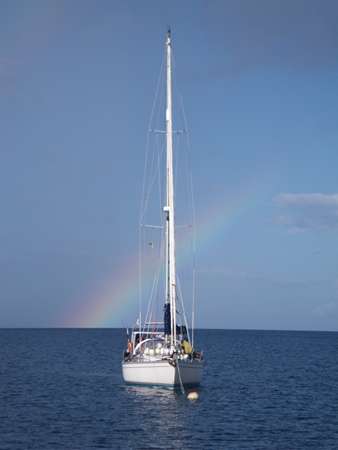 Have to admit to losing the main sail halyard up the mast, seems I didn't hank on properly, thankful no damage and hoisted sail using topping lift.
In convoy with Balu, Thomas caught a Tuna, came alongside just to show us it!! We of course don't think catching fish is very fair on the fish, however we did enjoy helping them eat it
We visited all the museums in Charlestown, not much there but quite a characterful place in the process of being rebuilt
a feel good
place, local bus took us to the Botanical gardens, stunning views and an interesting couple of hours.
Ready to move to St Kitts.
---