N15:20.20 W061:35.08

Sulayacht
Wed 26 Apr 2017 20:37
Best Laid Plans ……..
A couple of hours out from Anse d'Arlet we put two reefs in the main and reduce the size of the genoa, as the wind and swell begins to build out of the East North East. The wind shadow of Dominica means we have to do some motoring and the strong Easterly current is pushing us to far to the East so at 03.00 hrs we change tack and head for Ilse de Saintes, the wind now also changes direction and is on the nose as we have to motor into Ilse de Saintes. A hard, uncomfortable journey in total 120 miles.
The Saintes, are a very pretty group of small French Islands, part of the Guadeloupe chain and on Tuesday 10th January we pick up a mooring in Terre-de-Haute, alongside Silverheels 3. The weather is forecast for windspeeds of 20+ knots with swell running from the North at 2-3 metres so we will remain here and I book a flight from Point a Pitre, Guadeloupe to connect with my flight from St Martin and Chris will stay here with Quicksilver. Once that is decided and organised we settle in to enjoy our stay on Terre-de-Haute, another very chic French Island with ferry services to Guadeloupe, a great tourist destination. The harbour is full of yachts sheltering from the adverse weather conditions.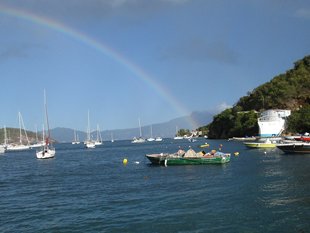 At 09.00hrs on Thursday 19th January Sharon leaves Chris behind with QS and departs by ferry to Guadeloupe for a trip to Cuba.
This email has been scanned by BullGuard antivirus protection.
---