11:60 N 061:45W

Sulayacht
Sat 23 Jan 2016 20:43
After waving goodbye to Chaguaramus, we have a very uneventful night passage, we exit the Boca at around 21.30 and turn towards the East where we proceed to motor sail so we can pass the Hibiscus Oil Rig leaving it about 3 miles to our West, we continue to motor sail until dawn, around 05.30 when we hoist all sails and have a very pleasant sail heading for Prickly Bay, actually I have a very uneventful sail as I slept most of the way, only managing to spell Chris twice. Our normal port of call in Grenada is Clarkes Court Bay but we don't think we will be in time to clear Immigration and Customs at the Phare Bleu so Prickly Bay it is and at 12.30 on the 9th January after 15.5 hours and 80 miles, we drop anchor and by 14.30 hours we are checked in and Chris is enjoying a pint of ice cold Carib draught beer! I was too slow for a picture of the pint glass, this is the second half ….
Sunday is the day of cleaning, I set about scrubbing all the grime and dust of Trinidad off the decks, Chris bleaches the teak and we are all shiny and sparkly looking. Monday morning I am doing some yoga exercises to ease my sore back and my back goes into spasm, with help I managed to get onto the side bunk in the main saloon, and there I am for the next week and here we are stuck in Prickly Bay, no great hardship there, only the Chiropractor is in Clarkes Court Bay and it looks like this is where I am going to be heading when the inflammation dies down.
We settle down to make the most of things and Chris resumes his sewing, and completes our new mattress, I am still unable to get into the berth so he tells me it is very comfortable, while we have the door to the shower/heads off (so I can have easy access), I clean up the brass hinges.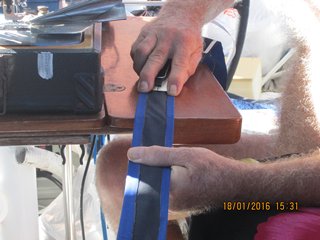 All this while Chris is shopping, cooking and looking after me. Eventually the day arrives when I can brave the dinghy ride and we go for a walk ashore and we begin to plan our move around to CCB, this is all hurried along as on the night of Wednesday 20th we had the most horrible night of swell and roll that neither of us slept so Chris packed up and on the morning of the 21st we motor the 3.5 miles to Clarkes Court Bay.
This email has been scanned by BullGuard antivirus protection.
---