Classics Antigua

Sulayacht
Sun 14 May 2017 16:47
The best view of the racing yachts at Antigua Classic week is from the top of a mound they call 'middle ground' it is the site of an old gun emplacement, nothing left now but foundations, the walk joins the old fortifications in English Harbour to Falmouth Harbour. It is a steep climb up, a walk up along the top amongst the ruins and goats, and then a steep decent at the other side, I just cannot begin to imagine how difficult it would have been in Nelson's day with the army all in full uniform in this heat… no wonder they dropped like flies from Yellow Fever.
Antigua is one of the more affluent Islands and as you see from the view the houses being built are huge and expensive, but everyone we spoke to (locally) was saying that there is not the tourist numbers and people are not spending money while they are here, a sentiment we are hearing on every island we stop at, but there must be money somewhere……..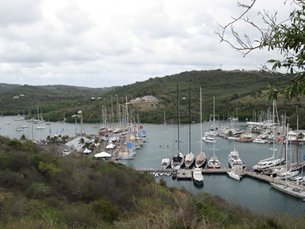 We have the finish of the racing so head back to Hermitage Bay where we can do the paperwork and head for St Martin, our destination back in December. A slight delay when bees decided to use Quicksilver as a stopping off point in their journey to find a new home, once they had settled we were in no danger and knew they would rest for 24-48 hours and move on. The pics were taken once they had settled into the rugby ball shape which protects their queen.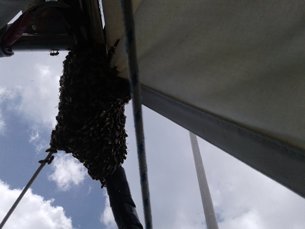 Finally on May 3rd we have a last walk into Jolly Harbour and at 17.00hrs set sail for Isle Fourchue, St Barts
---