Christmas Trinidad 4

Sulayacht
Mon 27 Jan 2014 16:20
We had a pleasant meal at the Crews Inn Restaurant 30th December, in the company of Susan and Andrew Andromeda, only need to remember that Blackened Grouper on the Menu actually equates to Breaded Tilapia on the plate. They insist this is, 'Crews Inn Grouper', so I now consider myself educated!
Old Years Night, or New Years Eve as we all call it we moved from Chaguaramus around to a small bay just East of TTSA which we call Wreck Bay, which we have all to ourselves, maybe the reason is in the name of the bay...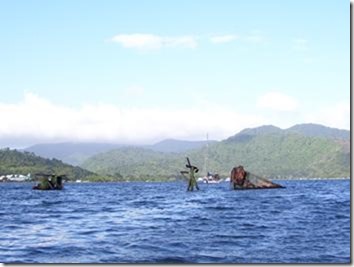 From here we had the most wonderful view taking in TTSA down to the Port of Spain, at 8 pm (New Years Day GMT) we started to enjoy the firework displays which reached a crescendo at Midnight local time, with bangs and sparkles as far as we could see, plus the military school, Coastguard and yacht Club sending up the Red Distress Flares, it was a magnificent sight.
On the 1st January 2014, We went ashore to the GAM, the which is the AGM of the Seven Seas Cruising Association for an informal talk and pot luck, also a very interesting talk with slides on Guyana, presented by Willie and Mark Haskins, Liahona, (you may remember we were supposed to be there by now!)
2nd January Maris and I have our final swim together and then sail back to Chaguaramus, in time to see a tanker being launched from the giant dry dock, where Maris departs early afternoon for her evening flight to Gatwick and then Edinburgh. It has been a lovely Christmas and Maris has been great help to me, and as always a great guest.
---