Asa Wright

Sulayacht
Mon 23 Oct 2017 19:23
Next surprise was trip to the Asa Wright Nature Centre, www.asawright.org for an overnight stay and then the following day the Caroni Swamps to see the Scarlet Ibis come in for the evening, www.caroniswamp.org. A trip with Jesse James is never complete unless you have stopped for local street food, todays breakfast was Doubles, two baras (deep fried flat breads) filled with curry channa (chickpeas) and deep-fried Aloo (potato) pies, always good! Then off up into the mountains to Asa Wright.
Arrive in time for afternoon tea after which we take a walk down one of the trails which was quite overgrown with challenging spiders webs and we see our snake, a non-venomous Black Cribo, useful as it eats venomous ones.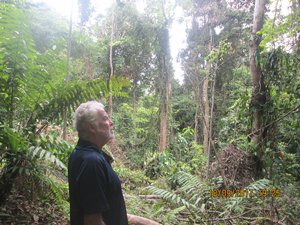 Then back to the veranda to enjoy the view and watch the variety of birds, Iguanas, Agouti, Butterflies all come around for their feeds…
It is soon time to enjoy a rum punch and then an after dinner walk to see Tarantulas, Beetles and Wolf Spiders, Mmmm….
Following Morning dawns wet so relaxed around the house and made use of the veranda until a break in the weather allowed us to explore the water pools,
Then following a lovely lunch our driver arrives, and we head off to Caroni Swamps.
---