November

Sulayacht
Thu 26 Nov 2015 13:14
Early November and we assist with the re launch of Karma after her bottom paint and seasonal 'spruce up' and now Graham & Joanie are ready to head North, eventually to Maine before returning to Trinidad in 2017, plans, plans, plans…… (Chris helps, I am unofficial photographer).
How unkind is it to take pictures of people before they can compose their faces and bodies …. He He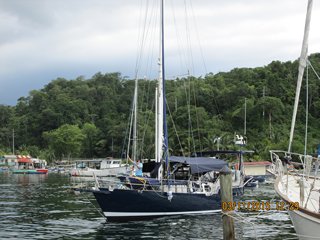 And once karma is tied to the dock we cancelebrate with Sundowners before heading to the wheelhouse for Shark and Bake!
I begin to find sewing projects for Chris to tackle, I also find a reminder of what can happen if you do not keep a watchful eye on the wasps that can plague the boat, this shoe was in the bag that hangs under the solar panels, we had sprayed the wasps but hadn't found this nest. Sewing machine at the ready and Chris begins the tasks, which include a new Canopy, the steel is ready bent and in place, now for the cover.
As Chris has commented, my 'visit' with him is coming to and end, I have time for a coffee at the West Falls Mall with Joanie and Cheryl, Chris and I have a lovely lunch at the college before we move Quicksilver nearer the dockage at TTSA and I head of at silly hour on the 14th November to catch a flight to Florida to have a visit with Claire.
This email has been scanned by BullGuard antivirus protection.
---